Farm runoff blamed for town's contaminated water
The water supply in the city of Park Rapids is contaminated with nitrates, and many suspect the source is the fertilizer used on local farm fields.
Park Rapids has had elevated nitrate levels in its water for years. But last April was the first time a city well exceeded 10 parts per million, the threshold for what's considered safe. The well was shut down.
City administrator Bill Smith says residents aren't panicking, they are concerned. Nitrate contamination can cause health problems. It's especially dangerous for infants, who can get something called blue baby syndrome -- when nitrates inhibit a baby's ability to use oxygen.
Smith says some blame local farmers who put tons of nitrogen-based fertilizer on their fields. That includes the R.D. Offutt Company, or RDO -- the largest potato grower in the U.S., and the community's largest employer.
Grow the Future of Public Media
MPR News is supported by Members. Gifts from individuals power everything you find here. Make a gift of any amount today to become a Member!
"There are a couple who've expressed a lot of concern. They think the RDO operation is railroading the city and we're taking money from them," Smith said. "And that's not the case at all."
In the short term, Park Rapids plans to drill a deeper well to get to clean water. A longer term solution may come from research in a farm field just west of town. The aquifer below the field eventually reaches city wells.
The land is owned by a company called Becker Farms, which rotates corn and beans. Through a cooperative effort with Becker Farms, RDO plants potatoes on the field every third year.
Luke Stuewe, a water quality advisor with the Minnesota Department of Agriculture, has placed devices underground to see if nitrates are leaching into the groundwater.
"The pump is, essentially, it looks a lot like a bike tire pump," he said. "But it's a soil moisture pump... and pumping it, we'll pull that water just directly up the tubing into the sample bottle."
The samples from this field haven't been analyzed yet. But wells at some nearby rural homes have nitrates nearly three times over the safe drinking limit. Nitrate contamination is common in central and north central Minnesota, where the soil is heavily irrigated because it's so sandy. That makes the region's groundwater vulnerable to nitrate contamination.
The state Department of Health tests municipal water systems regularly. But the responsibility for private well testing falls to the homeowner. A study in the late 1990s estimated that out of the million private wells in Minnesota, nearly 60,000 probably had unsafe levels of nitrates.
Stuewe says local farmers are aware their fertilizer contributes to nitrate pollution. He says the key is to get them to change their habits.
"Everything they do on the ground will cost them money, and if we can find ways that will limit losses, there's a savings to them," he said. "And they drink the water, too, and so it hasn't been an issue working with the area producers on a voluntary basis."
It's voluntary, because there are no state regulations over how much fertilizer growers put on their crops. The Department of Agriculture offers only guidelines.
Officials with RDO says they follow those guidelines. Dale Stevens, a senior agronomist with the company, says RDO uses 20 percent less fertilizer than it did 20 years ago. They use high tech sensors in their fields to minimize the need for fertilizer and irrigation. Stevens says the company is experimenting with a new variety of potato that doesn't need as much fertilizer.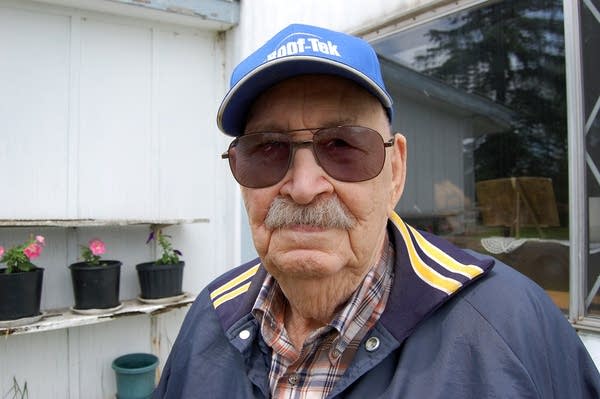 "Because of the concern on the earth in terms of the effect that man is having on it... we all have to be more sustainable, and agriculture, we're going to be expected to do our part just like everybody else," he said.
Even with more environmentally friendly farming, it will take years to clean up the groundwater. Retiree Robert McCloud lives right next to one of RDO's fields. The water from his well isn't safe to drink, so he and his wife buy bottled water. McCloud figures his water won't be clean in his lifetime.
"I know it's no good... I don't let no kids drink the water here," he said. "The thing is, what can we do about it? I don't think there's a darn thing about it, because the farmers got to use the nitrates to grow their crops."
Gallery
1 of 1