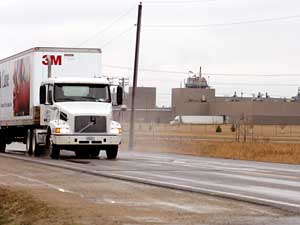 Maplewood-based 3M announced on Monday it eliminated 1,000 jobs from its worldwide workforce in the second quarter of the year.
The majority of those positions were in Western Europe and Asia, according to company officials.
The cuts include 100 positions in the information technology division, most of which will come from the Twin Cities during the next 12 months, according to spokeswoman Jacqueline Berry.
They also include 40 engineering positions in the U.S., after the company discontinued manufacturing at a facility in Southbridge, Massachusetts, Berry said.
The latest cuts bring the total number of positions eliminated at 3M this year to 2,200. The company announced in the first quarter of this year it had cut 1,200 jobs from its worldwide workforce.
Berry said the cuts are a result of "market conditions," and do not include the nearly 700 employees who participated in a voluntary retirement program earlier this year.
In 2008, 3M gave pink slips to 3,500 jobs in its global workforce.