One year later, Delta-NWA merger sees few kinks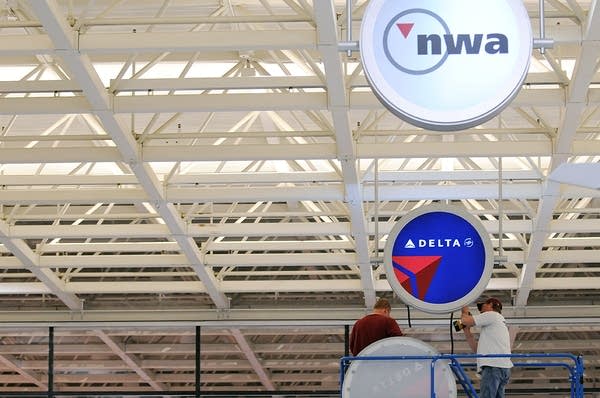 It's been a year since Delta and Northwest removed the last obstacle to their merger, winning a crucial go-ahead from the U.S. Justice Department. The past year has brought a lot of changes for Northwest employees and travelers.
The merger of Northwest and Delta is not yet complete, but it seems to be going pretty smoothly, so far. Northwest is still flying as a separate carrier and it has been performing well, getting most people where they want to go on-time.
Many Northwest frequent fliers expected trouble because of the merger, but they say they're pretty happy with everything from the integration of the frequent flier programs to better choices for food in-flight and how frequently they're getting upgrades to first-class.
Joe Jacobson, who flies about ten times a year on Northwest, is pleased with how the airline is performing as the merger goes forward.
"It seems better," Jacobson said. "I think the service is better. I've been happy overall. There could have been a lot of negativity with a lot of the employees. At least in my experience, I haven't seen that."
Steve Kirsch, a St. Paul attorney, said his experience was been good, too.
Before you keep reading ...
MPR News is made by Members. Gifts from individuals fuel the programs that you and your neighbors rely on. Donate today to power news, analysis, and community conversations for all.
"I have not noticed any less service," Kirsch said. "The opportunity to use benefits is very similar to what it was before the merger. For instance, using frequent flier miles, I haven't had a problem getting free tickets when I need them. And I've been very successful in getting upgraded."
That recent San Diego-Twin Cities flight that was out of contact with air traffic controllers for more than hour and overflew the Minneapolis-St. Paul airport was an aberration.
Northwest's on-time performance over the past year has been above the industry average. About 80 percent of Northwest's flights have been on-time, versus an industry average of 79 percent. The most recent Department of Transportation reports show Northwest has been above average in baggage handling and avoiding cancelling flights.
Like other big airlines, Delta is struggling financially in this economy. Air travel is down; Delta lost more than $150 million in the third quarter and the combined revenue for Northwest and Delta dropped about 20 percent -- nearly $2 billion. That's compared to the same quarter a year ago.
Delta has cut its flying about ten percent this year, and it figures to cut it about three percent next year. But Delta also has nearly $6 billion in cash to help it get through these hard times.
To be sure, many people expected a lot of trouble with the merger, but so far at least, it has avoided the service snafus and labor unrest and discord that have plagued a number of other mergers in the airline business, like the Northwest-Republic merger in the '80s
Delta said it has worked hard to make the merger go smoothly. Certainly, there have been no big fights between management and labor related to the merger, of late. That may reflect the appreciation employees have for their jobs in this economy.
Both Northwest and Delta went through bankruptcy and made deep wage and job cuts in the process. At Northwest, most everyone took double-digit pay cuts. Northwest has about half the employees it had in Minnesota about a decade ago. Those who are left with jobs are generally glad to have them.
Delta reports it has between 12,000 and 13,000 employees in Minnesota. The airline has promised to keep at least 10,000 employees in Minnesota and maintain the Twin Cites as a major hub with lots of flights.
Northwest employees are learning how to do things the Delta way. Pilots, for instance, have thick binders that lay out everything from the procedure for reporting to work to how to run through checklists for departures and landings.
Flight attendants also have a lot to learn, says Rene Foss, who has been a flight attendant for Northwest for 25 years. She's also a leader in the flight attendants union.
"We have seen so many changes, beginning with getting outfitted for our new uniforms," Foss said. "We've all been going through training to learn the different aircraft [we'll be flying on]. There's been a lot happening."
Foss said Northwest employees feel a mix of excitement and uncertainty about the future.
"It's good to know you're with the largest airline and hopefully the most successful and best airline," she said. "But there are a lot of uncertainties with an airline merger. Jobs may be eliminated. There is uncertainty about the future."
That uncertainty is especially focused on the presence of unions at the combined airline.
Both pilot groups were unionized and they have merged. The pilots seem to have worked out matters such as seniority and who gets to fly which planes. The bigger the plane a pilot flies, the bigger the pilot's pay.
Flight attendants and ground workers at Northwest have been unionized for decades. But at Delta those workers have not been in unions. There will be elections to decide if workers of the combined airline are union or not, but election dates have not been set.
Meanwhile, Northwest is steadily disappearing from the traveling public's view.
At virtually every airport in the country, there's no sign of Northwest inside the terminals. The service counters, ticket kiosks, and signs reflect the Delta brand. Pilots, flight attendants and other employees dealing with the public wear Delta uniforms.
About half of NWA's planes have been repainted in Delta's colors and the frequent flier programs have been combined.
"It's all SkyMiles now," Delta CEO Richard Anderson said in a recent recorded message to employees. "We have a single frequent flier program now, with a single database with a single technology platform."
The changeover means that Northwest frequent flier members have had their WorldPerks converted to SkyMiles and will have SkyMiles issued to them in the future for eligible travel and credit card purchases,
By the end of this year, Delta expects to get approval to operate Northwest and Delta as a single airline. By the end of the first quarter of next year, travelers will be making reservations just through Delta. The nwa.com Web site will be gone and every flight will be a Delta flight. By the end 2010, there will be no more Northwest red-tail jets in the sky; the airline will be gone.
Gallery
1 of 1