Health care bill would address Medicare 'doughnut hole'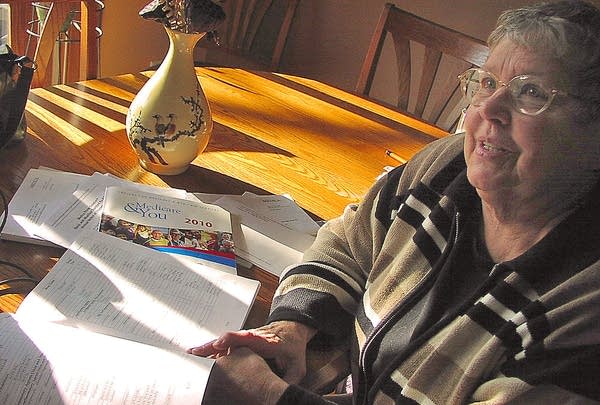 Since 2006, senior citizens have been able to choose plans for Medicare prescription drug coverage, but that coverage contains a gap known as the "doughnut hole," a gap that health care reform plans being debated in Congress would address.
In her Eden Prairie home, 66-year-old Sally Burns stares at her health care receipts, bills and Medicare booklets strewn across the kitchen table.
She's trying to figure out how to avoid the gap in Medicare drug coverage next year. Her Medicare Part D coverage initially covers $2,700 with co-pay. Once seniors exhaust that amount, they must pay the full cost of their drugs until they spend $4,550. Then their coverage kicks back in.
Sally Burns hit the gap sooner than she expected.
Grow the Future of Public Media
MPR News is Member supported public media. Show your support today, donate, and ensure access to local news and in-depth conversations for everyone.
"When you reach that limit, which I did towards the end of October, then all of a sudden rather than paying $35, I'm paying $273 for one of them," Burns said.
Under the House health care bill, Medicare would eliminate the gap within a decade. The House bill would also require the Health and Human Services Secretary to negotiate prices directly with drug companies. There are no such provisions in the Senate proposals but a final Senate bill isn't written yet.
The Kaiser Family Foundation estimated that if the gap continues, seniors like Burns could pay at least $6,000 out of pocket for drugs by 2019.
"... among those people who actually had [a] doughnut hole, most of them actually stay in the doughnut hole."
Burns takes two medicines for breathing and a third for back pain. She'd be happy to take less-expensive generic forms but there aren't any for her medication. She said she understands why some seniors cut back on their medicine once they fall into the gap. She's cutting back herself; she takes her breathing medicine every day, but not her back pain medication.
"I could take that every day but I don't because it's $200 some for 30 days, so I can take it as needed," she said. "So because of the cost I really wait until my back feels really bad."
Burns is not alone in forgoing some of her medicines because of the coverage gap. Researchers at the University of Pittsburgh found about 14 percent of senior citizens who fell into the gap stopped taking their medicines, particularly if they were name-brand drugs. The study's lead researcher Yuting Zhang said once seniors hit the gap, they hardly ever get out.
"In our study, among those people who actually had [a] doughnut hole, only 3 percent hit the other side," Zhang said. "Most of them actually stay in the doughnut hole."
Under both the House and Senate health care reform bills, Burns would get some help with her name brand drugs. Her gap would decrease by $500 next year and, the cost of her brand name drugs would drop in half.
In June, the White House and Democrat Sen. Max Baucus cut a deal with drug makers so that seniors in the gap will get their brand name prescriptions at half price. The agreement will cost drug manufacturers $80 billion over 10 years.
Stephen Parente heads the Medical Industry Leadership Institute at the Carlson School of Management. He said it is unclear how much closing the doughnut hole will actually cost in the long term.
"I think it's possibly affordable if they take their time and allow the private sector to still have incentives to come in and offer alternatives to it," Parente said. "If on the other hand, we really want to step in much more aggressively and run the prescription drug market then the budget really starts to creep up."
The Congressional Budget Office in August issued a mixed report on gains and loses for eliminating the doughnut hole under the House plan. Some seniors could end up paying 20 percent more for their Medicare prescription drug premiums, but on average, their overall drug spending would decrease.
Gallery
1 of 1