Former Gopher Darwitz predicts U.S. will take gold in Vancouver
Former Gopher hockey star Natalie Darwitz predicts youthful energy and speed will help the U.S. women's hockey team capture the gold medal at the Winter Olympics in Vancouver this month.
"We're definitely going for a gold medal and anything else would be disappointing for us," Darwitz, the team captain and two-time Olympian, told MPR's Cathy Wurzer.
Darwitz, of Eagan, holds all-time records for points and assists for the University of Minnesota Gopher women's hockey team.
The U.S. women's team won the bronze medal in the 2006 Olympics, after losing to Sweden in the semifinals.
Gallery
1 of 1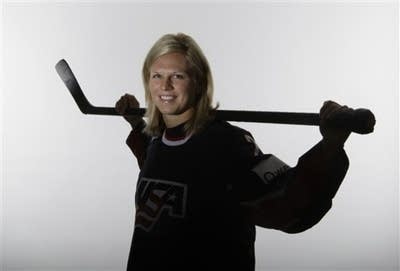 Gain a Better Understanding of Today
MPR News is not just a listener supported source of information, it's a resource where listeners are supported. We take you beyond the headlines to the world we share in Minnesota. Become a sustainer today to fuel MPR News all year long.