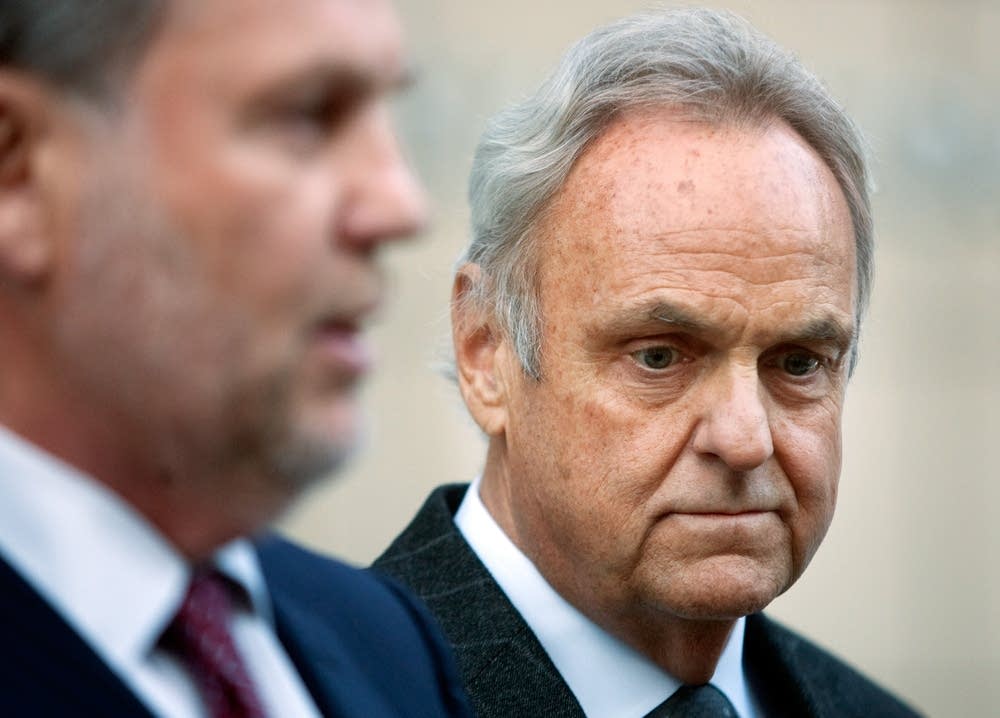 Denny Hecker, the fallen auto mogul, was handcuffed and taken from a Minneapolis courtroom for failing to comply with an order from the judge overseeing divorce cases involving Hecker's second and fourth wives.
Hecker's divorce lawyer, D. Patrick McCollough, said Hecker is upset that he landed in jail.
"I talked to Denny, and you can imagine what his reaction is," he said. "Certainly, it's very difficult for anybody to be incarcerated, and he's no different."
Hecker also is apparently losing the services of his criminal defense attorney, for the second time, with 25 federal criminal charges pending against him.
The criminal charges, though, had nothing to do with Hecker landing behind bars. Hennepin County District Judge Jay Quam had ordered Hecker to catch up on alimony payments and provide a detailed accounting of his finances or face 90 days in jail.
The divorce cases have been marked by Hecker claiming a lack of funds yet inexplicably having money for travel and other expenses. There are allegations he wrongly raided a retirement account and a trust fund for his children.
Hecker filed an accounting, but it fell short of the judge's requirements. He remains $5,000 behind on alimony payments to his second wife, Sandra. He has also fallen behind on payments to his fourth wife, Tamitha.
In court, Quam was stern, and restrained, but he was also visibly upset with Hecker's failure to comply with his order.
Quam said Hecker has had a "trifecta" of legal troubles this year, between the divorce, bankruptcy, and criminal charges, but those troubles don't absolve Hecker of the obligation to pay alimony on time and comply with the judge's orders.
For his part, Hecker continued to plead poverty in today's hearing. He said he thought he'd get consulting work paying $1 million to $2 million a year, but that didn't work out.
Hecker said he's tried to raise money from friends and family members, but they say they are scared to help him. He said friends who have helped him financially have been "attacked" by the FBI, the Minnesota Bureau of Criminal Apprehension, the IRS, and other agencies.
Hecker's divorce lawyer, D. Patrick McCollough, told reporters Hecker will likely remain in the Hennepin County Workhouse for all 90 days unless he comes up with the alimony payments and provides the court with a detailed accounting of his finances.
"It is up to 90 days unless the conditions are not purged. He could get out as soon as the conditions were purged," McCullough said.
McCollough asked Quam if Hecker could get out during the day on a work release program, but the judge said not at this point, "maybe down the road."
McCollough also said he understands that Hecker's criminal defense attorney, Bill Mauzy, is seeking to quit the case again, because he apparently won't be paid. Mauzy's office did not immediately respond to a request for comment.
Hecker told the court he expects Mauzy's services would be expensive, $500,000 or more, and Hecker says he doesn't have the money.