Art studios are often places of quiet contemplation, but in a Fargo studio recently, an art gym has artists grunting in pain and gasping for air.
The Art Gym is the creation of a San Francisco artist currently in residency at North Dakota State University.
Working out in the art gym, Jody Dozono squats with her back against a piece of translucent paper taped to the brick wall, her arms stretched out against it.
She has a piece of graphite in each hand, and as she raises and lowers her arms, the graphite creates an arc of lines on the paper behind her.
"You're trying to wall sit for as long as possible," Dozono said. "So you're feeling it in your legs. You're moving your arms; your arms get a little bit tired."
Artist Michael Namkung created this art gym as a way to connect athletics and art.
"Athletics is something that's really far apart from art in the way we think about things that are connected and I like the challenge of trying to bring that in," Namkung said.
Namkung said he loved watching Michael Jordan when he was playing basketball. "An appreciation for that type of movement and the way it made me feel is directly related to how I started to explore this," he said.
Namkung captures all of the action on video. His exhibit will feature a composite video of all the people, superimposed on the hundreds of lines they created on the paper.
As Jody Dozono approaches nine minutes of squatting against the wall marking the paper, her legs start to shake violently and her face contorts in concentration and pain.
"It's very painful, but I try to approach it as a meditative experience because you have to get through that pain," she said. "It's the middle part that's really hard. So I just try to focus on my form, and I count actually."
The lines on the paper become secondary to the physical challenge of fighting gravity as long as possible.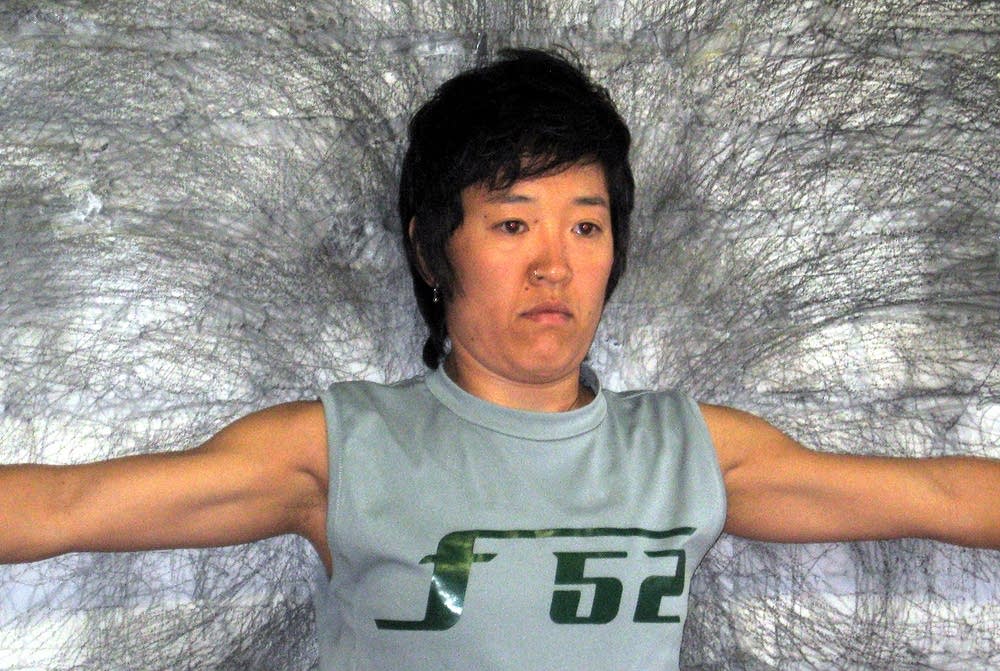 Michael Namkung said the art gym is more about the sensory experience than what actually ends up on the paper.
"That's really important for me that it takes you out of your head and into your body," Namkung said. "It's not a matter of making cognitive decisions about how am I going to craft this line. It's more of a feeling. You feel the pencil moving across the paper, you feel the graphite against the brick."
Another station involves a sort of dodge ball printmaking. The person throws a medicine ball at a piece of paper taped to the brick wall. As the heavy rubber ball smacks the paper, it leaves marks from the wrinkles in the rubber and an outline of the bricks behind. The goal is to throw as long as possible and hard enough to mark the paper.
"The most interesting part is that series of moments when people get to the point where they're struggling and they're really having to decide, 'am I going to call it quits now or am I going to keep pushing,'" Namkung said.
Namkung said you see a will to push beyond a boundary that we are normally confined by, or an acceptance of that boundary.
"It's just sort of a little daily thing," he said. "When you go to the gym or you exercise and you decide are you going to push a little harder and experience a small transformation in who you are on a daily basis. That's where you engage your physicality on the most intimate level."
Namkung said his goal is to challenge students and the public to reconsider their perceptions of art.
"It takes a little time and patience to break down those easier perceptions we're fed about what is art and what isn't," he said.
Namkung said his goal is to bring about a dialogue where we can talk about the boundaries of these categories conventionally thought about as containing art or not containing art.
Michael Namkung will show his art gym work April 8-22, in the Renaissance Gallery at North Dakota State University.
------
The James Rosenquist Artist in Residency Program for Visual Arts at NDSU honors North Dakota native and Pop Art icon James Rosenquist.