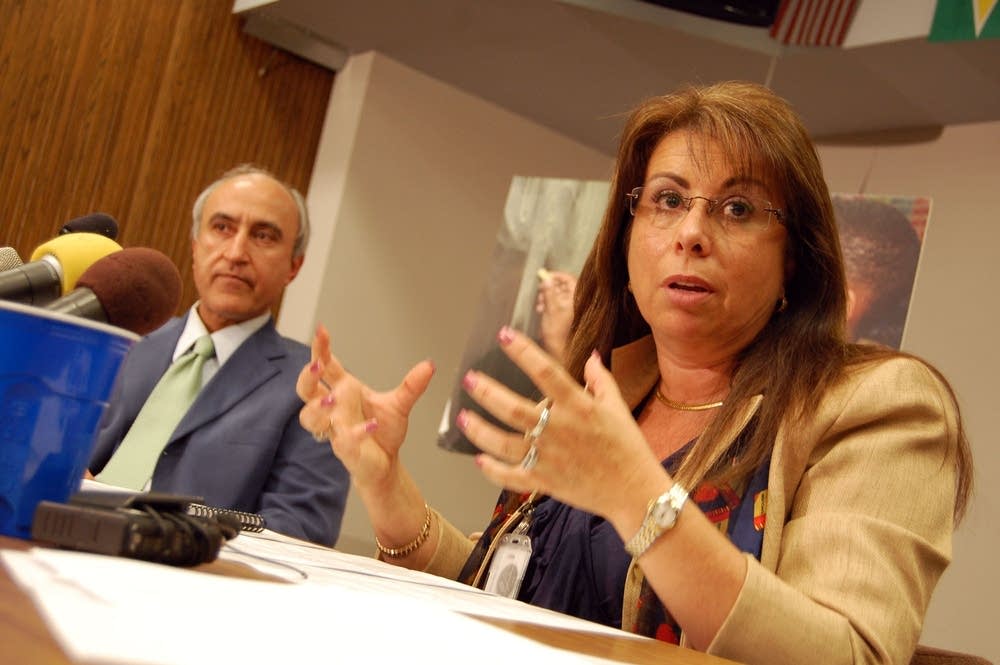 The St. Paul School Board could vote as early as next week to approve a reorganization plan that would close six school buildings.
Arlington High School would also close, but the building would still house students next year from a different program.
The announcement caps a month during which the St. Paul district has announced more than $30 million in budget cuts. Leaders say the plan will close this year's budget deficit, but they warn another deficit already looms for next year.
The cost-cutting moves in the plan include closing four swimming pools to save $200,000, eliminating middle school athletic programs to save $350,000, and adjusting all school thermostats by 2 degrees each season to save $400,000.
The plan doesn't estimate how many teacher or staff might lose their jobs, but the district says layoffs are inevitable.
The biggest savings of $3.5 million comes from reorganizing and closing several schools. St. Paul Superintendent Valeria Silva says her hand was forced because enrollment is falling, state funding is stagnant, and costs are rising.
Silva says she feels she's doing the right thing for the students and community.
"We cannot continue doing something that we can't afford to. And it's going to be a transition," said Silva. "I give my sincere apologies to many, many people. But the reality is, after that, we will have better programs in St. Paul Public Schools."
Silva says the reorganization decisions were based solely on how the district uses its space -- and has nothing to do with academics at a school.
That's one reason why Arlington High School -- a relatively new facility built for more than 2,000 students -- is slated to close. Silva says there were only going to be 90 freshmen at the school next year, and that's an inefficient use of the space.
Arlington's current sophomores and juniors will have to attend a different high school next year, but freshmen can stay, because the Arlington building will house 7th through 10th graders from a nearby school.
That decision made Arlington students like sophomore Endurance Ehimen angry.
"We cannot continue doing something that we can't afford to."

St. Paul Superintendent Valeria Silva
"They cannot do this to me -- it's not fair. Nobody did that to them," said Ehimen. "Why us? Why me? It's my school, my life, my choice, and I choose to stay at Arlington Senior High School!"
The plan also calls for six schools to close, and students in those schools will move to other buildings in a move called "co-locating." It means students from the old school and the new school exist in separate programs in the same building. Cost savings come from sharing facilities.
The co-locating schools will include: Ames school moving in with Vento; Prosperity Heights moving in with Hayden Hills; Sheridan moving in with Highwood Hills; Franklin moving in with North End; and Hazel Park moving in with Battle Creek.
Another move will close Wellstone school and move those students into the Washington building (with the Washington students moving to Arlington).
For anyone closely following the district, the news wasn't all that surprising. Officials have been gathering data and input for three years on how to reorganize a district that was built to handle thousands more students than it currently has.
St. Paul teachers' union president Mary Cathryn Ricker says the Arlington decision made her sad, but she also says the plan needs to be studied as a whole, not as single components.
"We really want to look comprehensively at how those decisions being made are going to impact kids. And then I'll know if I'm a fan of it or not," she said.
But Ricker and others don't have much time to digest the proposal. Leaders say a plan like this needs time for transition. So while some parts of the budget won't be approved until June, the school re-organization is among those issues that the school board could sign off on as soon as next week.
A public meeting is scheduled for Tuesday night. As hard as these decisions will be for some families, St. Paul officials warn there's more to come. Another budget deficit of around $25 million is expected next year. Superintendent Silva says whatever isn't cut this year will be a candidate to be cut next year.