Police ID cop shooting suspects, say both had criminal records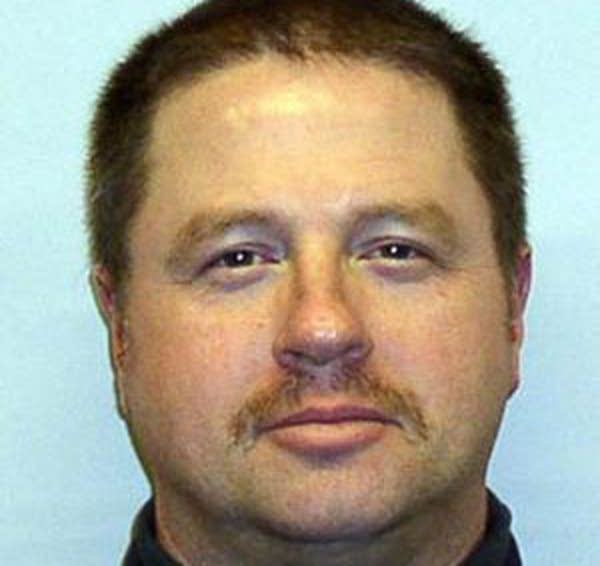 Police have identified the two men who are suspected of killing a Maplewood police officer early Saturday morning. One of the men, Jason John Jones, 21, was killed later in the day in a confrontation with another police officer. The second suspect, Joshua Michael Martin, 21, is in custody, and is facing murder charges.
Sgt. Joe Bergeron, a 26-year-veteran of the Maplewood Police Department, was responding to a carjacking when he was killed in an ambush.
"He's one of the finest people I know," said Maplewood Police Chief Dave Thomalla. "And he was murdered today senselessly. And he leaves behind a wife and two beautiful daughters. We will miss him. We will miss him terribly."
Bergeron's family released a statement praising the man they called Joey.
Grow the Future of Public Media
MPR's budget year comes to a close on June 30. Help us close the gap by becoming a Sustainer today. When you make a recurring monthly gift, your gift will be matched by the MPR Member Fund for a whole year!
"Joey's first job was being an excellent dad, husband, brother, and friend to many. Joey was always caring and generous in everything he did. Joey was a private person that worked very hard every day without the necessity of recognition. He did his job to the fullest for all the citizens of Maplewood and surrounding communities quietly, to ensure he was never in the limelight."
IT BEGAN WITH A CARJACKING
Bergeron was responding to a call from a man who reported a carjacking around 6:30 a.m. in the St. Paul suburb of Maplewood.
Authorities say Bergeron was checking out the area of Arlington Avenue and the Bruce Vento Trail in St. Paul when the call turned deadly. At about 6:50 a.m., a jogger along the trail saw the two young men walk up to Bergeron's car and shoot the officer, police said.
After the suspects ran away, the jogger rushed in to check on the officer. Seeing that Bergeron was "mortally wounded," he grabbed the police radio to call in the shooting, said St. Paul Police Chief John Harrington.
Bergeron, 49, was taken to Regions Hospital and pronounced dead.
The attack set off an hours-long search by more than 100 officers from more than a dozen law enforcement agencies. Officers brandished automatic rifles and police helicopters circled overhead as they searched a wooded area and neighborhoods east of Lake Phalen, near the shooting scene.
ONE SUSPECT IS KILLED
Nearly four hours after the shooting, Jones darted out of the woods carrying a toolbox, and an officer tried to question him. The officer was helping set up a security perimeter at Ivy and Prosperity avenues, Harrington said.
The two scuffled. Police say Jones straddled the officer and struck him repeatedly in the face with a blunt object. The officer shot Jones multiple times and killed him.
The officer was treated for a broken nose and broken eye sockets. His injuries are not life-threatening. The identity of the officer is being withheld until Sunday, which is common departmental practice in fatal shooting incidents.
Harrington said Jones had a history of armed robbery, and said he had been released from state prison in St. Cloud in March 2010, after serving three years on an aggravated robbery charge.
A couple hours later, at 12:30 p.m., police received tips that Martin, the remaining suspect, was with a relative in the Selby-Dale neighborhood near Mississippi Market. The massive manhunt shifted there, with a SWAT team fanning through the neighborhood and setting up a security perimeter.
But police soon changed gears once again to the East Side, after tracking Martin through a cell phone to the Lawson Arms apartment complex on the 1000 block of Duluth Street, authorities said.
THE SECOND SUSPECT IS ARRESTED
Martin was "making both suicidal and homicidal statements to us that he would not be taken alive, and that he may well take himself out," said Harrington.
Hostage negotiators persuaded Martin to come out of the apartment, and he was taken into custody without incident about 1:30 p.m. Harrington said Martin apparently had tried to harm himself while he was in the apartment. He had lacerations to his arms, and was taken to Regions Hospital to be treated. He is now in the Ramsey County Jail.
Martin also has a criminal history, including charges of aggravated robbery and armed robbery, and he also served prison time. He was released from prison in October 2008, according to Harrington.
Harrington said both suspects appear to have a history with gangs, although this did not appear to be a gang-related activity. Police were aware that the two had been associated with each other in the past.
Police haven't determined why Martin fled to the Duluth Sreet apartment complex.
A resident of the apartment building, Alan Lorge, said he witnessed the arrest.
"We saw him going into the car when they took him out," said Lorge. "We've never seen him in this building before, ever."
Lorge and his family were on their way to a birthday party when police arrived. He said they locked themselves in their apartment as SWAT teams and dogs ran through the hallway.
"We were getting ready to leave, and all of a sudden there were cops in the hallways with AK-47s. They said duck down, stay down, so we stood down."
The suspects allegedly took a black GMC Envoy SUV in the carjacking that started the sequence of events, but police have recovered it.
Chief Harrington said the actions of the jogger who came to the aid of Bergeron were instrumental in helping police respond quickly to the situation.
"It was really crucial that we were given that notification so quickly -- that really set us up for success," he said.
The jogger asked not to be identified publicly, Harrington said, but he added that the man had undergone some police or public safety training in the past.
POLICE IN MOURNING AGAIN
Police in the east metro area are mourning the loss of yet another colleague.
"Once again, it's a tragic day for the law enforcement community," said Thomalla, the Maplewood police chief. "Maplewood lost one of their finest officers."
Thomalla noted that it's been only about eight months since the slaying of North St. Paul Police Officer Richard Crittenden, who was killed while responding to a domestic dispute. Thomalla said many of his department's 55 or so officers were close to Crittenden.
"Many of those wounds haven't healed yet," Thomalla said.
Bergeron was the 17th officer to die in the line of duty in the state since 2000, according to the Minnesota Law Enforcement Memorial Association.
Harrington said he was relieved that the chaos was resolved quickly, saying it was a testament to the cooperation of several metro-area police agencies.
But "certainly this is a clear tragedy," Harrington said. "It's a tragedy for the law-enforcement family who lost one of their own today -- a really, really good guy who didn't deserve this."
(The Associated Press contributed to this report)
Gallery
7 of 7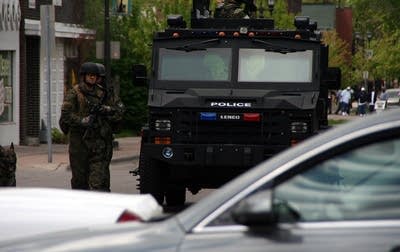 1 of 7
2 of 7