Minn. Guard members prepare for another deployment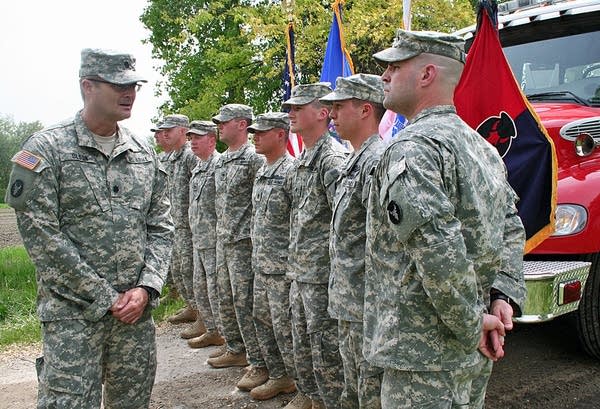 Soldiers and families around Minnesota know there's a deployment in their future. Within the next few months, 2,700 Minnesota National Guard soldiers from around the state will get their training orders for deployment.
It's not clear yet which units of the 1st Brigade Combat Team will be activated. But this alert marks the largest deployment of Minnesota military forces since World War II.
Col. Eric Kerska is preparing to lead the Minnesota Red Bull soldiers into Iraq and Kuwait next year.
They'll be there to support Operation New Dawn -- the name given to the U.S. drawndown phase in Iraq that begins later this year.
Kerska, who is a battalion chief in the Rochester fire department, announced the expected deployment at a news conference on the scene of a fire-training exercise in Rochester. A house engulfed in flames crackled in the background as Kerska talked about the mission.
It'll be Kerska's third tour in Iraq. He said there had been talk of a possible deployment alert for a few months, so the announcement didn't come as a surprise.
Gain a Better Understanding of Today
MPR News is not just a listener supported source of information, it's a resource where listeners are supported. We take you beyond the headlines to the world we share in Minnesota. Become a sustainer today to fuel MPR News all year long.
"The bottom line is, we go where we're ordered to go, and we accomplish our mission, the mission that we're given," said Kerska. "And how we feel about that, in the end, doesn't really matter too much. So we're going to do the best mission that we're given, and we don't know exactly what that'll be yet."
The alert comes as President Barack Obama vows to withdraw most U.S. troops from Iraq by the end of August. While many U.S military troops will leave Iraq this year, between 30,000 and 50,000 soldiers will remain in the country until the end of 2011.
Kerska says he has mixed feelings about being a part of what could be the end of U.S. presence in that country.
"On one hand, I really don't care to go back a third time. But on the other hand, it'd be kind of nice to tie a bow on that thing and say, we got 'er done right. So, I've got mixed emotions," he said.
It's uncommon for the Guard to publicly announce an alert like this one. But officials say they decided to do so this time because of the size of the deployment.
The 2,700 soldiers will deploy for one year. They'll provide convoy security, route protection and base defense as other troops leave the war zone.
Officials say within the next few months, the soldiers will find out more information on their specific training.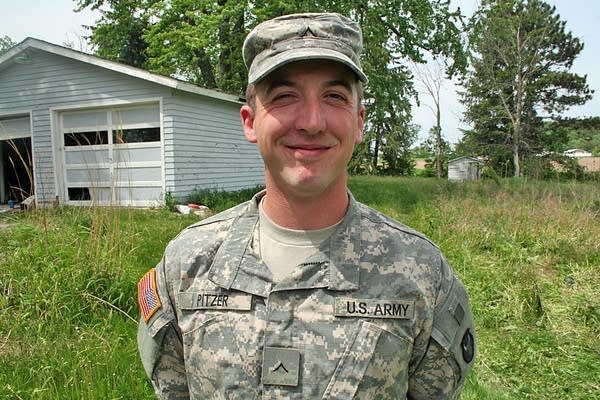 Soldiers know they're headed into a country that's still in turmoil. Among them will be Pvt. Brian Pitzer, who will be on his first tour with the Red Bulls. Pitzer, 26, enlisted in the National Guard two years ago. He is the only son in his family of 10 children, and works on his family's dairy farm in Plainview.
"[I] just wanted to do something more," he said. "I love dairy farming and I love my family, and all that, but just something more to keep me going."
Pitzer said he's equally anxious and excited about the deployment. He said he's training physically, and preparing himself mentally, now that he knows he probably be leaving next summer.
"You're going to have to realize that you're not going to be with the family, you're not going to see them every week," he said. "Just kind of get that mental state going, and once that's done, it doesn't matter. You know, you're with your family over there and that's all you gotta worry about."
If deployed, this will be the second mobilization of the 1st Brigade's combat team. The first was in 2005, when the soldiers were deployed to Iraq. That tour was extended as part of President George W. Bush's troop surge. That earned the combat brigade the distinction of being the unit that served the longest combat tour in Iraq.
Capt. Carrie Llano is a co-commander with the Minnesota National Guard. She was deployed in '05 but won't be going on this deployment.
Llano said multiple deployments are tough on servicemembers and families, but it's what they signed up for.
"It's hard to be away, but in the same respect, they're ready to go. They're still in because they want to go," she said.
All seven batallions from Minnesota in the 1st Brigade Combat Team have been asked to support this mission. Since September 11, 2001, more than 20,000 Minnesota National Guard soldiers have been called up for active duty.
(The Associated Press contributed to this report)
Gallery
1 of 1