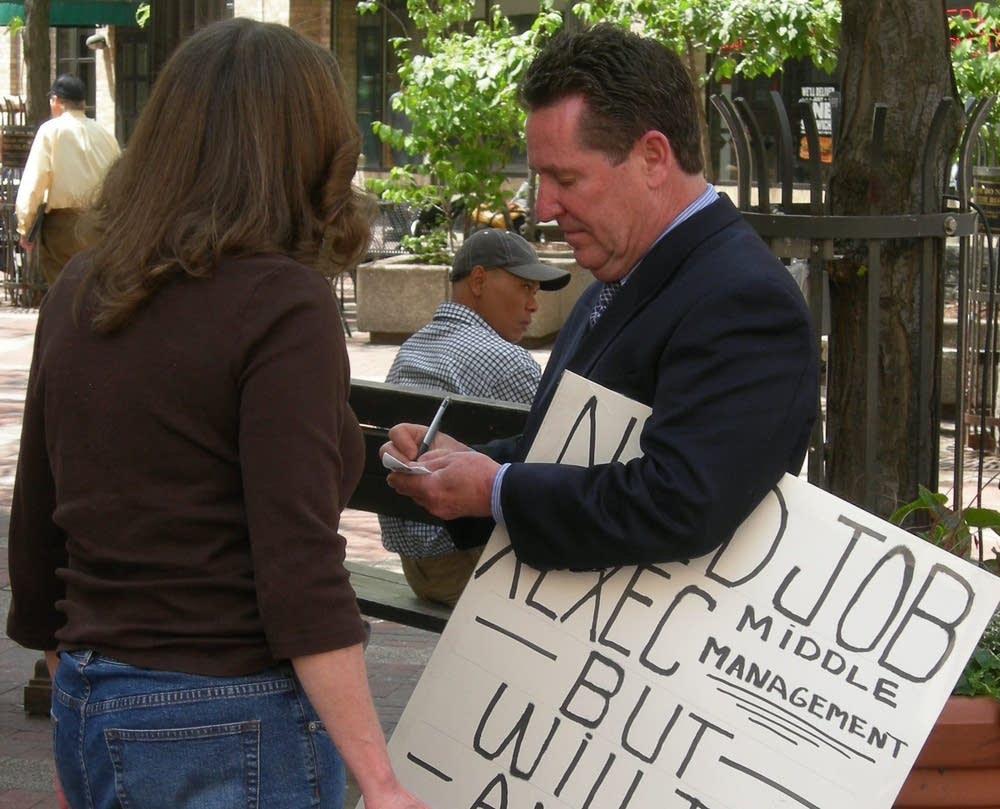 Minnesota employers added about 10,000 jobs in April. And the state's unemployment rate fell slightly. But the folks who watch those job numbers caution it'll likely be some time before Minnesota's job market gets back to pre-recession levels.
The state's unemployment rate fell to 7.2 percent in April, down from a revised rate of 7.3 percent for March.
Most job gains came in the manufacturing, trade, transportation, and utilities, and education and health care sectors. Job losses occurred in the construction and financial, and professional and business services industries.
"The trend is the right direction, but there's some distance to go," said Dan McElroy, commissioner of the Department of Employment and Economic Development.
McElroy said state and national experts expect it'll probably be two to three years before Minnesota and the nation recover all the jobs lost in the recession.
The state has not seen the month-after-month job gains that McElroy has been hoping for. And Minnesota is still down about 135,000 jobs since the beginning of the recession.
McElroy said that with so many people out of work, it can be hard to see the recovery that many economists insist is underway.
"I get asked almost every day, is the recession over yet? And I usually joke and say, only to an economist it is getting better. But I don't know that we've quite turned the corner yet."
Minnesota is doing a lot better than the national average. The state has lost a smaller percentage of its jobs than the country has, and Minnesota's unemployment rate is more than 2.5 percentage points lower than the nation's.
McElroy attributes that to the generally higher educational level of Minnesotans. Educated people have generally fared much better in the recession, managing to hold on to their jobs more often than less-educated folks.
But it's hard even for many white-collar workers to find jobs these days.
Since the weather warmed up, Jeff Blydenburgh of St. Paul has taken his job hunt to the streets of downtown St. Paul and Minneapolis, literally.
On Wabasha Street in St. Paul Thursday, Blydenburgh was wearing a suit and tie as he held a sign that read: "Need Job. X-Exec. Middle Management But will take anything."
He said it sure beats blindly filing online job applications.
"I'm finding this is a good place to talk to people, and still be around people that are working," said Blydenburgh. "I've gotten a lot of business cards, and at least I'm doing some networking of people I don't know, which really helps."
Blydenburgh has been out of work since December. He says he has some 40 years of experience in the retail industry.
Commissioner McElroy encouraged folks like Blydenburgh to also turn to state workforce centers for help with everything from resume writing workshops to retraining programs. He said the state has received some additional funding to help unemployed workers.
Currently, some 180,000 Minnesotans are collecting unemployment benefit payments.