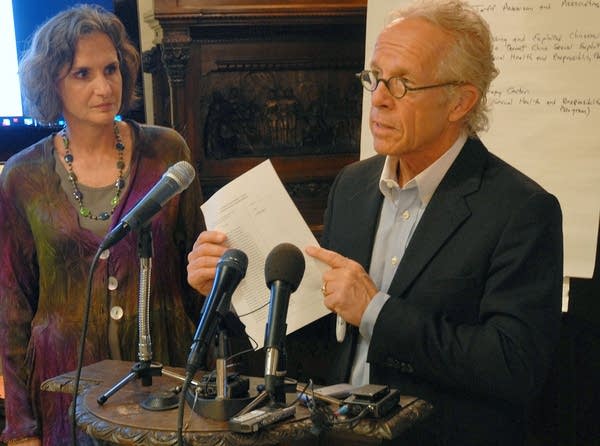 A former St. Paul special education teacher charged with producing child pornography now faces a lawsuit filed by the Twin Cities attorney who has made a career out of suing the Catholic Church over clergy sex abuse allegations.
Jeff Anderson announced the lawsuit against Gregg Alan Larsen on Wednesday, saying he will use a federal law that allows victims of child pornography to sue to hold Larsen accountable along with each person who downloaded the images Larsen allegedly distributed over the Internet.
Larsen was indicted earlier this month after authorities said they found explicit photos and videos of children he'd allegedly taken in his Minneapolis home. He pleaded not guilty to the charges.
Larsen's attorney did not immediately return a call seeking comment on the new lawsuit. Larsen was a special education teacher at St. Paul Central High School. He was kept out of the classroom this year and resigned from the school district earlier this month.
Anderson said he's not only going after Larsen but will also pursue anyone who downloaded Larsen's pictures.
"If you have downloaded any of the images on Gregg Alan Larsen's hard drive, we will find you," Anderson said. "There is a trail and we can swim electronically down that stream and we will locate you, we will identify you, we will expose you, and we will sue you."
Federal law has allowed similar lawsuits in the past, but the law was toughened in 2006 to increase the minimum damages for such violations at $150,000 per incident. It also now allows adults to sue for their exploitation as children.
Anderson is bringing his lawsuit on behalf of one of Larsen's alleged victims. It's part of a new legal front opening against child pornography across the country.
Ernie Allen, president and CEO of the National Center for Missing and Exploited Children, said the Internet has made it possible for children's images to be viewed thousands of times.
"The act of downloading or distributing these images creates a re-victimization of the children in that image and therefore it is appropriate to hold some of these offenders liable and to pay restitution for that victim," he said.
Advocates for children say they hope such legal action will fight the sexual exploitation of children in a new, and perhaps more effective way. They hope by levying steep financial penalties against the consumers, rather than against just the producers of child pornography, the lawsuits will reduce demand for the material.
Action in civil court will also lower the legal bar against people who download child porn. Lawsuits won't have to meet the higher standard of "beyond a reasonable doubt" used in criminal cases. The financial awards also won't depend on criminal convictions, like traditional restitution does.
Attorney Patrick Noaker, who works with Anderson, said most child porn cases have fallen into a legal limbo.
"The federal government is able to prosecute right around 1,000 child pornography and exploitation cases a year. What we also know is that the National Center for Missing and Exploited Children gets between 80 and 90 thousand reports of child pornography a year. And doing the math, it's obvious there is a significant piece of the cases of child pornography that is not being criminally prosecuted," he said.
Legal observers say that may change with Anderson's lawsuit.
New York attorney James Marsh has sued people who possessed child pornography in the past on behalf of children.
One case involved 1,000 possible defendants and would have cost nearly $500,000 to sue every one of them. Marsh settled the case instead. The suits are made more difficult because the downloaders can only be identified with laborious computer forensics.
Anderson acknowledges he doesn't know yet who all the defendants may be in his case.
But Marsh said the apparatus and reputation Anderson has built suing on behalf of victims of clergy abuse may give Anderson the legal horsepower to clear those hurdles.
"If anyone can overcome it, he can overcome it. And if he does, we'll be right behind him," Marsh said.
Cordelia Anderson, a board member at the National Center for Missing and Exploited Children and a Minneapolis-based consultant, said the lawsuit may mark a legal turning point in the effort against child sex abuse, on par with the lawsuits against cigarette makers that unmasked the health effects of smoking.
"Similarly, with this whole issue of child pornography, the lawsuits are going to push making this known as something that is serious, that's harmful and then we are going to get organizational policies, practices and education that backs that up," she said.
Anderson compared the suit with his legal battle against sexual abuse by clergy, begun with a lawsuit in St. Paul in 1983. That scandal has widened to a worldwide controversy, even touching Pope Benedict's administration in Rome.
"In terms of what we were trying to achieve with 1983 and 1984 in exposing a problem that was seeming to be unaddressed and has yet to be fully addressed, this feels a lot like that," he said.
Anderson's lawsuit lists 100 potential defendants. It could entitle Anderson's client, a 9-year-old boy at the time the images were taken, to as much as $15 million in damages.