The Minnesota Department of Human Rights has dismissed a complaint filed two years ago by a group of Latino residents who claimed police discrimination in the small town of Gaylord.
The migrant worker organization Centro Campesino filed the complaints on behalf of 17 Latino residents in 2008. The complainants alleged they were victims of discrimination and retaliation by the Gaylord Police Department due to their race and national origin.
Centro Campesino filed three separate complaints naming the City of Gaylord, the city's Police Department and Officer Eric Boon for the alleged discrimination.
In its final order, the state's Department of Human Rights determined there was "no probable cause to believe an unfair discriminatory practice occurred."
"It's a good thing for Gaylord and a good thing for Officer Boon," said Gaylord Mayor Doug Quast. Quast insists the police department has never targeted Gaylord's Latino residents, and he's ready for the city to put this incident to rest.
"I think there was a lot of wasted effort on something like this because ... as far as I was concerned, a lot of these accusations against Officer Boon were unfounded and made out to be something they weren't," he said.
Between 13 and 15 percent of Gaylord's 2,300 residents are Latino. Many of them moved to the city to work at Michael's Foods, an egg processing plant.
A Minnesota Public Radio review of police records in 2008 found that Latinos received roughly 45 percent of the tickets written by the Gaylord Police Department. That's 45 percent of the all the tickets going to about 13 percent of the population.
Centro Campesino Executive Director Victor Contreras said the decision by the state Department of Human Rights is a huge blow for Latinos in Gaylord. He said many Latinos in town still feel they are victims of racial discrimination.
"What worries us is that the majority of Latinos who filed the complaint no longer live in Gaylord," Contreras said. "They've left out of fear."
Contreras said his organization decided not to appeal the state's decision, mainly because of the cost associated with it. He said his group spent about $70,000 in the last two years to cover attorney fees, travel expenses and community workshops. But he said the problems still exists.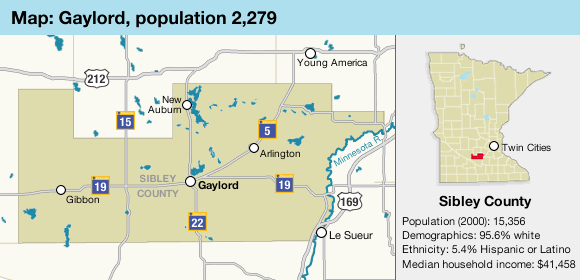 "Because of all the anti-immigrant sentiment that's out there ... it almost seems like we're living a systemic racial injustice now," he said.
Contreras said not only did they lose the lawsuit, but he's disturbed the recent departure of Gaylord's police chief has left Officer Eric Boon temporarily in charge.
In the complaints, Latino residents described times when Officer Boon shined his flashlight into their trailers at night or pulled them over for no apparent reason.
As interim chief, Boon is now one of just two officers who police Gaylord. He contends he's never targeted the town's Latino population, but after working in the small town for almost seven years, he said he's gotten to know a lot of people in town and knows who may be driving without a license.
"They believe that it's the reason of their skin color that they're being pulled over," Boon said. "But the fact is, I've been working here since 2003, and if I know you don't have a driver's license and I see you driving, you're going to get stopped, you're going to get ticketed."
In 2004, Gaylord's police chief investigated complaints by Latino residents that Boon discriminated against them. The chief found no evidence of discrimination, but he did make the department attend cultural sensitivity training.
Boon describes himself as an aggressive officer who does a lot of traffic stops. He said the problems he's encountered have only been with a handful of Latino residents.
As interim chief, Boon said he's making an effort to communicate with Latinos in town and help ease some of the tension.