Residents, officials fight flooding in Owatonna
In the five years they've lived in their home, Kali Sletten and her husband Craig have never seen the Maple Creek in front of their home overflow.
Until Thursday.
Rain surged through southern Minnesota for hours on Thursday, adding more to the already record precipitation in the region. From Pipestone to the Mississippi River, there were reports of water overflowing ditches, clogged storm sewers and flooded basements. Officials said the northbound lanes of Highway 52 between Rochester and Minnesota may be closed for up to a week.
In Owatonna and nearby Medford, heavy rains and flash flooding inundated streets, as residents and officials prepared for more torrential rains overnight.
"I'm just kind of in that panic stage," Kali Sletten said. "I don't know where to go. Five and a half years, and I've never had this happen. I feel I'm turning every which way and not actually accomplishing anything."
Maple Creek crested early Thursday morning. All day long, water gushed through the park that separates the creek from dozens of homes in danger of flooding.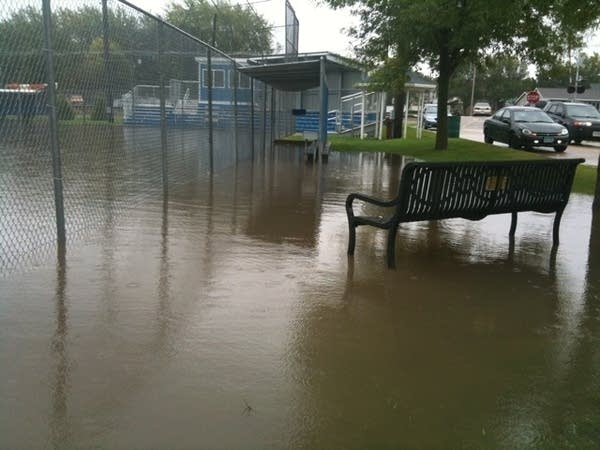 By midmorning, the water in the Slettens' front yard was ankle deep and they had pumped their basement twice. A small army of friends and neighbors gathered to help them build a sand barrier.
The Sletten home is one of dozens near Maple Creek that neighbors and officials worked vigorously to protect. Kali Sletten said fire department officials came to their house in the morning and encouraged them to evacuate.
"They came by quite a while ago and said it was up to us," she said. "They said it's not done yet, and once we get the farm water and everything it's going to come up pretty high."
Late Thursday afternoon, at least a dozen streets in Owatonna were still impassible, officials said. Another 20 streets in Steele County were submerged in dangerously high water.
Owatonna Mayor Tom Kuntz said crews were working primarily to protect the homes in the Slettens' neighborhood near the Straight River and Maple and Turtle creeks. He said the city evacuated and turned off gas utilities on about a dozen homes there.
"A couple basements have collapsed, and we've had some in the rural Steele County area that have had some damage," said Kuntz. "We've had to have a couple boat rescues to get people to some safe dry ground."
The city's public utility building also was in danger of flooding, so local Emergency Management officials asked for support from the Army Corps of Engineers to try to build dikes around it. All 100 or so city employees are working on that, but Kuntz said the city also asked for volunteers to help fill sandbags.
"We have tried to save whatever critical areas we can," Kuntz said.
Kuntz and city officials throughout southern Minnesota urged residents to be cautious while driving. Emergency officials made several car rescues on Thursday, which took them away from tackling the other rain and flood issues.
A few miles north of Owatonna, in Medford, volunteers and officials also spent the morning filling sandbags.
The town's park was underwater but none of the homes were damaged.
John Anhorn, a Medford fire department official, said the department was doing everything possible to protect the most vulnerable locations as waters continue to rise.
"We've got some low-lying areas," Anhorn said. "Our park is quite low. We have a building around there, so we sandbagged around that. We have a house or two down there that gets quite vulnerable, and we have that sandbagged."
The American Red Cross opened shelters in Owatonna, Zumbrota, Elgin and Rochester for the night. More storms were expected continue to move through the state.
That could make for as much of a foot of rainfall in places like Amboy, a town of about 550 people about 25 miles south of Mankato.
Before noon on Thursday, water was still standing in the streets of Amboy and nearly every home there had water in the basement. Authorities brought in a huge manure pump to try to flush water out of the town.
Gallery
3 of 3
1 of 3
2 of 3
Your support matters.
You make MPR News possible. Individual donations are behind the clarity in coverage from our reporters across the state, stories that connect us, and conversations that provide perspectives. Help ensure MPR remains a resource that brings Minnesotans together.