Dayton not declaring victory in governor's race
Democrat Mark Dayton said Wednesday that he will wait for election officials to tally and certify the results before declaring victory in the state's governor's race.
"The people of Minnesota have a right to know that their verdict is one that's been correctly and accurately tallied and verified," Dayton said during a news conference. He said declaring victory "would be presumptive."
According to the secretary of state, Dayton has 8,855 more votes than Republican Tom Emmer, which is within the margin to trigger a recount. A recount won't officially be called until counties have certified their results, which will take a couple of weeks.
Dayton said he has faith in the state's elections process, and said the state should be focused on "the integrity of an election in a democracy." He had sharp criticism for some Republicans who have called that process into question.
"To carry it beyond that and take it into the political realm ... especially at this stage, is highly irresponsible," Dayton said.
Dayton's comments came after state Republican leaders vowed to "overturn every stone" looking for votes as the race heads for a likely recount.
MPR News is Reader Funded
Before you keep reading, take a moment to donate to MPR News. Your financial support ensures that factual and trusted news and context remain accessible to all.
It would be the second time in two years that a statewide recount has put Minnesota's election process under a microscope. In 2008, a recount and subsequent court challenge in the U.S. Senate race took eight months to resolve.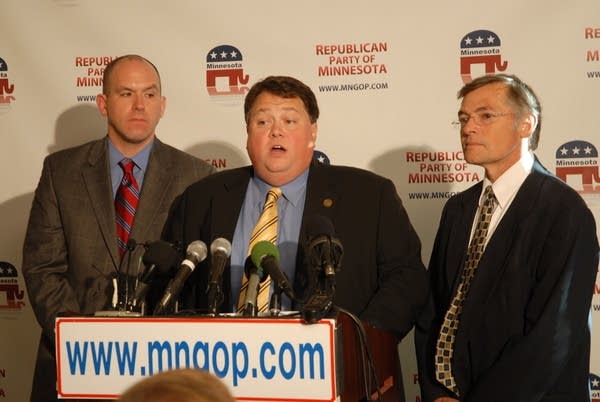 This time, the uncertainty has the potential to delay work at the state Legislature, where lawmakers must approve the next two-year state budget.
In a statement Wednesday, current Gov. Tim Pawlenty said his administration is "fully committed and prepared to accomplish the swift and orderly transition to the next governor, as soon as a final determination is made."
He said he would continue to serve until a new governor takes the oath, as is required by Article V of the Minnesota Constitution.
During a news conference Wednesday morning at the State Capitol, State GOP Chairman Tony Sutton said his party and its team of lawyers will scrutinize the recount process and aggressively pursue its options.
"We're going to pursue this until we're absolutely certain that all the votes were counted correctly," said Sutton, who made frequent references to the 2008 recount as he spoke. "We're not going to get rolled this time."
"We're not going to get rolled this time."
Secretary of State Mark Ritchie said Wednesday morning that the election went smoothly for the most part, and that no major irregularities were reported.
Ritchie expected the state Canvassing Board to meet Nov. 23 to certify the election results. A recount would likely start Nov. 29.
Ritchie said if a recount is mandated, it will proceed more quickly than the 47-day recount in the 2008 Senate race.
"We have the change in the specific rule to stop frivolous challenges, which took a tremendous amount of our staff time," Ritchie said.
Dayton had a comfortable lead early on Tuesday evening, but Emmer gained ground as the night wore on. The Independence Party's Tom Horner conceded the election earlier in the evening with about 12 percent of the vote.
Dayton's lead shrunk at one point when election officials in Hennepin County realized that a data file on vote totals that was supposed to replace older data instead added about 60,000 votes to the total. Officials corrected the error.
Sutton said besides issues like the one in Hennepin County, totals during the vote certification process can also lead to big changes. In 2006, Sutton said votes in the Senate race changed by about 20,000.
Sutton and Republican officials were confident Emmer would come out ahead, noting that Republicans took over both the state House and Senate. He said it doesn't make sense that Dayton would be the winner in the governor's race.
"Something doesn't smell right," Sutton said.
Earlier Wednesday, DFL Chairman Brian Melendez said it just wasn't clear when the governor's race would be decided. He was ready for another recount.
"Well, we've done this before. We know how to do it," Melendez said. "They're not fun. They're messy. But if that's what it takes to win this election, then we'll do it."
Dayton said he hasn't yet assembled a legal team, saying he has confidence in the state's election system. But he said he hoped the process would take its course as quickly as possible.
"We have an administration to put together and need to be ready," he said.
Gallery
1 of 1