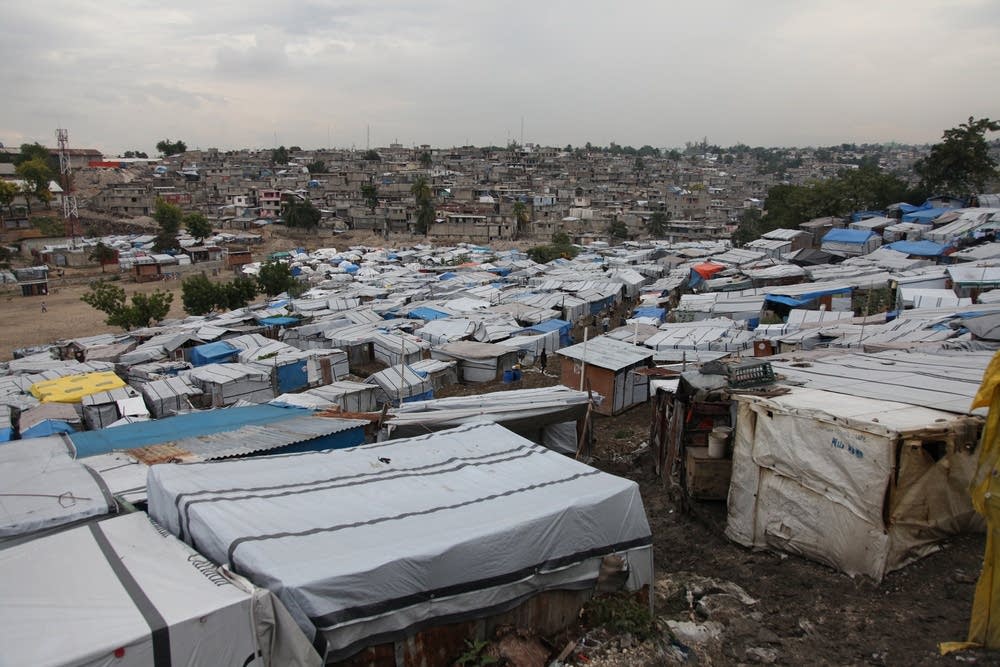 Church bells will ring in Minnesota at 3:53 p.m. Wednesday to commemorate the time when the earthquake struck in Haiti exactly a year ago.
Recovery work in the country is far from finished, and several Minnesota-based organizations continue their efforts in Haiti. That includes the Minneapolis-based American Refugee Committee.
ARC Executive Director Daniel Wordsworth spoke with MPR's All Things Considered about the progress made in the past year.
Tom Crann: Give us some examples of progress you've seen.
Daniel Wordsworth: We've now transitioned into what we call a recovery phase, where we're putting people into temporary shelters, we're rebuilding clinics and schools back into their communities, and we're beginning the process of transitioning people out of camps. But there's still a long part of the journey to go until we get people back into houses like they used to have.
Crann: What is there right now for people to move back into? Has there been progress on rebuilding? I know in a lot of cases the houses couldn't be rehabilitated.
Wordsworth: The U.N. estimates that around 200,000 houses were destroyed, so that's around 1.4 million people that have lost everything. The journey back to that is still really long term.
What we're trying to do right now is create what's called temporary shelters. They're like these sort of ice fishing houses, maybe four times bigger than your average ice fishing house made out of wood. We're rebuilding those to transition families into those.
I will say that has been fraught with a lot of challenges to actually get that done -- to get rid of the rubble, to identify land where you can rebuild these, to put people in a place temporarily while allowing space to rebuild their permanent homes. It's a big challenge and a big problem.
Crann: When you look back on the past year, how has the way that you look at this and the work that needs to be done changed?
Wordsworth: It's been really a shocking year in many respects. Haiti is a country that had immense challenges before the earthquake. ... You then have a terrible earthquake that wipes out large parts of the country.
Then, during the year, we've suffered from three other emergencies. We've had a typhoon, a hurricane sweep through Port-au-Prince; secondly we've had the cholera outbreak, and thirdly we had the rioting around the elections. So in a way we feel like you move from emergency to emergency, you take two steps forward, sometimes one step back.
What have we learned during that time? We are really just I think more and more committed to being alongside the Haitian people and working with them to help them get back on their feet. ... It's been a really uphill battle there.
Crann: Has this one had a higher level of frustration because of all those things that you mentioned?
Wordsworth: This would be a very frustrating situation. But it's much, much worse for the Haitians. ... In our camps, for example, 60 percent of the residents are renters. But because of the destruction, people have lost jobs, they have no wages, so how will they pay the rent when they go back home? So these things are taking time.
Crann: Has the coordination between agencies, NGOs (non-governmental organizations) and the government gotten any better over the year?
Wordsworth: I think this has been another one of those challenges. NGOs by and large are working together. We coordinate continuously with the U.N., and the U.N. has a strong coordination mechanism. But it's been moving this down into the general population, getting coordination from national government has been a challenge. And I think the elections have really thrown that into confusion, and it remains a confused state.
Crann: When it comes to the cholera response, what is the situation currently?
Wordsworth: The good news from our point of view is that we have seen a reduction in the spike of cases that we see every week. Only two weeks ago we were seeing around 150 cases per week, in the last week that's dropped down to 57. We are hoping that we're beginning to see the tail to this. This cholera problem has been quite substantive and it's moving across the entire country, but there are a lot of organizations working on this.
Crann: What is the next step, the next most important bit of work that we're going to see in the next few months?
Wordsworth: As an operational organization focused on Haitian people in camps, what I think you'll see is a strengthened situation in this recovery, where you'll see people back into these temporary shelters that will last one or two years. There were around 1.5 million people in camps. That number is now down to about 860,000. We're seeing a reduction of people in camps, and that will continue.
Then what I hope we'll see is plans emerging for better communities -- not just rows and rows of houses being reconstructed, but a rethinking about what the nature of community is like in Haiti.
Crann: The bells will ring tomorrow, and there will be media coverage of the anniversary, but how important is that to this effort?
Wordsworth: I'm not sure, quite frankly. ... We're at the end of the first year of a five-year process. What I can say though is that tomorrow will be like another day for organizations like the American Refugee Committee. We're there every single day. It's a special day of remembrance for the Haitian people, but our staff will be out doing the same thing tomorrow that they were doing today.
(Interview edited and transcribed by MPR reporter Elizabeth Dunbar.)