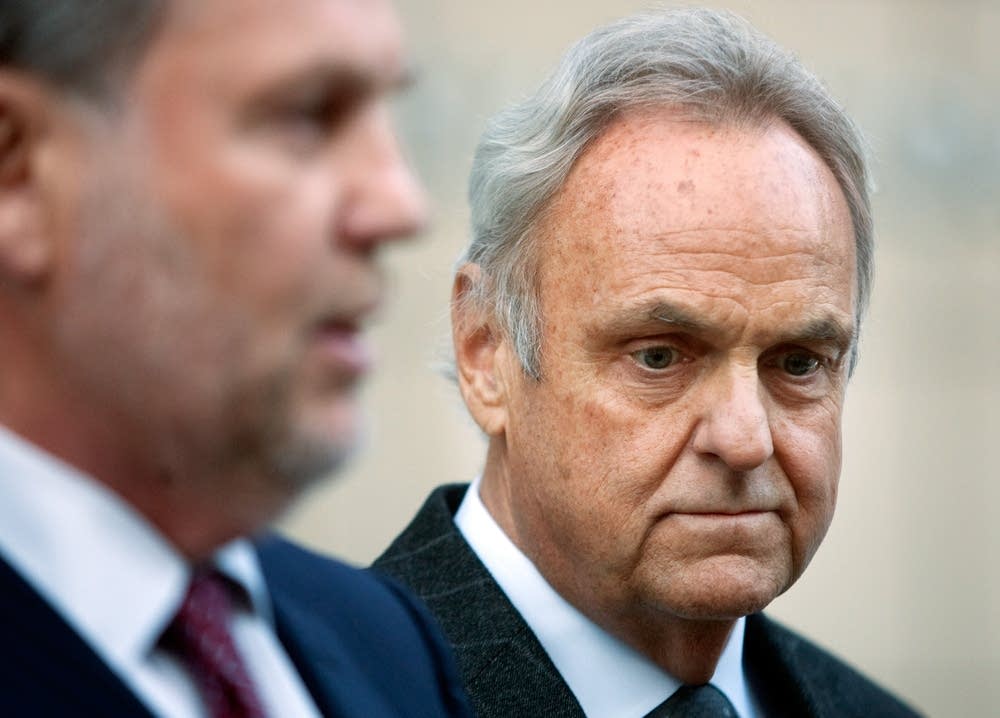 Former Twin Cities auto mogul Denny Hecker will be sentenced this morning in federal court in Minneapolis for bankruptcy and wire fraud.
Hecker pleaded guilty last September, cutting a deal that called for him to spend no more than 10 years in jail.
He has had decades of experience dickering about terms, trying to gain an edge -- skills honed while building an auto empire that once included 26 dealerships.
In one of his deals with lenders, Hecker was caught crossing a legal line. From there he lurched into an often bumbling cat-and-mouse game with the courts and prosecutors trying to corral his ongoing efforts to skirt the restrictions placed on him.
A year ago, prosecutors charged Hecker with ripping off Chrysler Financial and other firms that financed vehicles for him.
Even though Chrysler had prevailed in a civil suit over the deal, Hecker said the feds had it all wrong.
"For many months, I've had to sit and listen and read comments and allegations and rumors that are just untrue," he said.
At the time, Hecker's current defense attorney, Bill Mauzy, said a lot of people seemed gleeful about Hecker's downfall.
"If you take a businessman who loses his business, who was once a wealthy person, who goes into bankruptcy, who loses his mansion and loses his luxury car, I could sell tickets to people willing to pay to kick him in the head when he's there on the curb and broke," he said.
But, as it turned out, Hecker wasn't broke. Early last September, furious prosecutors asked the court to send Hecker back jail for a second time for concealing more than $150,000 in insurance checks. They accused Hecker of using the money to maintain a lavish lifestyle even while claiming he was broke.
That led to a plea deal arranged over the Labor Day weekend.
Going into the weekend, Hecker faced about two-dozen federal counts of wire and bankruptcy fraud. If convicted on those charges, the 58-year-old Hecker could have been jailed for life.
But the plea agreement Hecker reached with prosecutors last September calls for a sentence of no more than 10 years.
Brian Toder, Hecker's attorney at that time, called it a good deal.
"The agreement that we ended up with was certainly exponentially better than what could have gone wrong at trial, if there was a verdict in the government's favor," he said.
The U.S. Attorney's Office said Hecker essentially admitted to all charges against him. Assistant U.S. Attorney Nicole Engisch said the prosecution of Hecker showed you cannot skirt the law.
"The rules apply to everyone," Engisch said. "You cannot lie and cheat and hide your assets. If you do, we will prosecute you. And you will go to prison."
But apparently Hecker did not understand that he could still get in trouble after his guilty plea.
An exasperated federal judge jailed an astonished Hecker months before his sentencing for failing to provide an adequate accounting of his finances. There he remains, waiting to find out how long he'll wear a prison jumpsuit.
Still, the impulse to cut a better deal remains intact.
Hecker's current attorney Bill Mauzy is seeking a sentence of eight years, not 10.
What prosecutors cast as lies and perjury, Mauzy explains as "arithmetic confusion," "immaterial discrepancies," mistakes and faulty memory.
But the U.S. Attorney's office said Hecker is a man who chose to "ignore the rule of law ... and, when caught, to lie and manipulate the truth in desperate efforts to cover up his crimes."
Prosecutors say Hecker has looked federal judges in the face and lied to them.
At 10 a.m., Hecker faces one of them, Judge Joan Ericksen, to learn his fate.
Editor's Note: This story initially reported incorrectly that Hecker pleaded guilty last April. The current copy is correct. MPR regrets the error.