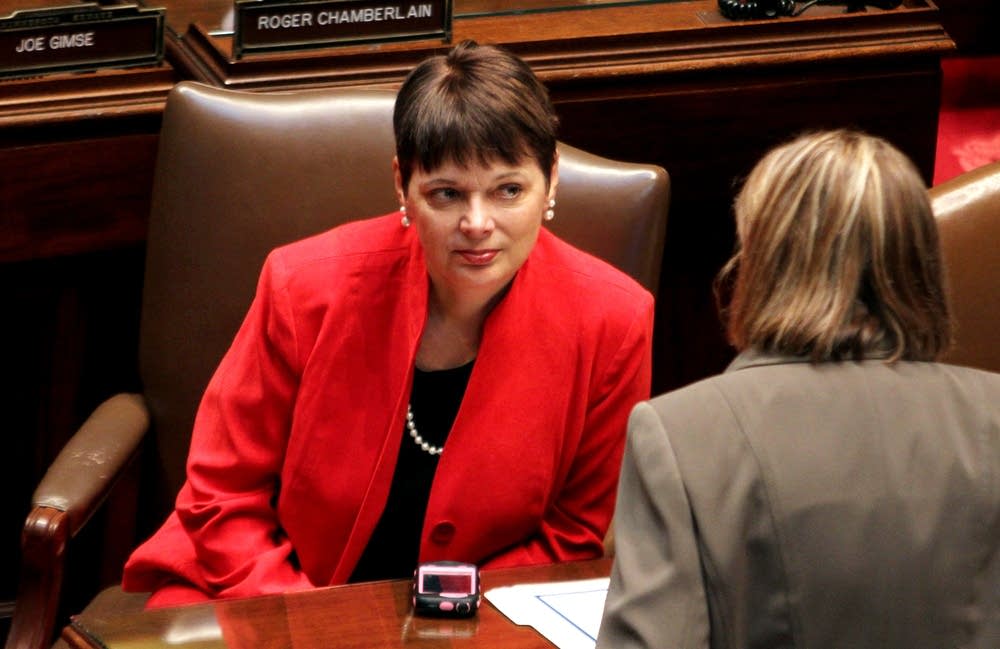 Since the November 2010 election, All Things Considered has been checking in with a freshman Republican and a veteran DFLer in the Minnesota Legislature to get their firsthand perspectives on the changed balance of power during this session.
All Things Considered host Tom Crann checked in with Sen. Sandy Pappas this week.
Pappas, a DFLer, represents Senate District 65, an area that includes part of the city of St. Paul. She's served in the Senate since 1990 and in the Legislature since 1984.
Tom Crann: First, I want to talk about Gov. Dayton's budget. What was your reaction?
Sen. Sandy Pappas: It was not a surprise. He said during the campaign that he was going to have to make some difficult cuts, and that he felt that tax fairness was an issue, and that the wealthy in Minnesota were not paying their fair share. And sure enough, that showed up in his budget.
Crann: Any cuts in there that you object to?
Pappas: Of course I'm going to be concerned about higher education cuts. That's my first priority, and when I look at the $171 million, it's very close to the one-time cut that we did last year that was in the Republicans' first bill. It was $186 million. And we just have to face the reality that if MnSCU tries to make that up with tuition only, that's a 4.5 percent increase in tuition.
And this is just the governor's proposal. So heaven knows what the Republican proposal is going to be -- much deeper cuts, I would assume.
Crann: There is a pretty big gap in what the governor is proposing and what Republicans are proposing, philosophically, but also the numbers. Practically, how do you go about closing a gap like that?
Pappas: It's very difficult to say this early in the session. I think that both sides basically have to compromise more, and of course that worries me as an urban Democrat, because, for example, the governor didn't do any cuts to local government aid ...
He said that our property taxes have gone up enough and that's not where we should be raising taxes. And if we cut our aid to cities, they have no other source of income to pay for basic fire services and police but property taxes. So he was pretty clear about that. And so in the end, does that mean we have to do that in order to get out of Dodge, as they say? I mean in order to ... have a budget agreement by the end of June.
Crann: In other words, it sounds like you're hinting there is some room for negotiation.
Pappas: There has to be. I'm not even hinting. There has to be room for negotiation. I mean, there's going to have to be deeper cuts, which a lot of us [Democrats] won't vote for and maybe some of them [Republicans] won't vote for them either. And they have got to look at revenue. You just cannot get to an endgame without revenue, more revenue on the table.
Crann: When we're talking about revenue, we're talking about ... a 10.95 percent tax income tax rate for $85,000 in taxable income, or $150,000 for married people filing jointly. And I'm wondering what reaction you're hearing in your district about that plan.
Pappas: It doesn't really impact people in my district. It doesn't impact 95 percent of Minnesotans. I live in a district where people are struggling with job security, or maybe they're looking for a job, where homes are being foreclosed on ... They're still worried about their schools and crime and kind of basic government services. They want to know if there's still going to be a safety net in Minnesota.
And so the fact the wealthy, very wealthy -- because this is taxable income, and you can deduct your federal taxes -- why they aren't willing to pay their fair share? I mean right now our tax system, it's not even proportionate, let alone progressive. This is just closing a loophole, I would say, and making our tax system more fair. And the result is it brings us some very important income to continue to provide services that people really rely on.
Crann: How would you characterize the tone of this session so far, especially in the Senate where Democrats are in the minority for the first time in your tenure there?
Pappas: I think we are slowly but steadily, us Democrats, learning how to be the loyal opposition, and realize, accept the fact that the Republicans are in control, that they're making the decisions, and that ... our job is to hold them accountable in ensuring that we have an open democratic process, that we have hearings ... that we have sunshine, the public is allowed to see the bills and testify on them, and then also to inform the public of the impact of their proposed policies. So that's really our job.
Crann: It sounds to me like you take this job as more than just representing the interests of your district. There might be some people who say, 'Well, they vote the way they do, and it's up to their district to vote them back in or not.'"
Pappas: Absolutely. but how can people make good decisions if they don't have information?
(Interview edited and transcribed by MPR reporter Madeleine Baran)