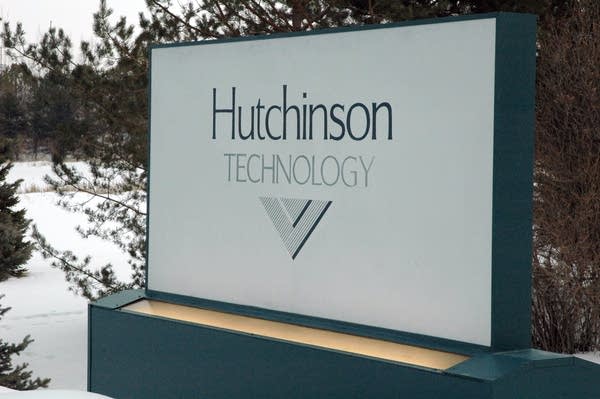 Hutchinson is suffering another economic blow.
Hutchinson Technology, a big regional employer based in the south central Minnesota city is cutting hundreds of jobs, again, this time as many as 900.
Blame the usual forces: cheap labor abroad, robots replacing people, pricing pressures, and throw in a slowing PC market, too.
The maker of computer hard drive components has already shrunk its payroll by more than half in the past few years.
"Disk drives primarily are in computers, laptop, desktop, but you'll also find disk drives in servers, which are your enterprise computing, where you store large amounts of data," said Connie Pautz, Hutchinson Technology's spokeswoman. She says the company currently employs roughly 1,100 workers in Minnesota.
About 600 of them -- those who do manufacturing work -- are getting pink slips as a result of the restructuring announced Tuesday.
Headquarters and research and development workers will remain in the town of Hutchinson, but their ranks will likely also thin out.
Layoffs will occur over the next 12 months.
After already having moved a big chunk of assembly work to Thailand, where labor costs are cheaper, Hutchinson Technology is now sending component manufacturing to Eau Claire, Wis.
Pautz said that facility has the staff and equipment in place to meet the demands of manufacturing one of the company's new products, called TSA plus, which relies more heavily on robots for production than past products did.
Eau Claire won't see big job gains from the restructuring.
"In fact, when the consolidation is complete, the complement in Eau Claire will be lower than it is today," Pautz said.
The company's business has been volatile for a long time, with big job cuts followed by big gains. Total employment topped 5,400 in 2006. But the company got hammered in the Great Recession.
Since then, Hutchinson Technology has slashed its overall U.S. workforce to about 2,300.
"There's been a series of challenges for Hutchinson," said technology analyst Mark Miller of Florida-based Noble Financial Group.
The company's latest cuts don't surprise him. Miller said he didn't expect an end to the red ink at Hutchinson for another two years.
Some of the challenges Miller enumerates include Hutchinson's loss of a major customers, excess capacity in its manufacturing operations, and a financial drag from its biomeasurement division, which makes a tool that measures oxygen in blood.
"They have lost large amounts of money. They are reducing these losses. I was a little surprised they didn't get out of that business in this announcement," he said.
Miller says the recession, competition with rivals, and pricing pressures have also punished the company.
And the advent of tablet computers could present a new pressure for companies with a stake in the PC market, including Hutchinson.
The research firm Gartner has slashed its outlook for PC sales growth this year to 11 percent, down from the a previous forecast of 16 percent. George Shiffler, Gartner's research director, said it's not that people are buying tablets or mini notebooks instead of PC's already, but tablets are having an effect.
"We think some people are sitting back and going, 'let's wait and see what happens with these things. I want to wait until I go to Best Buy to get my hands on one before I make a final decision about a PC or a tablet.'" he said.
Connie Pautz at Hutchinson Technology denies that the Pc's fate or the rise of Apple's iPad plays a role in today's announcement.
"Hutchinsion Technology has had share loss over the past few years, and our volumes and revenue have decreased, and so it really is a function not of the market but of our own situation needing to consolidate and move all our production into one area," Pautz said.
The hard disk drive market is still growing, she said, adding Hutchinson Technology hopes that by lowering its cost structure it will be in a better position to capture that market.