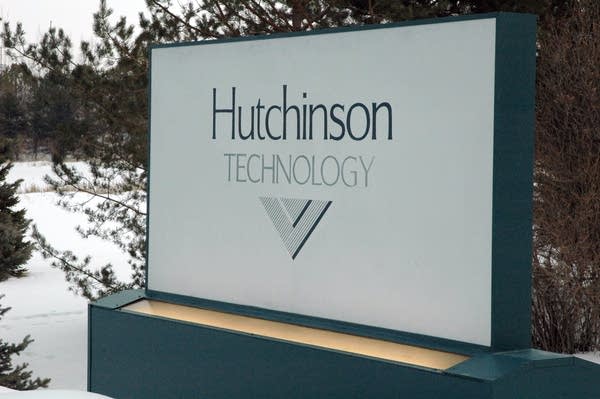 People in the community of Hutchinson learned Tuesday that one of the town's biggest employers, Hutchinson Technology, plans to eliminate several hundred jobs in the state.
The company makes a key part for computer hard drives but has been struggling for several years.
The most recent layoffs follow a round of cuts in 2009. The news of further job losses did not come as a surprise to this town more than an hour west of Minneapolis.
At the VFW hall in Hutchinson, Merlin Kohls was having a drink with some friends Tuesday, but they were not celebrating. Kohls has worked on the manufacturing line at Hutchinson Technology for 13 years, and yesterday he got the news he'd long feared.
"We just had a meeting in the cafeteria and they told us about the restructuring," he said. "And the first layoffs are coming out March 21st."
Kohls said he'll likely be among the first to go. At 58, he's too young to retire but doesn't want to leave Hutchinson. His options are limited.
"I don't really know what's going to happen," he said. "There are not a lot of jobs around here. The economy is not good."
Hutchinson Technology is cutting its Minnesota workforce by more than half. In 2009, the company sent some assembly work to Thailand. Now it plans to consolidate much of its U.S. work in Eau Claire, Wis.
Hutchinson Technology says its headquarters will stay in Hutchinson, along with around 500 jobs held by executives and those doing research and development.
But with 600 receiving layoff notices soon, some in the town of 12,000 worry about the future.
Jeanne Schealler, who used to work for Hutchinson Technology, now owns a flower shop just off Main Street. She said she worries the layoffs will affect her business.
"Gas prices are up for one thing and now you have these layoffs. People are going to watch their spending -- and I saw this last time, too," she said. "Gas stations, you're always going to need gas. But you may not always need flowers."
While the news is creating jitters among business owners, others say they're not afraid the town will fade off the map. Hutchinson's economy is diverse, with main street businesses, other small manufacturers, and a 3M tape factory.
Local real estate agent Craig Juhnke said some people let go from the company might leave, but others might stay in Hutchinson and commute to jobs in suburban Minneapolis.
"People work in the western metro area and live out here because it is still cheaper. And I think you probably see more people if they do get laid off from Hutchinson Technology look at that scenario," Juhnke noted.
Mayor Steve Cook hopes they won't have to. As it did during the last round of layoffs two years ago, Cook said the city will boost efforts to attract new employers, and that means selling businesses on the value of setting up shop in a small town.
"We've got a lot of good things in the community," Cook said. "People are very involved the community and take pride in the community. I think our location's great."
The mayor says the biggest efforts will focus on Hutchinson's new industrial park. Seventy acres of land on the edge of town are empty now,. but Cook says the city is ready for any business that wants to build there, with gas, electric and water and sewer lines installed.