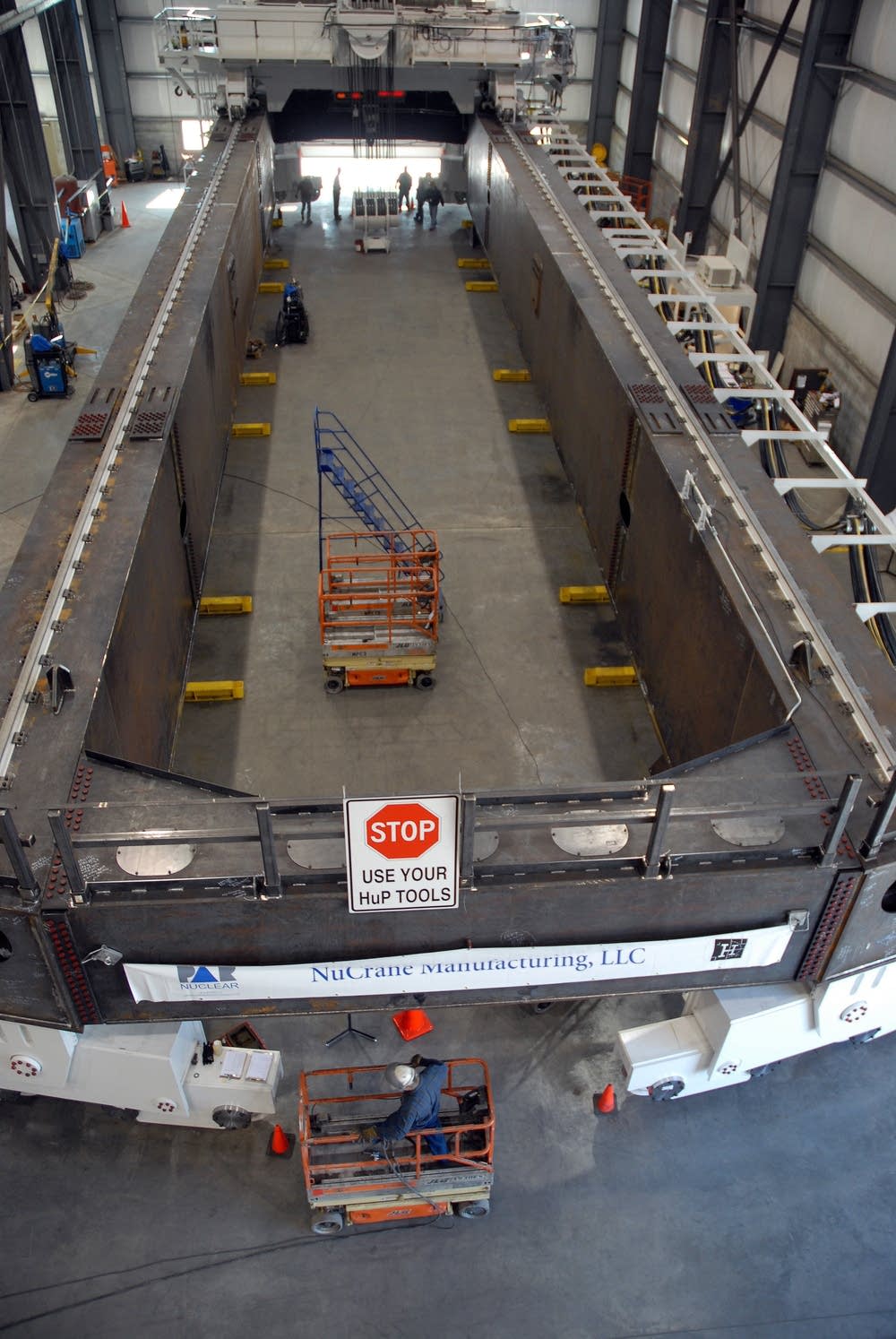 Legislators at the Capitol have not reached a agreement on a proposal to lift Minnesota's ban on building new nuclear power plants, but a fresh chapter is opening in the state's nuclear industry this spring.
A new factory in Hutchinson is about to ship a million-pound, 124-foot long, 44-foot wide bridge crane to China. The crane is key to a new generation of nuclear reactors that, for now, aren't welcome in Minnesota.
The crane is built to lift off the reactor lid and move equipment in and out of the reactor area.
Nearly the size of an office building, the crane is made of steel plates almost as long as a tennis court and thick as a dictionary. Part of the crane's job is to switch out the nuclear reactor's steam generator, which is done every 10 or 12 years.
"The crane, the bridge structure has a capacity of 800 tons, [and] the hoist and trolley are 300 tons," said Warren Baumbarger, the plant manager at NuCrane, a subsidiary of nuclear manufacturer Westinghouse.
In the next few days, workers will start taking the crane apart, to be shipped to China.
NuCrane Manufacturing started out with four employees in 2009, and now employs 23. Baumbarger said that by the end of this year or early next year, they hope to double that workforce with the amount of equipment the company has going through the plant.
Baumbarger said he expects the company to build a variety of reactor cranes, but that might not last. A deal with China shifts production overseas for Chinese reactors, and it isn't clear what demand there will be in the U.S.
CONSTRUCTION AT A STANDSTILL
Debate about safety and nuclear waste has brought reactor construction to a near standstill in the U.S. Since 1994, it's been outlawed in Minnesota.
The Legislature voted this spring to lift that ban, but the bill has languished since an earthquake and tsunami destroyed the reactors in Japan.
Opponents of the bill, like Rep. Phyllis Kahn, DFL-Minneapolis, say the disaster is proof of atomic power's perils.
"It's a good time to be thinking about it. It's certainly not a good time to rush into construction," Kahn said. She has introduced a bill to study the issue, but said the state ban should stay.
Those that want the ban lifted say the country needs a nuclear renaissance, despite the disaster in Japan. They cite nuclear power's lack of greenhouse gas emissions and its relatively good safety record in the U.S.
Bill Burns, president of PAR Nuclear, another Westinghouse subsidiary that makes reactor fueling equipment, said nuclear power isn't just fodder for an arcane policy debate. He said it means good-paying jobs in Hutchinson and at his factory in Shoreview.
"[With the] steel mill constructions, and the ramp up of mining capabilities in the north of Minnesota, there's a couple thousand megawatts of needed power up there that you're not going to get from the wind turbines," Burns said.
Burns said 1,400 to 1,500 megawatts could be generated with one nuclear unit, and in six to eight years that base load could be built.
A POLITICAL BATTLE
Bill Grant, with the Division of Energy Resources at the state's Department of Commerce, said the state's electric utilities don't see an immediate need for more power plants, nuclear or otherwise.
"So, whether we remove the moratorium or not, we're not likely to rush immediately afterwards into the construction of a new nuclear plant," Grant said. He said jobs associated with that project are many years and maybe decades away.
The issue has become a political football at the Capitol. Senate Republicans turned down three conditions Gov. Mark Dayton set in order to sign a bill lifting the nuclear moratorium in Minnesota.
The conditions include a cap on nuclear waste stored in the state and restrictions on financing construction. The House did agree to a ban on plutonium processing that the governor requested.
But ultimately, opponents like Rep. Phyllis Kahn say nuclear power needs to be more than just a jobs program if it is going to move ahead in Minnesota.
"I don't think we ought to promote it at the risk of building another generation of unsafe nuclear power plants," Kahn said. "But do I think there's a possibility to get to safe nuclear power plants? Possibly."
The moratorium bill is stalled in a conference committee and currently no more meetings have been scheduled.