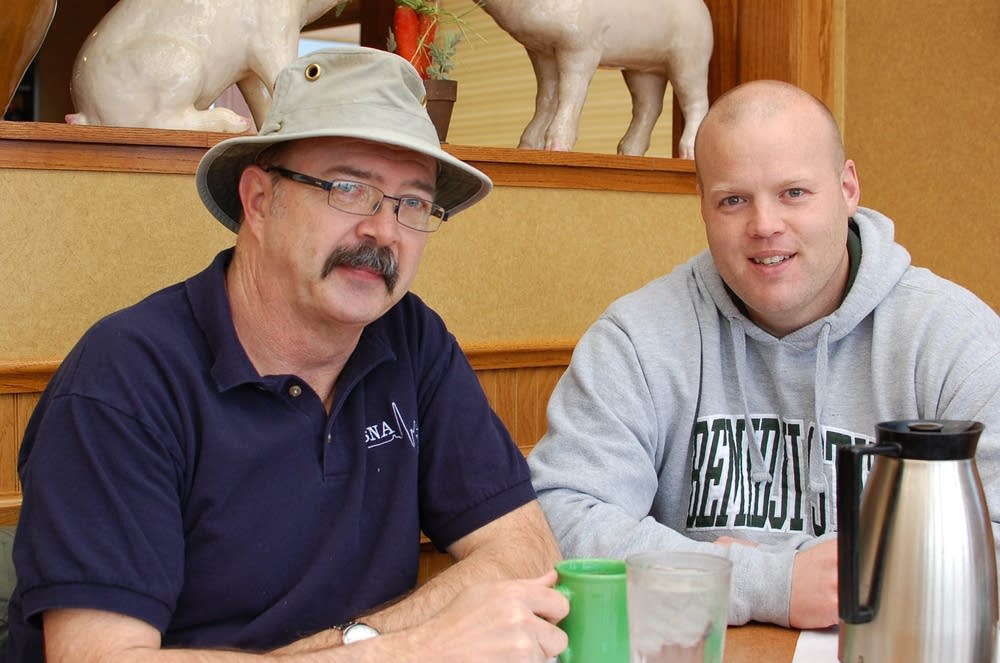 When five former lumber mill workers graduate Friday from the registered nursing program at Northwest Technical College, their prospects of finding a nursing job won't be as bright as they'd once thought.
Laid off three years ago, the men have been part of a retraining program for dislocated workers. The nursing profession has been a magnet for many unemployed people heading back to school. In Minnesota, registered nurses top the list of high-demand jobs.
Before the lumber mill closed, 56-year-old Curt Peterson never would have guessed he'd be a student again. He said the pace has been grueling.
"It's just been nose to the grindstone," Peterson said. "And you're thinking, 'Oh, will it ever end?' Well, here we are, and it's, 'Oh, my gosh, now we have to get a job.' "
Peterson thought he could ride out the recession in school and come out with a nursing degree that was in high demand. But he's finding there are fewer local job openings than he'd expected. And competition for those jobs may be intense.
Minnesota schools are producing more nursing graduates than ever before. Data from the Minnesota State Colleges and University's system show the number of two-year nursing grads is approaching 2,000 per year, nearly double what it was in 2002.
The number of registered nurses graduating from universities with four-year degrees more than doubled in the same period. People who hire nurses say there's a growing preference to hire baccalaureate-trained nurses over those with two-year associate degrees.
The surge could create a short-term bottleneck for nursing jobs. In the fourth quarter of 2010, the Department of Employment and Economic Development listed just over 1,000 RN job vacancies for people with two- and four-year degrees. That's less than half of what it was five years ago.
Peterson's dream job would be to work at a hospital close to home. He figures a four-year nursing degree might have made him more attractive to employers. As it is, Peterson's job search so far tells him he should leave all options open.
"If I have to, I'll move to get a job," he said. "There are all kinds of jobs for RNs, but they're in Ohio, or Florida or California, or elsewhere. But when you start looking closer to home, the prospects really get a little more narrow."
Nursing is an attractive profession because the need is expected to explode as baby boomers retire. The U.S. Bureau of Labor Statistics projects the country will need a million new or replacement nurses over the next five years.
But something remarkable happened to the nursing profession during the recession. Shortages that had been evident for almost a decade were all but wiped out as retired nurses returned to the workforce. Many nurses who were expected to retire kept working.
The recession dramatically altered the job outlook for nursing, at least for the short term, said Peter Buerhaus, professor of nursing at Vanderbilt University in Nashville.
"The jobs will be there, believe me," he said. "It's just right now, today, they're not as widely available as we had expected."
Buerhaus, a leading expert on nursing workforce issues, said his big concern is that nursing schools across the country will pull back on the number of nurses they graduate.
"We could see a lot of RNs leave the market, and we could be in big, big trouble pretty soon," he said. "So the need to continue to educate nurses is not going away."
In good economic times, nearly 100 percent of RN graduates in Minnesota could expect to be employed within a year of graduation. That number is now closer to 90 percent, according to Minnesota State Colleges and Universities data.
That's still not bad, said Jane Foote, director of HealthForce Minnesota, a workforce-focused collaborative for MnSCU. She said the long-term outlook for nursing is excellent, but graduates need to be flexible.
"I think nursing is still in high demand, but new grads aren't necessarily going right into hospital-based positions full-time, and they're certainly most often not getting daytime hours," she said. "They're working swing shifts and nights."
Observers say hospitals are beginning to hire more nurses. Two years ago there was a net reduction of about 20,000 registered nurses across the country. In 2010, hospitals hired 40,000 new nurses.