Minneapolis residents, officials still reeling from tornado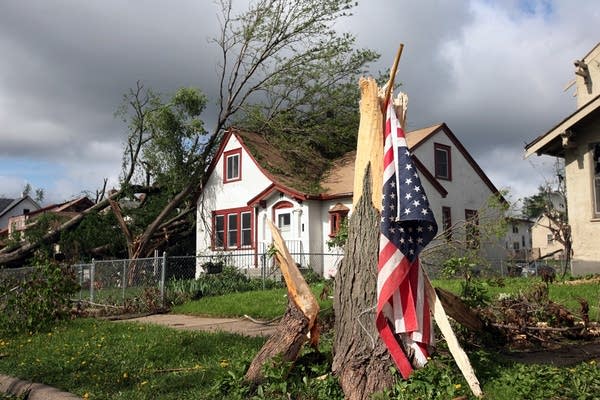 Minneapolis officials say Sunday's tornado, which was responsible for two deaths and dozens of injuries, caused around $166 million in damage.
A spokesman for the city called that a very preliminary estimate of damage to both public and private structures and infrastructure. Not factored is the cost of the emergency response. The spokesman said damage assessors continue to go door to door. A more detailed account of the damage should be available within a few days.
Hundreds remain homeless, and thousands more without electricity.
Floyd Whitfield, 59, of north Minneapolis was killed in his vehicle when a tree went through his windshield. Another north Minneapolis resident, Rob MacIntyre, 54, died while helping his neighbors clear debris.
Grow the Future of Public Media
MPR News is Member supported public media. Show your support today, donate, and ensure access to local news and in-depth conversations for everyone.
On Monday night, the National Weather Service concluded that the tornado was either a strong EF1 or an EF2. An EF1 tornado has speeds of up to 109 mph. An EF2 has speeds of 110-137 mph.
The weather service also said the tornado was on the ground for six-and-a-quarter miles in Hennepin County plus an additional eight miles across Anoka and Ramsey counties.
The storm left a trail of downed trees, smashed homes and garages.
Melvin Battle was lucky. His home and garage took a minor hit. But Battle's backyard is a mess.
"This is my privacy fence, surrounding my whole backyard," said Battle. "My gazebo was inside of there. Half of it is hanging from the roof. The other half, as you see, is down here on the ground."
Battle says he was going to hold a graduation party for his grandson in the backyard next weekend. But not anymore.
Just a few doors down from Battle, the street is blocked by several large trees that fell onto cars parked in the street. In some areas, people have to walk under downed power poles and step over various cables and wires in the streets.
That's one of the reasons why Sgt. Bill Palmer of the Minneapolis Police Department wants people to stay away.
"Right now we need to ask everyone who doesn't need to be in north Minneapolis to not be in north Minneapolis," said Palmer.
The police department has created an "exclusion zone" around the hardest hit parts of the city. Access to those areas is blocked by barricades and yellow crime scene tape. Palmer says the goal is to give city workers room to do inspections and clear debris.
"There are a lot of roads in north Minneapolis, you just cannot get into certain areas," he said. "And we don't need traffic going beyond those barricades, because there's a good chance you're going to end up in a dead end."
Police set up 13 checkpoints to help enforce the zone, allowing residents back in when it's safe. Palmer also says the city is closing freeway ramps from I-94 into north Minneapolis at West Broadway, Dowling and 49th and 53th avenues.
State and federal officials came to north Minneapolis to see the damage firsthand on Monday morning. As news helicopters hovered overhead, Gov. Mark Dayton and U.S. Sen. Amy Klobuchar promised to secure any state or federal resources that may be needed.
Dayton said now's not the time to worry about what it will cost to get storm victims back on their feet.
"We need to first of all take care of the people who've been injured, and families whose lives have been destroyed and devastated, and then we'll at some point total it up and see what we can do," said Dayton.
Klobuchar said FEMA may also be able to lend assistance.
"They're on the ground right now, which is convenient because they were here for the floods. And they will start doing damage assessment to see if the formulas are met," said Klobuchar. "There are set formulas for public assistance. On the federal level it's $6.9 million in uninsured public damage."
The cost of the storm damage is not yet known, but it comes at a time when Minneapolis is facing budget challenges because of action at the state Legislature, to cut the amount of money the city gets in state fund each year.
City coordinator Steven Bosacker says the city may have to tap into its reserve fund to pay for overtime expenses, and then get reimbursed by state or federal agencies later.
Minneapolis Mayor R.T. Rybak says the city is figuring out how to find temporary shelter for the hundreds of people whose homes are uninhabitable. Last night more than 200 people stayed overnight at the Northeast Armory. Since then, the number of people seeking shelter has nearly doubled.
"Project Homeless Connect is one of the great operations we have. A couple times a year we invite all homeless people into the Convention Center, and we have services ranging from food, to housing, to legal services, even dental," said Rybak. "All of that is open, all of that is available to anyone from north Minneapolis today."
Rybak says volunteers at the Convention Center will also stay Monday to provide more help as well. City officials say families with children who still need shelter will be moved from the Armory to the Drake Hotel downtown.
The city will not enact another curfew. However, Rybak has asked the state for permission to declare a state of emergency. The declaration first needs the approval of the city council, which will vote on the declaration at a special meeting Tuesday.
The National Weather Service will review the language it used in its tornado warning yesterday to determine whether it should have specifically listed the city of Minneapolis in the warning. The warning area included east central Hennepin County, but Minneapolis was not mentioned. Other nearby cities, including Crystal and Robbinsdale, were listed in the alert.
National Weather Service Meteorologist Chris Franks said the apparent tornado that touched down looks like it was within the boundaries of the warning area. But he also said it's possible that the alert wasn't clear enough.
"In some cases, the forecaster may have drawn a great tornado box, but maybe some of the wording in the specific warning could have been better," he said.
Weather service forecasters should finish their damage survey this evening. Franks said that assessment will give forecasters a better picture of what actions should have been taken.
(MPR Reporter Lorna Benson and the Associated Press contributed to this report.)
Gallery
1 of 1