Chris Fischbach takes over as publisher at Coffee House Press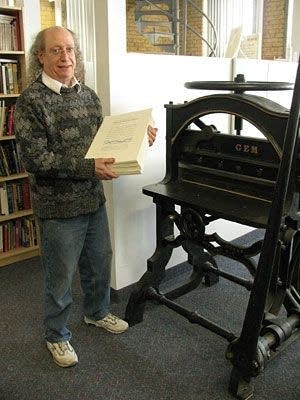 It's official. After a two-year transition process, Coffee House Press founder Allan Kornblum is handover the reins to longtime Associate Publisher Chris Fischbach.
Kornblum, who started Coffee House Press in 1984, will stay on as Senior Editor.
[image]
Allan Kornblum
Grow the Future of Public Media
MPR's budget year comes to a close on June 30. Help us close the gap by becoming a Sustainer today. When you make a recurring monthly gift, your gift will be matched by the MPR Member Fund for a whole year!
Over its 27-year history, Coffee House has become one of the most highly regarded independent literary presses in the country. Fischbach started as an intern more than 15 years ago. He says he sees one of his biggest challenges as "walking the line between respecting and honoring Allan's legacy and establishing my own leadership."
In terms of the job itself, I currently see a couple things happening

that I am already having to deal with somewhat, but which will only become

more to a head in the coming years. That is, how to deal with sales

expectations between print and e-book when we don't really know where the

e-book market is going, nor do we have any kind of history with which we can

make accurate predictions. If, for instance, print sales decline but e-books

go up, what does that mean for our business model? Will it be 10% different

or 40%? No one knows where the dust will settle with e-books, or if it will.

The other is that because of so much uncertainty in the economy and with

e-books, bookstores are ordering fewer copies and ordering them later. Then

they just re-order when they need more. This makes predicting how many books

to print for our initial print runs difficult, and risky. Learning how to manage this new bookstore behavior is something everyone is dealing with.
[image]
Chris Fischbach
Fischbach says there are some changes in the works. Names, he plans on Coffee House Press being much more visible in the community.
I will be looking for creative ways to collaborate with other local arts organizations as much as possible, working to allow connections to be made between our authors and other artists, and other arts organization. I have great admiration for the Walker's Open Field, the spirit of collaboration and experimentation in engenders. I want to bring some of that energy to Coffee House. I grew up here, and I love the Twin Cities. I want Coffee House to continue to be a part of what makes this place such a fertile area for vital and exciting art.