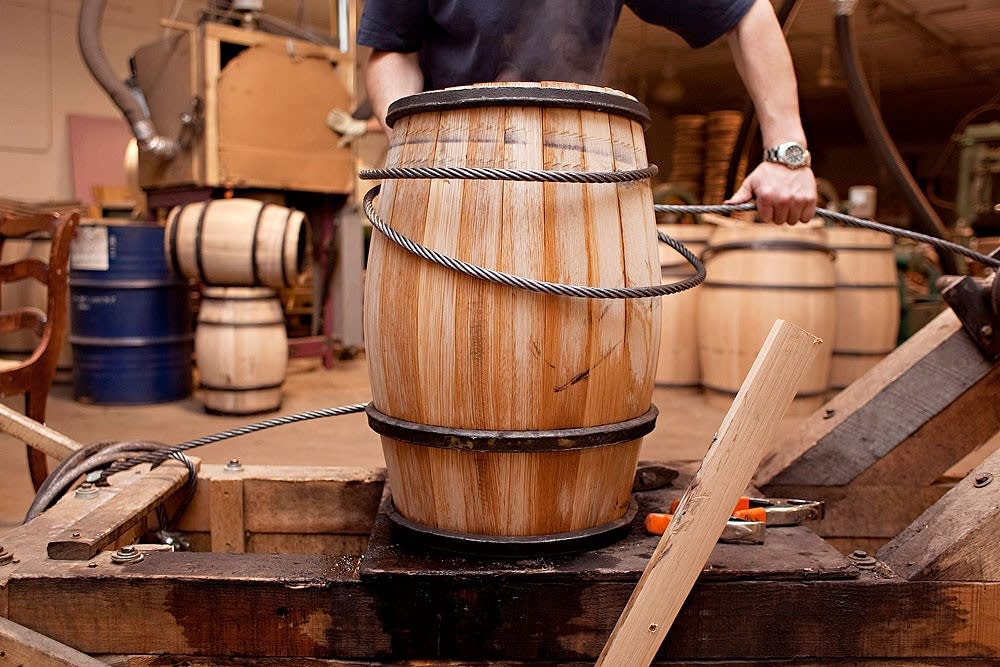 Building wooden barrels is a craft. Building barrels that make good whiskey is an art.
Tucked away inside a nondescript industrial building in the tiny town of Osage, the shop floor at Black Swan barrels is a busy, noisy place. Six people are working with wood, steel and fire to make barrels.
View more photos from Black Swan Cooperage.
This is a family-run business. Four members of Karasch family are involved. Heidi Karasch, 23, owns the company. She says it was a natural fit for her.
"I have been around woodworking for my whole life," she said. "My dad's been making sawdust all his life so I'm a big daddy's girl basically and always wanted to follow in his footsteps."
Heidi's father, Russ Karasch, is a master cooper who does research and development. Her mom, Mary Ann, keeps the books and her brother Jacob builds barrels. Whiskey, the family German Shepherd, has the run of the shop.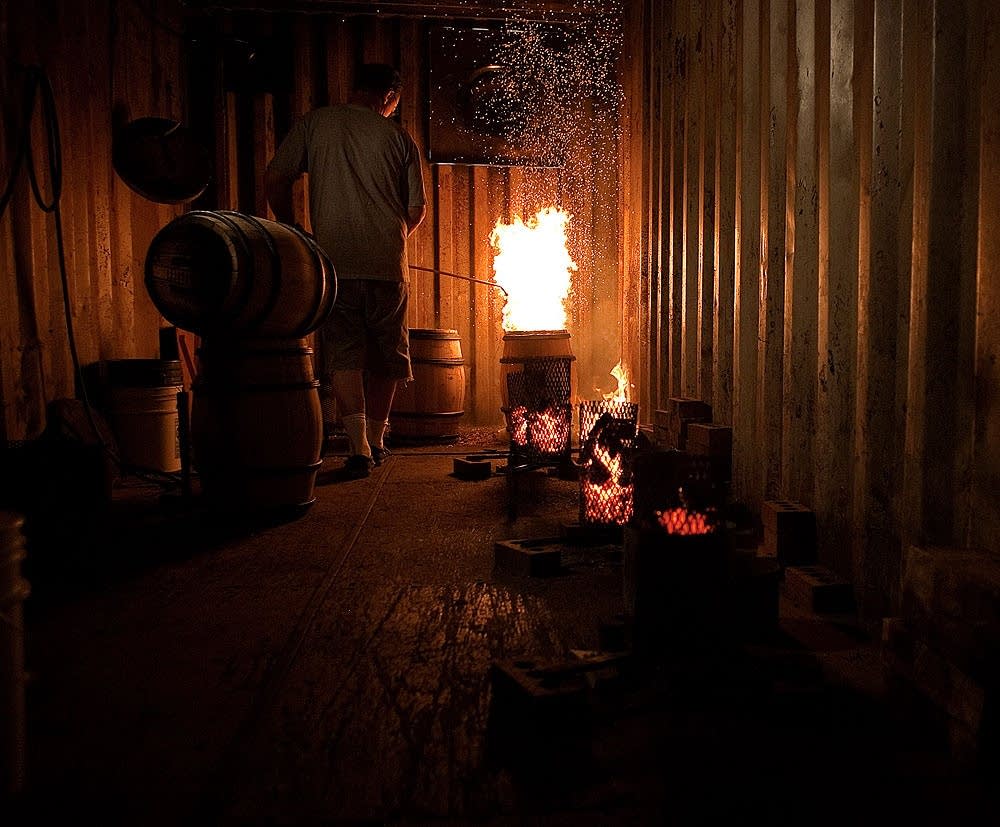 In addition to the family, there are five full-time employees. The company started building barrels in 2000 and set up shop in Osage in 2010. Karasch says they are one of two cooperages in Minnesota.
The process of building a barrel is called coopering, and is labor intensive. First, pieces of white oak are shaped into barrel staves, which are then soaked in water and fitted together. A machine forces heavy iron bands over the barrels, bending the staves into the signature barrel shape.
By the time a barrel is complete, each stave has been handled seven times.
But Master Cooper Russ Karasch says it's what happens in the back of the shop that makes these barrels different.
This is where the oak barrels are toasted.
"There are people who like our toast; they like what the flavor of our barrel is. And that's what it's all about."

Russ Karasch, master cooper
"This is why we're in business. Because there are people who like our toast. They like what the flavor of our barrel is. And that's what it's all about," he said.
Inside a metal shipping container, small fires burn in several wire mesh baskets. Barrels open on both ends are placed over the fire. The small fire slowly browns the interior of the barrel.
What makes this process important is that there are sugars in trees, and it's all about how the heat reacts with those sugars.
"The different sugars have different times and temperatures that they caramelize or break out. And by heating that up, in essence, you're caramelizing that sugar, making it that much more available for the whiskey to absorb," Russ Karasch said.
And that's what gives whiskey its flavor.
To enhance the wood toasting, Black Swan uses a unique process. Before the barrels are assembled, dozens of shallow holes are drilled into the thick oak staves on the inside of the barrel. Those holes expose more wood grain and speeds up the whiskey aging process.
The man who tends the fires is Scott Kolesar. It took months of practice, but he knows when a barrel is ready by how it looks, and the sweet smell of caramelized sugars in the wood.
"I'm a retired baker from south Minneapolis. So now instead of baking donuts I'm baking whiskey barrels," Kolesar said. "It is a lot of fun. Playing with fire and your mom not screaming at you to put it out, you know?"
After the barrel is toasted, Kolesar blows compressed air into the barrel. The rush of oxygen causes the flames to explode with a roar.
In less than 30 seconds the inside of the barrel is charred black. The thin layer of charcoal serves as a filter for aging whiskey, while the toasted wood beneath the charcoal flavors the whiskey.
The basic craft of making barrels has changed little in hundreds of years, but Russ Karasch says he's trying to build a better barrel using science.
White oak is the only wood suitable for building barrels, Russ Karasch said. But different woods have different sugar content.
So, Russ Karasch developed a technique to add flavors from other woods. The process involves drilling dozens of holes in a honeycomb pattern into a piece of wood, toasting the wood in an oven and putting it inside the barrel. The drilled holes increase the surface area of the wood to flavor the whiskey.
In the office at Black Swan Cooperage, a shelf is filled with mason jars. Each jar has small pieces of the honeycomb wood soaking in whiskey.
Russ Karasch said he hates the taste of whiskey — but he loves the smell. And each kind of wood adds a different smell and flavor to the whiskey.
"That one's cherry, yellow birch and hickory. Pretty cool," Russ Karasch said. "Some people would call it voodoo when you're just mixing concoctions. But we're not. This is wood science. We're doing exactly what the barrel does. Only we're trying to do it better and faster."
Company owner Heidi Karasch says their technique is waiting for patent, and is what will give the company an edge in a competitive market.
"We do the honeycomb which is done by nobody else. We have patent pending on that technology. And then we do the toasting of the barrel to bring out more of the good flavors of the oak," she said.
Although the company now makes barrels only for whiskey distillers, they plan to expand into the wine and beer industry in the next five years. They hope the blend of science and craft will someday soon make Black Swan barrels a must-have for making fine spirits.