As the reality of a July 1 state government shutdown sinks-in among the public, many people are in a last-minute flurry to take care of government business: renewing their driver's licenses, getting permits, even buying lottery tickets before non-essential services go dark at midnight Thursday.
One block from the state Capitol, the eye of the state budget storm, the Driver and Vehicle Services office is packed.
Jennifer Greunzer of St. Paul was one of many people rushing to renew driver's licenses Wednesday. Greunzer's license expires on her birthday in late July.
"I was just watching the news this morning and I thought I'd better get in and do that," Gruenzer said.
She had plenty of company. Katie Orth, who manages this service branch, said driver's license renewals hit a record on Tuesday.
"People are worried that because of the shutdown they're not going to do it," Orth said. "We have people coming in, the driver's license is expiring in August and they're coming in early. People's tabs that are expiring in August or you know, September, we've seen those people come in too. They're just worried."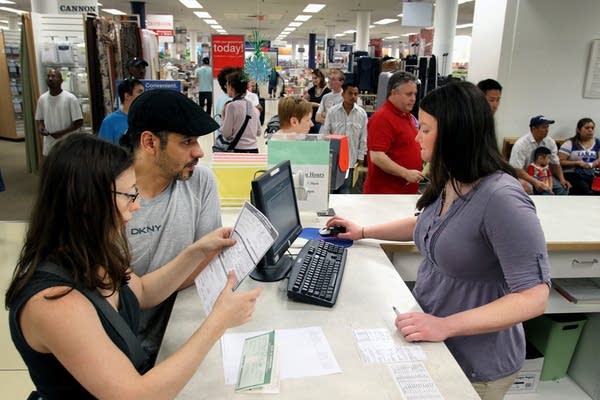 Orth has brought in extra staff to deal with the high volume. This office and nearly 100 others statewide will stay open during a shutdown to provide limited services, such as tab and license renewal. The office is in leased space and the workers are subcontracted and therefore, aren't state employees. But the state Department of Driver and Vehicle Services has not been ruled an essential service, so it will shut down and no longer administer written or road driver's tests.
Rick Bilek of St. Paul stood in line Wednesday to get license plates and transfer a title, just one of several stops of the day.
"I have to go to the (Department of Natural Resources) to get my bear-hunting license 'cause I got picked out of the lottery for an area up north by Remer, Minnesota," said Bilek. "That's my next stop before I leave town for the holiday here."
Speaking of lotteries, tickets won't be sold or lottery winners paid in the event of a shutdown. At Charlie's convenience store in downtown St. Paul, clerk Kendra Jackson said she's seeing a flurry of last-minute ticket sales.
"We usually tell everyone that the lottery will not continue if the state does shutdown, so they're like, 'Oh, well, let me get my lottery now so before the lottery shuts down I can have my lottery,' " said Jackson.
If your ticket is a winner, lottery officials say to sign the back of the ticket and keep it in a safe place. The state will pay out when government resumes. Multistate games like Powerball Megamillion and Hot Lotto will continue but Minnesota winners will have to wait for their payouts.
"I'm definitely not winning," said Ho Lum of St. Paul, who bought a slew of lottery tickets on his lunch hour.
Lum's bad luck is likely to continue if there's a shutdown. He'll be laid off from his job with the Minnesota Department of Employment and Economic Development.