Minnesota Architecture: The Varsity, Uptown and NorShor Theaters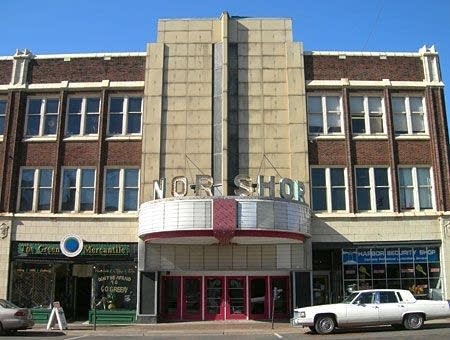 Today's nomination is an ode to the movie palaces of the 1930s and '40s.
[image]
The NorShor Theater in Duluth
Photo courtesy of Robb Mitchell
Robb Mitchell of St. Paul brings us this nomination:
MPR News is Reader Funded
Before you keep reading, take a moment to donate to MPR News. Your financial support ensures that factual and trusted news and context remain accessible to all.
THE VARSITY, UPTOWN, AND NORSHOR THEATERS: Buildings by Liebenberg and Kaplan

Architecture goes through cycles of life and vitality while remaining the cornerstones of neighborhoods and this risk cycle is particularly true of the neighborhood movie palaces. The architecture partnership of Jacob K. Liebenberg and Seeman Kaplan were known for their designs for movie houses/theaters that brought wide acclaim. At the beginning of their careers, Liebenberg and Kaplan embodied of the most eclectic elements of the 1920s and the newer Streamlined and Zigzag Art Deco motifs of the 1930s. During their careers, they designed over 200 movie houses theaters throughout the Midwest. In the Twin Cities alone, Libenberg and Kaplan were responsible for the Granada (Suburban World, 1927-28), the Wayzata (1932), the Edina (1934), the Hollywood (1935), the Uptown (1937), Hutchinson's The State (1937), the Varsity (1938), Duluth's NorShor (1941) and others no longer standing. Often through the cycle of rebirth and renewal we through out gems from our past in favor of the new only to later cringe at our neglect of past palaces.

Preservation is about the art of reversing neglect and ignoring the thrill of current trends.
I found this additional information on the NorShor Theater at its website:
July 11, 1941

NorShor Theatre opens as an Art Deco movie venue. Minneapolis-based architects Jacob J. Liebenberg and Seeman Kaplan design the remodel to include the old Orpheum in its construction, with a new entrance on Superior Street. They reverse the layout of the original theater and add a marquee that includes a 64-foot-high tower, completely sheathed in porcelain, incorporating 3,000 lights. It is said to be visible from 60 miles away. The theater's Arrowhead Lounge milk bar features a mural of dairy and farm life by Gustaf Krollman of the Minneapolis Institute of Art. The opening movie is Caught in the Draft, starring Bob Hope and Dorothy Lamour.
Here's that milk bar:
[image]
NorShor Theater's milk bar
Image courtesy the NorShor Theater
Many thanks to Robb Mitchell for his nomination. Do you have a building - or series of buildings - you'd like to nominate? Send a photo or two, along with your nomination to mcombs@mpr.org.