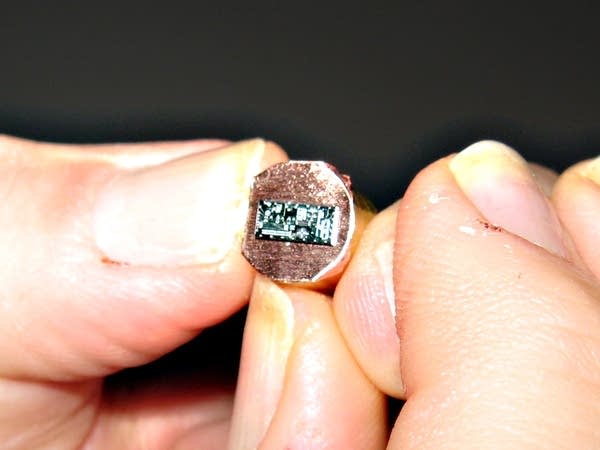 A Minnesota organization is behind a move to create a regional initiative that could bring nanotechnology research dollars and jobs to the upper Midwest.
The proposal aims to connect researchers and businesses and build an international nanotech reputation for the region. Dubbed NanoVox, the regional nanotech center would encompass Minnesota, Wisconsin, Iowa, the Dakotas and perhaps Manitoba, Canada.
Nanotechnology is manufacturing on the molecular scale that often finds new uses for traditional materials. Hundreds of products — from clothing to food packaging to medical devices — already use nanotechnology.
The technology will affect nearly every industry in some way, said Steve Campbell, director the nanofabrication center and the nanostructure application center at the University of Minnesota.
He said the importance of nanotech is particularly evident at some of Minnesota's largest companies.
"If you were to talk to large companies especially, places like 3M or Medtronic, they would list nanotechnology as one of their most critical technologies going forward to enable their companies to develop new products," Campbell said. "3M has something like 500 products already in line that rely on nanotechnology."
But nanotech is very competitive. Campbell said states with much larger economies than Minnesota, among them New York, Texas and Ohio, are focused on attracting nanotech jobs.
"They have very aggressive programs in nanotechnology because they see this as the future economic driver," he said. "And how do we compete? Well, one way to compete would be to do more of a regional center than a state center."
The Upper Midwest will need a regional approach to compete in a global economy, said Lynne Osterman, executive director of MN Nano, a five-year-old nonprofit designed to develop nanotech jobs in Minnesota.
Toward that end, NanoVox would be a sort of high-tech dating service, connecting researchers and entrepreneurs who have similar interests.
Osterman said the project's success will depend on voluntary participation. So far, the response has been promising.
"It's like, 'Oh my gosh, I could totally see myself using this resource,'" she said of early reviews. "Then people say, 'How are you going to do this?'" And my response is, 'How are we going to do it?'"
Osterman said Minnesota, Iowa, Wisconsin, North and South Dakota all have different incentives for economic development and they traditionally compete for jobs. But she envisions entrepreneurs and researchers in the five states and Manitoba working together to build a regional nanotechnology infrastructure that will attract research money and startup companies.
Joe Ward, who runs a small business in Hudson, Wis. that makes nano particles to color printer ink, expanded his business from St. Paul to Hudson because of economic incentives offered by Wisconsin. But the regional economy doesn't benefit when states compete for the same businesses, said Ward, a board member of the NanoVox organization.
Instead, Ward said, the region needs new business creation. He said improving information sharing between researchers and entrepreneurs is critical because access to research and development can make or break a startup company.
"Large companies may feel they have a lot of this already," Ward said. "But smaller companies don't. And everyone says the key to real sustainable growth is high tech companies being able to grow up and become large companies."
Ward hopes the nanotech initiative will encourage states to create consistent economic development incentives. That way states compete globally as a region, not against each other.
Some researchers have concerns about sharing their ideas on a public database, fearing it puts intellectual property at risk.
But others are not worried. They say NanoVox will match research expertise with a business that needs that expertise. Once the match is made, the two sides can work out the details of the relationship.
Phil Boudjouk doesn't know much about the NanoVox initiative yet, but he's sold on the concept. Boudjouk, vice president for Research, Creative Activities and Technology Transfer at North Dakota State University, said nanotech will deliver on its economic development promise if researchers can deliver the breakthroughs businesses need.
"Networking and collaboration could be critical if the upper Midwest wants to benefit from technology based economic development," he said. "Then a consortium such as this could be quite beneficial."
NanoVox is funded by contributions from universities and businesses. By this fall, NanoVox expects to hire its first matchmaker, to bring researchers and businesses together.