Cuts to government could hamper recovery, Bernanke says in Minn.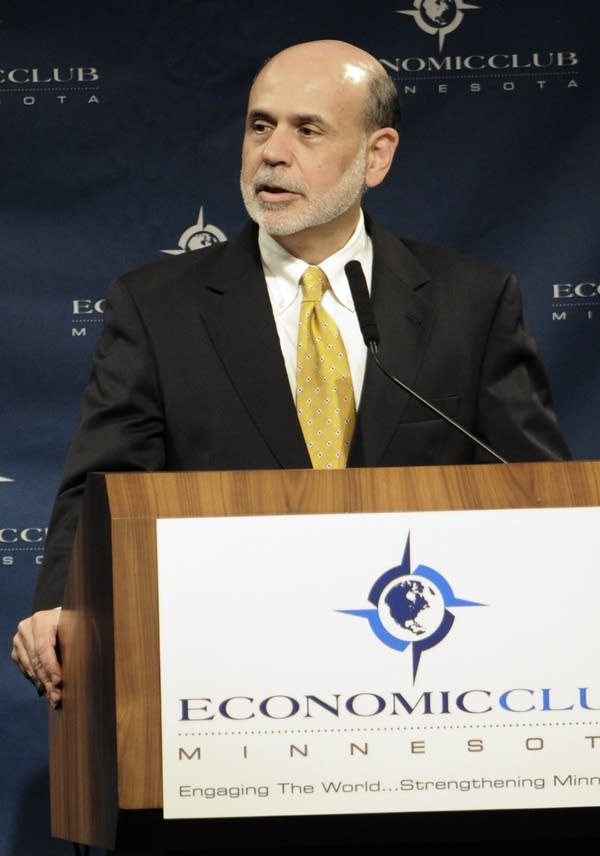 The head of the Federal Reserve Bank told a crowd in Minneapolis Thursday that further reductions in state and local governments could create additional headwinds for the economic recovery.
Fed chairman Ben Bernanke made his remarks to an audience of about 800 at a meeting of the Economic Club of Minnesota.
Bernanke said that weakness in the housing and banking sectors are a drag on the economy. And he noted that the budget reductions by state and local governments, which have resulted in layoffs and lower spending, could also hamper the economic recovery at the same time the federal fiscal stimulus is coming to a close.
"There is ample room for debate about the proper size and role for the government in the longer term," he said. "But, in the absence of adequate demand from the private sector, a substantial fiscal consolidation in the shorter term could add to the headwinds facing economic growth and hiring."
Bernanke's speech did not otherwise diverge much from one he delivered in Jackson Hole, Wyo. last month. He repeated his belief that interest rates should be kept low through 2013. He said even though temporary forces, including global supply disruptions tied to the Japanese disaster, briefly caused inflation to rise at an annual rate of about 3.5 percent in the first half of this year, he expects it to drop.
"In particular, the prices of oil and many other commodities have either leveled off or have come down from their highs," he said. "Meanwhile, the step-up in automobile production should reduce pressure on car prices. Importantly, we see little indication that the higher rate of inflation experienced so far this year has become ingrained in the economy."
Bernanke's speech came a day after the Federal Reserve said its 12 bank regions saw some economic strength this summer because consumers spent more in many parts of the country, despite the turmoil that shook the financial markets last month.
Bernanke's speech did not address any of the expected job creation mechanisms that President Barack Obama is slated to address tonight.
Gallery
1 of 1