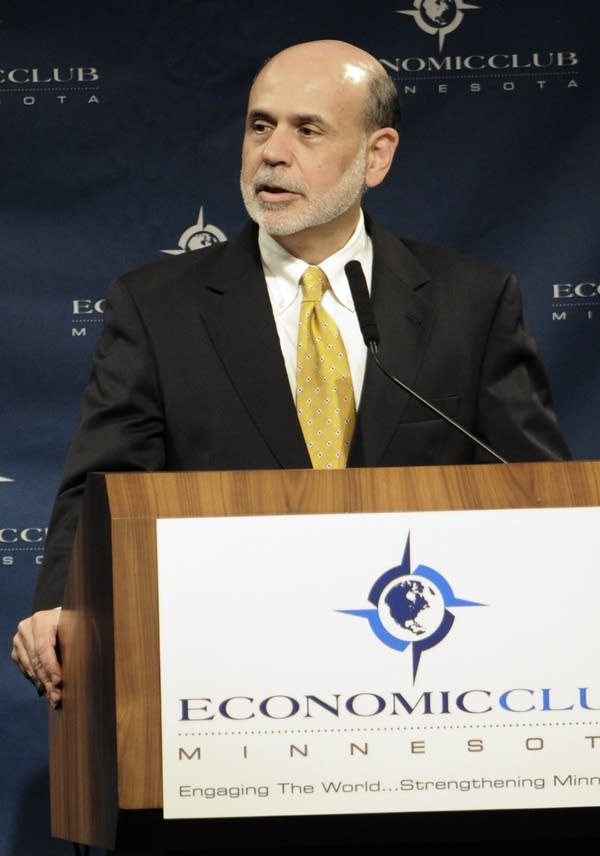 Stocks dropped today after the head of the Federal Reserve Bank failed to offer any new fixes for the bad economy during a speech Thursday in Minneapolis.
Ben Bernanke, Chairman of the Board of Governors of the Federal Reserve System, spoke to the Economic Club of Minnesota
According to the stock market, no news was not good news. Bernanke's failure to elaborate on any new ways to stimulate the sluggish economy seemed to disappoint investors. Shortly after the speech got underway, the Dow Jones Industrial Average dropped some 70 points and never recovered.
Bernanke discussed some of the reasons why the economic recovery is "frustratingly slow," as he put it, with gross domestic product increasing at an average annual rate of 1 percent in the first two quarters.
He observed that consumers face a lot of headwinds, including consistently high unemployment, falling home prices, and high debt burdens. He seemed surprised by the extent of consumer retrenchment.
"Even taking into account the many financial pressures they face, households seem exceptionally cautious," he said. "Indeed, readings on consumer confidence have fallen substantially in recent months as people have become more pessimistic about both economic conditions and their own financial prospects."
Bernanke noted that the weak housing market and tight credit continue to restrain the recovery. But he suggested that budget and staff cutting by state and local governments could hold the economy back.
"There is ample room for debate about the appropriate size and role for the government in the longer term, but, in the absence of adequate demand from the private sector, a substantial fiscal consolidation in the shorter term could add to the headwinds facing economic growth and hiring," he said.
Bernanke has alluded in recent weeks to additional tools the Fed has to help stimulate economic growth but did not elaborate them today. He did, however, reiterate the importance of keeping interest rates low.
Bernanke is chair of the Federal Open Market committee, an important group that sets a key short-term interest rate as part of its duties of deciding monetary policy. Minneapolis Fed president Narayana Kocherlakota, who holds a seat on the committee through the end of the year, raised eyebrows when he joined two other committee members and voted against the group's decision to keep interest rates near zero into 2013. Kocherlakota argued that policy could drive up inflation.
When asked about recent dissent on the 10-member federal open market committee, Bernanke said he encourages debate and discussion within the group.
"My attitude has always been if two people always agree, one of them is redundant," he said. "So we have had different points of view. There's no hiding that and I have no desire to hide it. But I ultimately think it's constructive."
Augsburg economist Ed Lotterman attended Bernanke's speech and noted how cautiously the Fed chairman spoke.
"Bernanke emphasized 'We work together. We respect each other.' But there are some pretty sharp divisions on that committee and there's no papering that over," he said. "He can't say 'I'm going to do this or that' because he has to bring nine other people along with him."
Lotterman wasn't surprised by Bernanke's repetition of big chunks of a previous speech he gave a couple weeks ago in Wyoming. Fed chairmen are like politicians, he said, and often recycle parts of their stump speeches.
The chief executive of TCF Financial, Bill Cooper, did not attend the speech but read it online. He said it made him contemplate how banking regulators are burdening banks with more rules that tighten credit, counteracting moves the Fed has taken to boost the economy.
"You got the Fed working as hard as it can with all of its tools to stimulate the economy, with monetary loosening and so forth, while at the same time the rest of the regulatory world is kind of doing a lot of things to stifle the economy," he said.
Although the Fed chairman's visit received lots of national attention, Sid Verdoorn wasn't surprised that it was light on specifics. Verdoorn is former head of the Twin Cities-based transportation company CH Robinson Worldwide, one of Minnesota's Fortune 500 firms.
"We did not expect anything major to come out of it because the president is speaking tonight. Plus, I don't think the Fed has resolved all their positions," he said.
It's unknown when the Fed will announce its next move.