Artist tackles adoption, racism in new show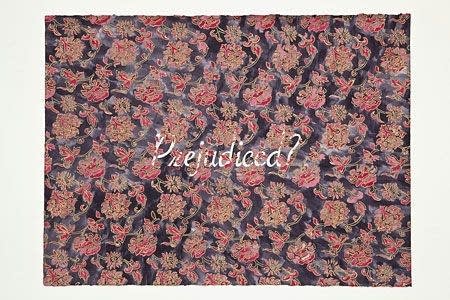 Dana Weiser has put up with a lot. Take for example, this experience:
I was in the elevator by myself with this man, and he said "I just have to ask - where are you from? Are you Chinese? Japanese?" He listed off all these Asian countries, and I said 'no' to each of them until finally he said "what's left?" I told him "I'm Korean." He leaned in and smelled me and said "where's the kimchi?"
[image]
Grow the Future of Public Media
MPR News is Member supported public media. Show your support today, donate, and ensure access to local news and in-depth conversations for everyone.
"Prejudiced?" by Dana Weiser
Weiser didn't want to be rude, so she just got out of the elevator and away from the man as fast as she could. But afterward she thought about all the things she would have liked to say to him.
It's moments like these that inspired Weiser's solo show "Who are you?!?" at Burnet Gallery in downtown Minneapolis.
The drawings started from that - because I get so stunned and shocked by what people say and I don't want to come off as being rude. So I started coming up with these words - things that I would like to say - but I didn't want them to be in your face. So I started picking these patterns and tracing them and they became really meditative and therapeutic as well.
Just as Weiser's thoughts are hidden behind her desire to be polite, so the words are obscured by the lovely antique designs she's recreated in painstaking detail. But look closely and you'll see such phrases as "you're rude" or "not funny" or "xenophobic?"
[image]
Where are you from? by Dana Weiser
Weiser is used to working in three dimensions - primarily ceramic sculpture - so even her drawings evoke layers of depth. So do her mirrors, which she etches with patterns and words, so the viewer sees him or herself behind each phrase or question.
I really liked the idea of putting these questions that I've been asked so many times on the viewer. And the work changes all the time because of what's reflected in it.
Weiser says she doesn't want to be accusatory, but simply create a space in which viewers are encouraged to look at their own behavior and words.
[image]
Orphan Babies, silver and gold, by Dana Weiser
Weiser, a Korean-American adoptee with Jewish-American parents, is also interested in issues surrounding adoption.
I live in LA now and I think celebrity babies are becoming this new trend. Whereas before it was those teacup puppies that people put in their purse, I feel now adopted babies have become an accessory.
Weiser created orphan babies tricked out in Swarovski crystals and gold and silver paint to drive home her point. The babies are distressed, with their arms outstretched, based on memories of a visit she paid to the Korean orphanage from which she was adopted.
Weiser says as a child she turned to art as a means to cope with racism she experienced. Now it's allowing her to raise her voice, and fight back.
You can see Dana Weiser's solo show "Who are you?!?" at Burnet Gallery in downtown Minneapolis through October 16.