Rybak tries to re-enter Mpls. into Vikings stadium talks
Minneapolis Mayor R.T. Rybak and City Council President Barbara Johnson met with Gov. Mark Dayton for nearly an hour Monday to make their pitch to stay in the stadium debate ahead of a potential November legislative session.
But the city is focused on an option that the Vikings rejected months ago, and the team says it wants to make a Ramsey County plan work.
Rybak on Monday added the potential for a casino on Hennepin Avenue to a plan he first pitched at the Capitol in May.
"We would prefer that this be funded with a sales tax," Rybak said. "There is some support on our city council for doing a casino. I don't think that's the preferred way to do it. But I could support that if there was a way that that project could deliver some help to the Indian people who we represent."
That was the newest angle on his city's efforts to keep the Vikings downtown, despite the team's plans to move to suburban Arden Hills.
Rybak said he talked with the governor about the city's plan to remodel the Metrodome.
Minneapolis would consider two other sites for the stadium, including the Farmer's Market and a site north of the Basilica of St. Mary including 10-acres of land owned by Xcel Energy, Rybak said.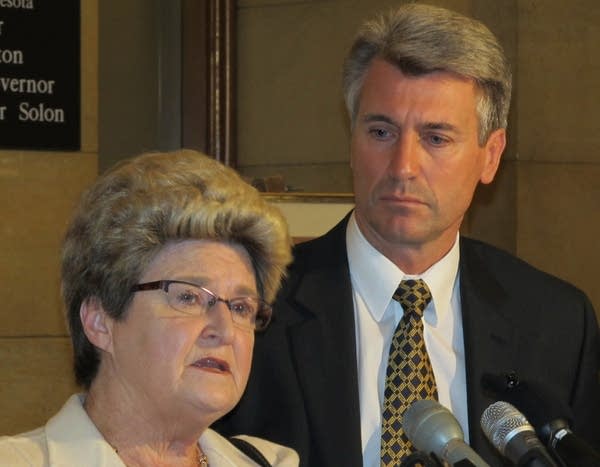 But the effort raised as many questions as it answered. Rybak didn't offer any resolution to one of the thorniest problems facing about a stadium deal: whether voters would have to approve a local tax increase.
That's been the subject of heated debate in Ramsey County. A Minneapolis city charter amendment also caps the city's contributions to a stadium at $10 million without a vote.
"I don't support a referendum," the mayor said. "I believe the referendum we have are elections."
Rybak also defended his plan to bid on a Vikings stadium even though city's financial problems forced him to lay off a half-dozen firefighters this fall.
His spokesman, John Stiles, said that Rybak was committed to saving those jobs.
"We're now hopeful that there will be enough long-term firefighters retiring by the end of the year, that we're hopeful that we can take back all of those firefighters back on the job by the end of the year," Stiles said.
But that still represents a reduction in fire department staffing.
Rybak said that his stadium plan would funnel new sales taxes into a renovation of city-owned Target Center. That would let the city keep existing property tax revenue for essential services like fire protection.
AN UPHILL BATTLE FOR MINNEAPOLIS
The Vikings said they weren't interested.
"There is one viable plan on the table, and the Vikings are entirely focused on getting the issue resolved in Arden Hills," said team Vice President Lester Bagley. He said the team heard Minneapolis out in May, and that the city's proposed Metrodome remodel was a non-starter.
"There was no collaborative effort," Bagley said. "There were no negotiations. There was 'here's an outline of a plan that we're going to announce,' and that was it."
Dayton said he reminded Minneapolis officials that the team picked Ramsey County to be its local partner back in May.
"I raised that point with them. As it stands now, the Wilfs only have an interest only in Arden Hills," Dayton said. "It's incumbent on Minneapolis, all those that want that to be considered for a site, to put together a proposal that's more attractive for whatever reasons than Arden Hills is presently."
Rybak said any Minneapolis plan would be cheaper than the estimated $1 billion Arden Hills stadium. He said the city will try to convince the Vikings of that in coming days, as backers refine their stadium proposal.
"When they said they preferred Arden Hills, we stood back," Rybak said. "That project has not gotten done, and it seems to be at a very difficult stage here at the Legislature. It's time for us to put forward some of the ideas that we've had, and to try and convince the Wilfs that they can prosper here."
But for today, Rybak could only offer the long-shot odds on a high-end casino plan that didn't get anywhere during the Legislative session.
Gallery
1 of 1
Your support matters.
You make MPR News possible. Individual donations are behind the clarity in coverage from our reporters across the state, stories that connect us, and conversations that provide perspectives. Help ensure MPR remains a resource that brings Minnesotans together.