Supporters turn out for Ron Paul in St. Cloud
Speaking to Minnesotans on Saturday, Ron Paul wasn't shy about his views about limiting the size of the federal government and cutting taxes. He ticked off his list of grievances from President Barack Obama's heath care plan to the Department of Education, and the wars in Iraq and Afghanistan.
"The country and the world is in a mess today. And I'm quite convinced that we know exactly how we got here, and we know exactly what to do, and one thing for sure is that we don't need more government."
About 2,500 people turned out for presidential candidate's rally Saturday at the Rivers Edge Convention Center in downtown St. Cloud, Minn. Not deviating from his platform, Paul called for more individual rights and smaller federal government before an enthusiastic crowd.
The event marks the official start of Paul's presidential campaign in Minnesota.
Paul's speech at times took on the tone of a college economic class. He said the country would be much better off today if the government hadn't bailed out Wall Street banks in 2008.
"They said if we don't bail out the system there would be a depression. Well guess where the depression would've been, it would've been on those who are receiving our money," Paul said. "Instead, the depression was delivered to the people, the middle class. They lost their jobs, they lost their houses, and we the taxpayer absorbed the debt."
Before you keep reading ...
MPR News is made by Members. Gifts from individuals fuel the programs that you and your neighbors rely on. Donate today to power news, analysis, and community conversations for all.
Ultimately, Paul told the crowd, things need to change.
"All we need to do is to send people to Washington who understand and are determined to follow the rule of law and respect our Constitution."
That sentiment resonates with John Ness. He lives in Kingston, about 30 miles south of St. Cloud, and said he supported Paul in 2008.
"The federal government's taken too much control and Ron Paul's the only guy taking about the federal government having less control," Ness said.
Paul is on the right track, said Rebecca Verdig of Little Falls. She drove with her daughter to the rally.
"It is definitely what we need. It is definitely a fresh start," Verdig said. "Something needs to change in this country and I've kind of been watching him for the last several years and I think the time is now."
Paul's visit in St. Cloud is a little off the usual campaign trail. Most candidates pour their resources into the Iowa caucus as well as the New Hampshire primary. Both take place in early January, followed by similar contests in South Carolina, Nevada and Florida.
But Tony Sutton, who chairs the state's Republican Party, said Minnesota's February caucus is early enough in the process that the state could have a critical voice in determining who Republicans put up to run against Obama.
"I think that Ron Paul has recognized that, and I think other candidates will recognize that as well and I wouldn't be surprised if we have a very vigorous campaign for president here in Minnesota," Sutton said.
Sutton would like to see other candidates follow Paul's lead.
"And I hope this is an indication that Minnesota will be a player in [the] presidential nominating process."
Recent polls show Paul fourth in the field of contenders, trailing GOP front-runners Herman Cain and Mitt Romney.
Gallery
3 of 3
1 of 3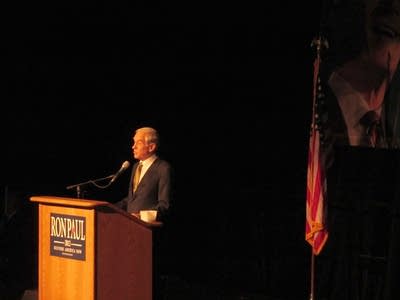 2 of 3