Q & A: Mayo's new diet for diabetics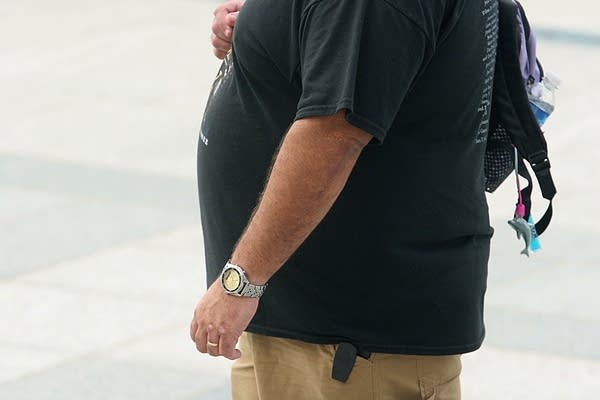 Most adults in America will be overweight or obese by 2020 and more than half will suffer from diabetes or pre-diabetic conditions, according to projections released last week at an American Heart Association meeting in Orlando.
Diabetes is already the seventh-leading cause of death in the United States, killing more people each year than breast cancer and AIDS combined.
Researchers say weight gain and sedentary lifestyles are often the main cause of type 2 diabetes. In an effort to help prevent and reverse the disease, the Mayo Clinic recently released a guidebook, the Mayo Clinic Diabetes Diet.
Dr. Donald Hensrud, a weight loss expert at Mayo Clinic who served as the book's medical editor, discussed the diet with MPR's Tom Crann. He said the growth of type 2 diabetes mirrors the rise in obesity across the country.
Grow the Future of Public Media
MPR News is supported by Members. Gifts from individuals power everything you find here. Make a gift of any amount today to become a Member!
An edited transcript of the interview is below.
Dr. Donald Hensrud: Obesity started to increase in this country in the early 1970s. The complications from obesity start to occur a little bit later than that. So in the early 1990s, type 2 diabetes has been increasing since then, and it's more than doubled since 1990. Currently, over 25 million Americans have type 2 diabetes.
The interesting thing is, according to the CDC, that about a fourth of these people don't even know they have it. What's even more alarming is that almost 80 million Americans have pre-diabetes, so their blood glucose, their blood sugar has started to increase. They don't quite meet the criteria for diabetes, but they are at risk for developing it. That's one-third of the adult population. So this is affecting a huge number of people.
Tom Crann: You look at the totality of this book, and let's say someone is facing a situation where they need to lose 50 or even 100 pounds, and even as I have a few pounds to lose myself, I'm looking through their book and I think, 'Wow. It's easy to get overwhelmed with the totality of it.' How do you make it less overwhelming?
Hensrud: One of the things I hear commonly in my office in the nutrition clinic is, 'Oh, I've got to go on a diet.' People approach this as negative, as restrictive, and therefore it's going to be temporary, but if people start out with the right attitude and they approach it as positive lifestyle changes, that makes all the difference in the world.
Crann: What sort of time frame should people expect here for this? Are we talking a long-term commitment?
Hensrud: In the two-week jumpstart phase, people can expect to lose weight fairly quickly because they're making sudden changes in their habits. Now not all of these habits may be sustainable. For example, one of the habits we ask people to break is no sugar for two weeks. And we tell people it's only for two weeks, and that can be challenging. There's sugar in a lot of things.
Crann: It's a hard one.
Hensrud: It is hard, but people will see results, and then after that they can choose how much they want to apply that on an ongoing basis, what they can live with. In the long term 'live it' phase of the program, people can expect to lose one to two pounds a week. Now again, that may seem agonizingly slow, but the cumulative effect of that over time can be significant. So it's not a race to see how quickly people can reach their goal. It's a race to improve their health long term with beneficial lifestyle changes.
Crann: I noticed there's a fair bit in the book about the psychology of this and our attitude. How important was that to consult ... with mental health professionals there at Mayo in how to deal with this?
Hensrud: At Mayo, we work at teams. And coming up with the Mayo Clinic diet first, and the Mayo Clinic diabetes diet, it was a team approach. It involved physicians, dieticians, psychologists, and other health professionals. The psychology of this is very important, as many people know who've tried to lose weight.
One simple example is restricting eating. The psychology of that can be negative, and people will restrict eating. They may say, 'I'm going to go on a diet,' and if they like chocolate, for example, they may say, 'I'm never going to eat chocolate again.' Well, that's not realistic. And they go for about two weeks, and then the one-pound bag of M & M's comes out and away they go.
So the psychology of this is very important, and we teach people to approach this in a positive way, starting from the outset, the attitude in which they undertake this, as looking at it as an opportunity to improve their health and feel better.
(Interview edited and transcribed by MPR reporter Madeleine Baran)
Gallery
1 of 1