Despite some workers' and customers' objections to the fact that Black Friday sales started creeping into Thanksgiving, many consumers in the Twin Cities showed support Thursday and Friday with their wallets wide open.
Target has drawn a lot of heat for deciding to open its doors Friday morning at midnight, a few hours earlier than normal. Some thought that move encroached on the Thanksgiving holiday. But what many people didn't seem to realize is that several retailers were open all day Thursday, including Wal-Mart.
That meant there were no lines wrapped around the Midway Wal-Mart store in St. Paul. Instead, shoppers clustered inside, waiting for the big doorbuster sales to begin at 10 p.m.
Jamie Peters and Phyllis Taylor were among the people who arrived early, waiting to jump at a sale item. For them, it was a $9 vacuum cleaner.
"We needed one around the house," Peters said.
A few miles up the road, at a Target store in Roseville, shoppers did have to wait outside before they could snap up deals at midnight. But the mild weather seemed to make the wait less painful.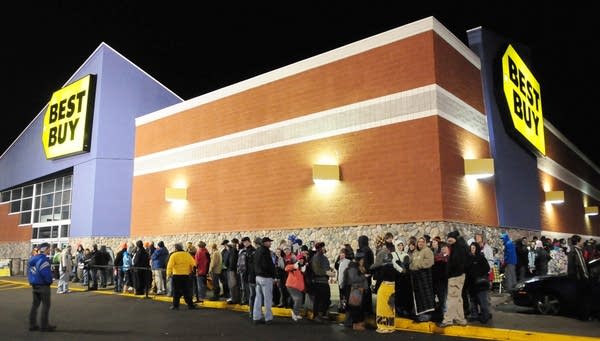 Target says across the nation, lines at midnight were often about 1,500 people long. That seemed to be the case at Roseville, where the line of shoppers snaked halfway around the exterior of the superstore.
Some of the big-ticket items, like flatscreen TVs, disappeared fast after doors opened at midnight.
Dorothy Parker and her son Justin were stuck in the back of the line, hoping to get a netbook and a 32-inch TV once they made it inside.
The Parkers feared the shelves would be empty by that point. But Target would still get a sale. They were ready to drop cash even if they couldn't get the doorbusters.
"I'm coming out for something. I'm not going to stand in this line for no reason," Parker said.
Retail analyst R.J. Hottovy with the research firm Morningstar said retailers like Target, Wal-Mart, and Best Buy seemed to enjoy strong foot traffic during their late-night hours Thursday and in the early morning Friday. And their merchandise was priced to move.
"But I think inventory levels — the amount of products that retailers actually had in stock — were somewhat limited," Hottovy said. "Some of those people who camped out last night might have been disappointed and didn't end up getting a doorbuster."
Hottovy thinks those limited inventories will crimp sales growth. He's expecting retailers to see a Black Friday sales bump of about 3 percent over last year.
"[Those are] solid but not spectacular numbers," he said.
Black Friday sales account for about 9 percent of overall holiday sales, according to retail analyst Howard Davidowitz. He said the Black Friday late-night specials were a clear success. But he wonders if consumers, who seemed pretty excited about the deals so far, will keep up their shopping momentum in the remaining weeks.
"This whole thing, this is a long run," Davidowitz said. "The next big day is going to be December 17th — the next monster day for shopping. So there is some time to go."
And it won't be easy going. With unemployment still high, and the economy muddling along, retailers face a tough sell to consumers who will be minding their pocketbooks the rest of the holiday season.