Plains Art Museum lands major donation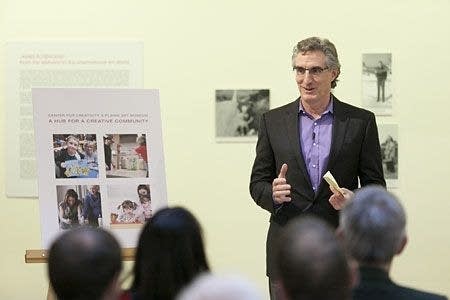 Editor's Note: This report comes from MPR's Dan Gunderson stationed in Moorhead.
The Plains Art Museum in Fargo is ready to start construction on a $2.8 million education facility. The Creativity Center will be in a renovated building attached to the downtown Fargo museum by a skywalk. It will have studios for ceramics, drawing and painting, sculpture and digital media as well as galleries to display students work.
[image]
Doug Burgum
Grow the Future of Public Media
MPR's budget year comes to a close on June 30. Help us close the gap by becoming a Sustainer today. When you make a recurring monthly gift, your gift will be matched by the MPR Member Fund for a whole year!
Image courtesy Plains Art Museum
The idea is to expand art education. The museum has a deal with Fargo Public Schools to teach classes to 5,000 K-5 students starting next fall.
Museum Director Colleen Sheehy expects 12,000 students as other Fargo Moorhead schools send students to the center in the next couple of years. There will also be classes offered for adults.
The Center has been in the works for several years. Fundraising started about 5 years ago. It got a push over the top this week when the Katherine Kilbourne Burgum Trust and the Burgum family donated $500,000 to the project.
Sheehy says the family has given more than $800,000 to the project since fundraising started. The museum still needs to raise $200,000 to wrap up the capital campaign.
Doug Burgum built Great Plains Software in Fargo and sold the company to Microsoft. He says investing in art education is good for business.
Burgum says a creative workforce is an economic development tool. He hearkens back to the conversations about art he had with his late mother Katherine, whose name will be on the new center. He says those conversations taught him to be more observant and curious. He says those are traits that foster innovation.
Burgum says the Center for Creativity will be about more than kids having fun with a pottery wheel or paint and canvas. He expects the result to be a better trained, more innovative workforce.