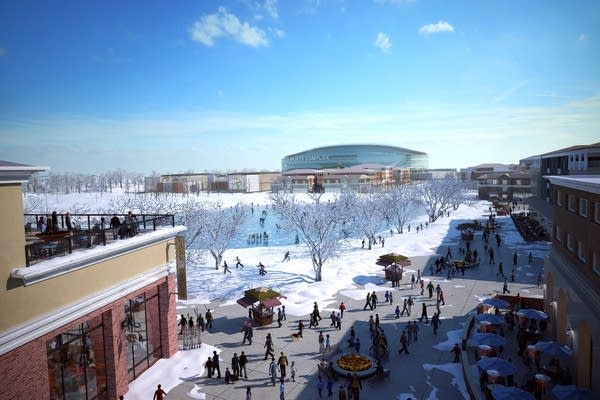 The Ramsey County Board of Commissioners voted Tuesday to start a search for design firms interested in drawing up a new Vikings stadium.
It's a non-binding commitment from the county, which has a tentative deal with the Vikings for a $1.1 billion stadium in Arden Hills.
The county board voted 4-3 to issue the request, even though neither the board nor the state has signed off on financing a stadium deal.
"There's urgency to resolve this," Vikings Vice President Lester Bagley said. The sooner we can move this process forward on the design, and get those qualifications in. The sooner we can move this process forward, the sooner we can get into a stadium."
The request will only cost about $100 to process. But several commissioners, including Toni Carter of St. Paul, said they wanted to be cautious about making any more stadium promises before they've signed off on an overall stadium deal.
"It would be difficult to send the message that we will continue to provide support and resources toward a stadium without this board having had that type of deliberative process," said Carter.
Ramsey County Manager Julie Kleinschmidt said said that the Vikings themselves couldn't make the request for a stadium that would be publicly owned, and that a county search was appropriate.
"Staff has recommended to the Vikings that in order for it to be a publicly owned facitiy, it needs to be a publicly solicited process," said Kleinschmidt. "So it was our recommendation that it be done through a public process, either through the state, the Met Council or some other public authority."
Ramsey County Commissioner Jan Parker, of New Brighton, told her colleagues accepting ''requests for qualifications'' represents a low risk and low cost commitment to the Arden Hills site.
"We're simply asking who is out there, who is interested, who is eligible to do this work," said Parker. "So we'll be getting a pool of applicants, and from my understanding, the architectural firms are hungry that are out there.
Arden Hills supporters said that the first steps toward a stadium could be taken now, even without approval, to prepare for a 2015 football season in a new stadium.