Former top Koch staffer raised concerns about her conduct months ago
Between December 2010 and November of this year, Cullen Sheehan was the top staffer in the Minnesota Senate. He was Amy Koch's chief of staff, helping to oversee the day-to-day operations of the Senate.
Sheehan is also the first person to report an inappropriate relationship between Koch and a male staffer. He said he first learned of the relationship on Sept. 21.
"Three months ago, I became aware of a potential relationship between Sen. Koch and a staff person," Sheehan said. "I then spoke to the staff person and he confirmed the relationship. We both then met with Sen. Koch and she confirmed the relationship. The next day I met with Sen. Koch to discuss the situation. I subsequently met with the Deputy Majority Leader," Geoff Michel.
"I wanted to clear up a few things," Sheehan said. "There is a lot of information flying and misinformation flying around," Sheehan said. "I just felt it was important, from my perspective, to get out the information as I know it."
Grow the Future of Public Media
MPR News is supported by Members. Gifts from individuals power everything you find here. Make a gift of any amount today to become a Member!
Koch has not returned repeated calls to MPR News since the allegations of the relationship first surfaced on Friday. She resigned her leadership position on Thursday night.
She issued a written statement late Wednesday confirming she had a relationship with a senate staffer and apologizing for her behavior.
"I have made some mistakes and errors in judgment, for which I am deeply sorry, by engaging in a relationship with a Senate staffer," Koch wrote. "I regret more than words can express the hurt that I have caused to the people that I love, and to those who have worked and served with me over the past years."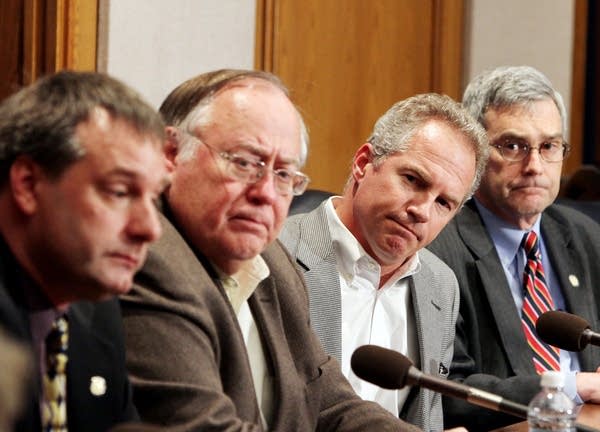 Sheehan is the first staffer to come forward to discuss the incident. He left the senate last month and is now a lobbyist with Lockgridge, Grindal and Nauen and wouldn't say whether Koch's behavior was the reason he left his state position.
Sheehan declined to identify the staffer involved and declined to answer several other questions citing a Senate investigation. He did say, however, that he believed he acted responsibly.
Interim Senate Majority Leader Geoff Michel confirmed Sheehan's timeline.
"Because it was coming from staff, including Mr. Sheehan, someone we worked with and knew of his good reputation and credibility, we had to take this very seriously, and you know we did," Michel said.
Michel acknowledged that Sheehan's comments contradict the comments he and three other senators made to reporters on Friday. At that time, Michel said the allegations about Koch's behavior were first reported to them a few weeks ago. Michel said he mischaracterized the timeline in an attempt to protect Sheehan and other staffers.
"I felt at that time that if I said two months or whatever that exact number is, that that would have very obviously pointed out who the whistleblower was and I did not want to do that and I felt it was my duty not to disclose that identity," Michel said.
Michel said he contacted senate human resources officers and lawyers on Sept. 23 to start investigating Koch's behavior.
Michel declined to identify the staffer involved, saying it is a personnel matter that has to remain private.
Secretary of the Senate Cal Ludeman said the reason they're not identifying the staffer involved in the relationship is because that person is entitled to privacy.
"This is an issue of which legal counsel would always advise us that this is privileged and confidential information as it regards to a staff employee of the state Senate," Ludeman said.
Bill O'Brien, a labor law attorney with Miller, O'Brien and Cummins, said that Senate leaders may have been hiding behind the privacy argument because they are uncertain about what they have.
"You'll find employers doing investigations find it in their own interest to maintain confidentiality and privacy so they don't misstate, overstate allegations against people, which those folks could then use for defamation purposes," O'Brien said.
An ethics complaint could possibly be filed against Koch.
Sen. Bill Ingebrigtsen, R-Alexandria, who serves on the Senate Ethics Committee, declined to say whether an ethics complaint is appropriate, since he may have to decide on the matter. But Koch's alleged conduct has tarnished the integrity of the Senate, Ingebrigtsen said.
"You're going to have somebody who is going to stand up and say this kind of activity is not going to go on and if it does, the proper avenues have to be taken to try and rectify it," Ingebrigtsen said. "Above all, we work for the public and the public expects a lot more from us than that."
Fallout from the Koch situation comes at the same time as the Senate dismissed top communications director Michael Brodkorb. Ludeman said Brodkorb was fired because he was an at-will employee who reported directly to Koch. That means an individual could be fired at any time, without warning, for nearly any reason.
The state Republican Party is also looking for a new chairman, after Tony Sutton abruptly resigned in November.
Gallery
1 of 2
2 of 2