The renowned Fort Snelling Memorial Rifle Squad is in danger of losing its signature three-volley salute fired from U.S. Army-issued Springfield rifles.
The Army wants the rifles back, so it can replace them with a more modern weapon. But the Fort Snelling squad is hoping to stick to its guns.
The salute tradition dates back to before the Civil War, and has been a regular feature of funerals at Fort Snelling National Cemetery since 1979.
"We have not missed one single ceremony," said Howard Tellin, of Cottage Grove, the armorer and bugler for the squad. He estimates that amounts to almost 60,000 ceremonies, "without missing one, regardless of weather."
But Tellin and dozens of other veterans that shoulder the rifles at Fort Snelling fear the tradition is heading for a change. The U.S. Army has decided to upgrade the squad's 1903 Springfield bolt-action rifles -- a model that predates World War I.
"When it filtered down to us that somebody had read a manual someplace and decided that he was going to issue, per law, M-1 Garands, and take [the Springfields], well, we started screaming, because we don't want M-1 Garands out here," Tellin said.
The semi-automatic M-1 Garand is the successor to the Springfield. It became the standard rifle during World War II, based on improvements that put quick loading and quick firing into the hands of every foot soldier. The old Springfields, by contrast, had to be loaded and fired one shell at a time.
Vietnam-era machine gunner John Sobaski, of Inver Grove Heights, said the mechanism is part of the weapon's allure.
"I like the action that it makes, the sound that it makes," he said. "It sounds a little more traditional."
Bob Nelson, of Apple Valley, said the Springfield's shots themselves have a distinct ring, as well.
"They sound the best. M-1's, they have a mellower sound. And we think it's really a nice tribute to our veterans that we are having the honors for that they go out in style and class," Nelson said. "Also, the rifles that they are trying to give to us, they don't hold up as good."
There's one other drawback, too. Literally.
"The M1 thumb," he said. "And you can believe there's going to be a bunch of it, too, if we ever had to get stuck with those."
It goes like this: To load an M-1, you have to pull back and latch the spring-loaded bolt that strikes the bullet. When you push a clip of shells into the rifle, it releases the bolt to slam a shell into the gun's breech -- and maybe break your thumb along the way if you're not quick.
"If you don't watch it, you're going to have the prettiest black-and-blue thumb you've ever seen. It hurts for about a week," Tellin said.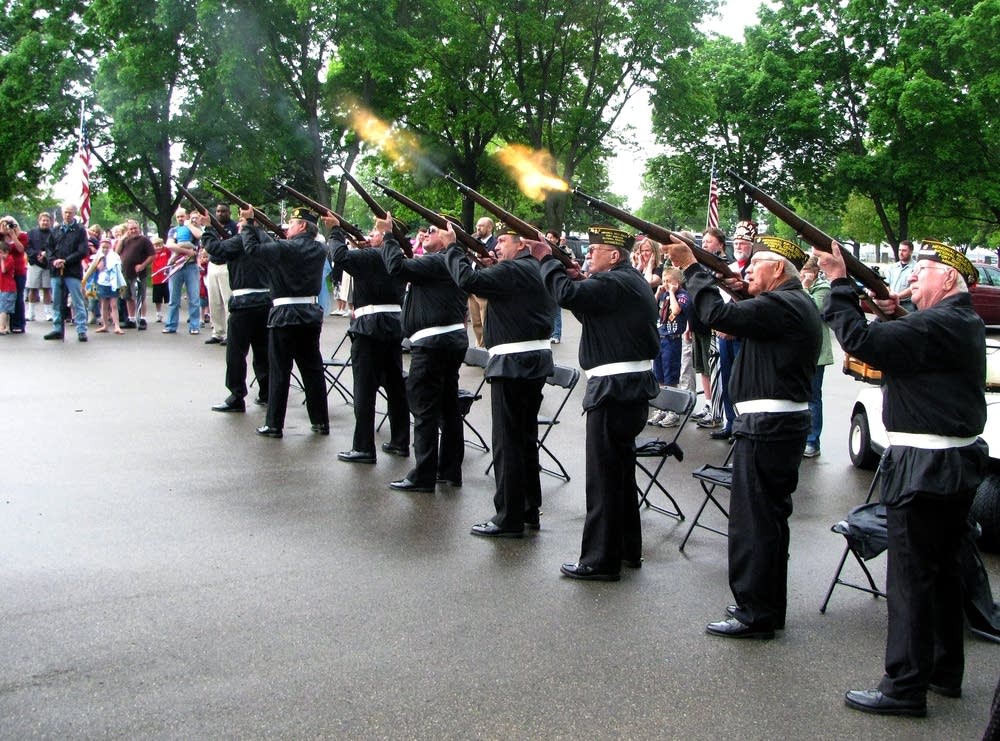 Tellin and the other riflemen are still hoping for a reprieve for their squad, appealing to 2nd District Republican Congressman John Kline, a former Marine who serves on the House Armed Services Committee.
Kline sent a letter to Army Secretary John McHugh, asking the service to reconsider.
"The Army sent back a response to my letter and said they're going to look into it," Kline said. "We're going stay on top of it, and I hold out some slight optimism that we'll be able to prevail in this."
And just in case, he's readying an Act of Congress to keep those old rifles firing at Fort Snelling.