Latino families battling childhood obesity
Inside a crumbling trailer in Northfield, the 10-year-old girl walks to the bedroom she shares with her mother and younger sister and shows off a closet bursting with clothes.
She's an all-American girl. Born in Northfield, she listens to MTV, watches SpongeBob cartoons and paints her finger nails bright colors. Like many girls her age, she cares a lot about how she looks.
But somewhere on her way through childhood, she was confronted with a hard fact about her body, a lesson she learned trying on clothes. Sometimes she can't find a size of pants that fits.
"We usually pick the stretch ones," she said. "The tight one hurts you a lot. It just pushes your stomach too much, that's why we get the stretch kind and so we do that with our jeans, too."
She's among the millions of Latino children who weigh too much. In urban and rural areas across the United States, Latino children are more likely than their non-Latino white peers to be overweight or obese, according to the Centers for Disease Control.
Nearly 40 percent of Latino children in the United States are overweight or obese.
Gain a Better Understanding of Today
MPR News is not just a listener supported source of information, it's a resource where listeners are supported. We take you beyond the headlines to the world we share in Minnesota. Become a sustainer today to fuel MPR News all year long.
In part, the problem stems from low levels of family income and education.
More Latino children — 6.1 million — lived in poverty in 2010 than any other racial or ethnic, according to the Pew Hispanic Center.
Poor families tend to stretch their budgets by buying fewer fresh fruits and vegetables and more high-calorie, low-cost convenience food, like sodas, candy and cereal, according to National Council of La Raza researchers.
Poverty also makes children more vulnerable to mental health problems, according to Katherine Fennelly, professor at the University of Minnesota's Humphrey School of Public Affairs.
"There are mental health problems that are caused by the stresses of poverty that have a significant impact on the citizen children of immigrants as they grow up," Fennelly said. "Not so much for the immigrants themselves, but for the second and third generation, it can be a real problem."
In a kitchen rich with the scent of homemade Mexican tortillas and pork tacos, the girl pours frosted flakes into a bowl. It's dinnertime and instead of eating her mom's food, she eats cereal.
"I sometimes cook myself," she said. "Well, I just make eggs, and then the only vegetables I like are carrots and sometimes green peas, but I'm not a fan of lettuce, no -- nothing like that."
Her mom, Raquel Flores, is heavily overweight. She wants her children to eat healthier food. But she often struggles to pay bills, buy gas or fix things inside the family's trailer.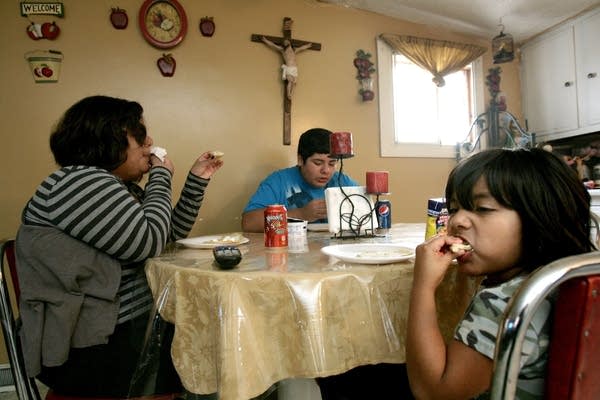 Flores earns a living by selling Mexican food from her home and admits by the time she's done cooking meals for other people, she'll let her children eat whatever they want.
"I try to teach them to eat the food I make, but they don't like it," Flores said. "They eat different food at school, the type of food Americans like to eat, like hamburgers, pizzas, macaroni and cheese. I don't know how to make that kind of food, but that's what they like."
Flores knows diet is only one part of what would help her children be healthier. But she admits that she buys soda, chips and frozen pizza.
The bigger challenge is getting them to be more active.
"It's hard because they come home from school and all they want to do is eat and sit on the couch and watch TV or go on the computer to play games," she said. "Sometimes I tell them to go out and play or walk around, but they don't want to."
Her daughter doesn't like to go out and play because it's hard for her. She can't climb the rope in gym class, and she doesn't run the mile very fast, either, and is usually among the last to finish.
She doesn't know exactly how much she weighs now, but at 5 feet tall, she wears women's clothes.
She said her life is marked with days of teasing at school, nights of uncontrollable snacking in front of the TV, and weeks when she desperately misses her father, who was deported three years ago to his native Mexico. She didn't get a chance to say goodbye.
"Ever since he's left, it's really hard for me," she said tearfully. "That day that my dad left, the next day I started eating a lot, a lot, a lot."
Even though they hear from him every few months, she said it's been stressful not having him around.
"Every time I looked at myself at the mirror, I told to myself, 'why am I doing this to myself?'" she said. "My mom told me one day that it's probably because I miss my dad and that some people when they are stressed, they just want to eat and eat and eat and something to make them feel better. But pretty much, eating is just making me [worse.]"
Raquel Flores knows the physical and emotional health of two of her children is getting worse. They see a pediatrician every six months and a therapist once a week.
Doctors tell Raquel her oldest daughter's weight gain is at a critical point and will likely lead to other diseases in a few years.
"I'm worried they'll get diabetes at an early age," she said. "Their doctors tell them to try to eat healthy. They try but they can't. If I tell them to drink water, they'll do it for a little while but then they'll have soda. It's really hard."
Her daughter wants to change but she's not sure how.
"I feel like I'm not me," she said. "I want to be who I was when I was younger ... and not be so sad and care about how I look."
Editor's Note: The names of Raquel Flores' children appeared in an earlier version of this story. At the request of the family, MPR News agreed to remove the names for fear the children would be ridiculed.
This story was the second of three reports produced in part as a project for the California Endowment Health Journalism Fellowships, a program of the University of Southern California's Annenberg School for Communications & Journalism.
Gallery
1 of 2
2 of 2