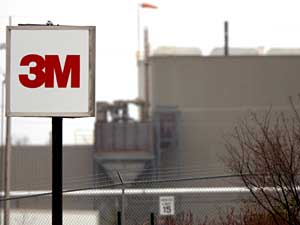 Profits at 3M for the final three months of last year were higher than Wall Street expected.
Net income hit $954 million, up about 3 percent over the same period a year before. Revenue rose 5.7 percent to $7.1 billion.
But there's still uncertainty about who will lead the company. In a conference call with analysts Thursday, 3M offered no guidance about plans for a successor to CEO George Buckley. He is slated to step down next month when he reaches 3M's mandatory retirement ago of 65.
Analysts have urged 3M to disclose if its board will waive 3M's retirement policy and extend Buckley's contract. Buckley said there should be some news soon.
"We've got a board meeting coming up. I'm sure they'll be considering it at that and when the appropriate time comes, they'll be letting people know what their decision is," Buckley said. "I don't think there is much else I can say about this, because, in a sense, I'm the informed not the informer."
In a recent interview with Bloomberg News, Buckley said he'd stay with 3M for as long as the board will let him. Buckley said he's "not the retiring kind."