Ordway renovation delayed by a year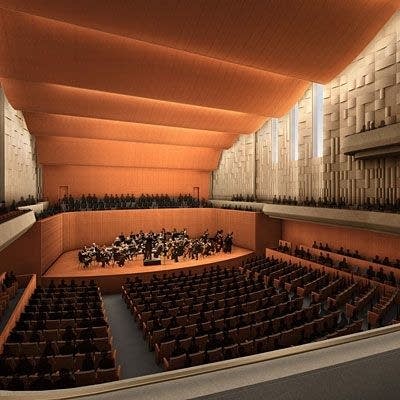 Plans to build a new concert hall at the Ordway Center for the Performing Arts have been pushed back to the spring of 2013.
[image]
Rendering of the new hall for the Ordway
Image courtesy of St. Paul's Artistic Partnership
MPR News is Member Supported
What does that mean? The news, analysis and community conversation found here is funded by donations from individuals. Make a gift of any amount during the Winter Member Drive to support this resource for everyone.
The renovation, which was tentatively scheduled to break ground this year, was contingent on the Arts Partnership (the Ordway, the Saint Paul Chamber Orchestra, the Minnesota Opera and the Schubert Club) completing its $75 million capital campaign.
Currently the partnership has raised approximately $55 million.
While only about half of the campaign money is designated for the renovation, and the other half for an endowment, Ordway president Patricia Mitchell says the partnership does not want to move forward until all the funding is in place.
It's easier frankly to raise money for the building piece than for the endowment piece. But this whole project is focused on solving the two major problems at the Ordway for all of us as partners - time and money. The concert hall solves the time part but without the endowment we don't solve the money part.
[image]
Rendering of the Ordway's exterior once the expansion is complete
Image courtesy of St. Paul's Artistic Partnership
Mitchell notes that fundraising has its own tempo, and unlike musical compositions you can't necessarily make it go faster:
I think there's a high level of confidence that we will be able to start next spring. One of the things that's peculiar about this project is that we really can only start in a spring, because we cannot - or choose not to- interrupt the activities of all of us in the music theater. So that gives us a construction schedule that is somewhat less flexible than it otherwise might be. So if somebody gave us a check for 25 million dollars on August 1st, that would be lovely - but we still couldn't start until next spring.
Mitchell says the decision to postpone the renovation has opened up opportunities for programming this summer - including a run of Chicago in August - and for the McKnight Theater in the coming year.
You can read more about the planned renovation here.