CEO Brian Dunn leaves Best Buy over 'personal conduct'
Best Buy CEO Brian Dunn is leaving the company amid an investigation into his personal conduct.
The company surprised observers with the announcement Tuesday morning that Dunn is resigning by mutual agreement with the company.
No reason was specified. But many analysts and investors surmised the departure was a result of Dunn's struggle to deal with the stiff competition Best Buy faces from other big-box and online retailers.
Hours later, though, the company said Dunn chose to resign amid an internal investigation into his personal conduct.
Grow the Future of Public Media
MPR News is supported by Members. Gifts from individuals power everything you find here. Make a gift of any amount today to become a Member!
A spokeswoman for Best Buy's board of directors issued a statement reading, "Certain issues were brought to the board's attention regarding Mr. Dunn's personal conduct, unrelated to the company's operations or financial controls, and an audit committee investigation was initiated. Prior to the completion of the investigation, Mr. Dunn chose to resign."
The company gave no indication of what conduct is under investigation.
DUNN CLIMBED THE LADDER
Dunn, 52, worked for Best Buy for 28 years, starting as a salesman and in June 2009 becoming the retailer's CEO and a member of the board.
"I have enjoyed every one of my 28 years with this company, and I leave it today in position for a strong future. I am proud of my fellow employees and I wish them the best," Dunn said in a press release issued by Best Buy.
Best Buy board member George L. Mikan, 41, will serve as the interim CEO while the company searches for a permanent replacement. Mikan has been an executive vice president with UnitedHealth Group.
"The Best Buy team and I will be extremely focused on successfully managing this period of transition," Mikan said in the Best Buy press release. "I want to assure our employees, customers and other key stakeholders that we will work together to achieve our company's growth and profitability goals."
Dunn's departure comes less than two weeks after he announced a major restructuring that will close 50 of the retailer's approximately 1,100 big-box stores, downsize others and launch experiments with store formats and merchandise mixes.
Five Minnesota stores are closing, cutting about 300 jobs. Best Buy has not identified which other stores will close, but the shutdowns could result in 2,000 to 3,000 job cuts at stores. Best Buy is also shedding some 400 corporate and related jobs.
Some analysts have criticized the moves as too little, too late. Best Buy's shares have fallen some 30 percent during Dunn's tenure.
"Did Dunn's actions meet the challenge that Best Buy is facing?" said retail consultant Howard Davidowitz. "I think most shareholders and most analysts don't think so."
RADICAL CHANGE NEEDED
Davidowtiz expects Dunn's eventual successor will be much more forceful in transforming the company.
"I think the new person will come in, close more stores, try to downsize more stores, more quickly, address the online efforts more aggressively," he said.
But most importantly, Davidowitz said the new CEO must figure out what Best Buy can sell in its stores at a greater profit margin than it gets with consumer electronics.
"The critical life-or-death issue for Best Buy is what products should they put in the stores that are of a more exclusive nature, only for them," he said.
The consensus on Wall Street is that Best Buy's stores are too big. They were built for the days when TVs, computers and other gizmos took up more space and consumers bought music, movies and video games in stores, and not online.
Meanwhile, consumers are increasingly using Best Buy stores as showrooms to check out products in the retailer's stores only to instead purchase those products from online rivals that offer lower prices and don't collect sales taxes.
Analysts say Best Buy still has an industry-leading 30 percent or so share of the overall consumer electronics market. They say the retailer is making good progress with its online sales efforts. But analysts say Best Buy needs to be a heavyweight both with its physical stores and online.
"Best Buy needs to serve the consumer in either way in a pretty seamless fashion, and we think the company is going to be looking for a CEO that perhaps has background there or has a very good vision there," said Edward Jones retail analyst Matt Arnold.
In five to ten years, Best Buy could be a very different company. In initial discussions about new formats, it has even raised the prospect of having kitchen and bath centers in its stores.
Best Buy has no choice but to reinvent itself, Forrester Research analyst Sucharita Mulpuru, said.
"What Best Buy will be in 2022 is going to be very different, if the company is still around then," she said. "It's going to very, very different than what Best Buy is currently. It's going to be many different things, the size of the store, the merchandise in the store.
"The current format of Best Buy is unlikely to survive into the next decade. But I think they know that."
Gallery
1 of 2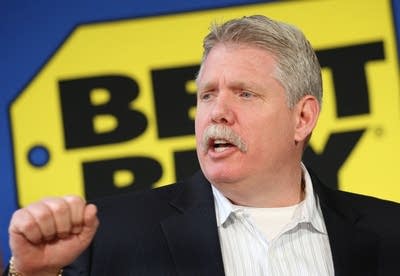 2 of 2