Young witness testifies in sex trafficking case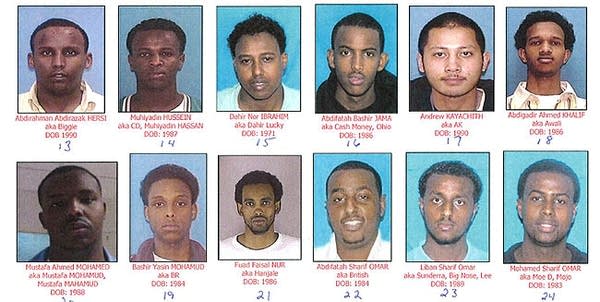 A key witness in a federal trial involving nine people accused in a sexual trafficking ring operated by Somali gang members told jurors she was taken from apartment to apartment in suburban Minneapolis to have sex with men for money.
The young Somali woman who testified Tuesday in Nashville is identified in court records only as Jane Doe No. 2 and is one of four unidentified female victims listed in the indictment originally unsealed in 2010. Thirty people were indicted in the case, many of Somali descent, and were members or associates of three gangs called the Somali Outlaws, the Somali Mafia and the Lady Outlaws.
The gang members are accused of forcing teenage girls into prostitution and operated in St. Paul; Minneapolis; Columbus, Ohio; and Nashville.
Her family came to the United States like many Somali refugees to escape a war, but the woman testified that most of the men that used her for sex were other Somalis in her community.
The witness, whose exact age is unknown because her birth certificate was determined to be a fake, said that she was being used a prostitute while still in 6th grade.
The government maintains she was still a minor when she was involved with the gang, although defense attorneys disagree. The woman's age is important because the government has to show she was under 18 to prove child sex trafficking charges.
Gain a Better Understanding of Today
MPR News is not just a listener supported source of information, it's a resource where listeners are supported. We take you beyond the headlines to the world we share in Minnesota. Become a sustainer today to fuel MPR News all year long.
She cried as she described being taken to several apartments to have sex with other Somali men for money, sometimes as little as $40.
She said the sexual acts were called "missions" and that she never received any money and wasn't allowed to question the gang members. She referred to one of the defendants as her boyfriend but said he told her to have sex with other men.
"I felt that was my place and it had been established," she said. "...I felt I had no way out."
Federal prosecutors have said that the defendants used fraud and force to lead her into prostitution. Defense attorneys claimed that the young woman was a runaway who willingly had sex with multiple defendants and lied about her actions so her conservative Somali family wouldn't be upset.
Under cross examination, defense attorney John Nicoll asked her whether she knew the difference between "boyfriend-girlfriend sex" and prostitution.
"Your boyfriend would not tell you to have sex with anyone else," she told him. "Prostitution is when your boyfriend is like your pimp and doesn't care about you."
She said that her parents tried to get her away from the gang influence and moved to a different Minneapolis suburb and to a new school. But she was approached by other gang members who would send her messages online through social media websites like MySpace.
In one incident, she described being used by the gang members to raise money for a car trip from Minneapolis to Nashville. She said she performed sexual acts with at least 10 men mostly in alleyways and said the purpose of the trip was so they could steal car parts in Nashville. Once in Nashville, the woman and several of the defendants who were with her were arrested in April 2009.
She testified that while Somali culture values a woman's chastity and her mother was very traditional, her family never threatened to kick her out of the house.
Other defendants in the case will be tried at a later date.
Gallery
1 of 2
2 of 2