Board: Dunn's resignation hasn't ended personal conduct probe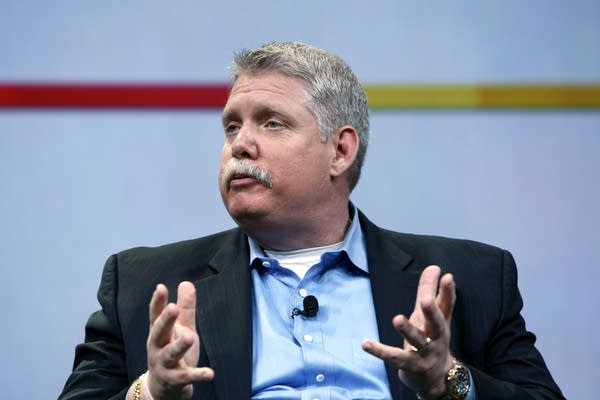 Best Buy says it's continuing to look into the personal conduct of CEO Brian Dunn, who resigned unexpectedly Tuesday.
"Brian's resignation certainly had an effect on the investigation, but the investigation remains open," said board spokesman Ron Hutcheson.
He would not respond to questions or say anything further.
Best Buy has said Dunn's conduct was subject to an audit committee investigation. Prior to the completion of that investigation, though, Dunn chose to resign.
Grow the Future of Public Media
MPR News is supported by Members. Gifts from individuals power everything you find here. Make a gift of any amount today to become a Member!
The involvement of the audit committee might indicate there was something afoot of a financial nature that warranted its attention, said University of Minnesota business ethics professor Ian Maitland.
But Maitland noted the board has taken care to emphasize Dunn's conduct -- whatever it is -- is not related to the company's operations or financial controls. In other words, the board is indicating it's not a matter of great financial significance for the company, Maitland said, and is nothing that should spook investors.
The purview of the audit committee, however, extends beyond financial matters.
"I'd like to ask all of you [employees] to stay focused on serving our customers, and delivering our plans for the year."
Best Buy's ethics policy requires employees to avoid "actual or apparent conflicts of interest in personal and professional relationships."
Best Buy management and the audit committee of the Best Buy board of directors determine if a relationship is a problem.
The company discourages social relationships between employees who have direct or indirect reporting relationships to each other.
Social relationships are also prohibited if they create an actual weakness, or the appearance of a weakness, in the company's system of internal controls.
"Employees must disclose these relationships to their managers in order to address them appropriately," the Best Buy policy reads. "Some examples include 'dating,' attempting to 'date' and engaging in close physical relationships or other forms of romantic, physical or sexual contact with each other."
The Best Buy board has tapped former UnitedHealth Group executive vice president, George "Mike" Mikan, 41, to serve as the interim CEO.
Mikan has been on Best Buy's board of directors since 2008. He was an executive vice president at UnitedHealth until he resigned last July to run a private equity fund.
In 2010, at UnitedHealth, Mikan's total compensation, including stock, was about $6.7 million.
When Mikan left UnitedHealth, CEO Stephen Hemsley praised him as "an extraordinary talent who has made numerous contributions of incalculable value to our enterprise over the years."
Mikan sent an email Wednesday to Best Buy's 167,000 employees to introduce himself. He said he's been a longtime fan of the company and is honored to serve as interim CEO.
"When I was a kid, I used to ride my bike to my local Best Buy store to check out the latest and greatest technologies (back then it was the VCR)," he wrote.
Mikan said he knows Dunn's departure was a surprise and it's raised many questions for employees. But he said the company is headed in the right direction.
"It's important to know that I'm very pleased with the priorities that have been established to address many of the underlying challenges in our business -- improving the customer and employee experiences, re-energizing the store portfolio, reducing costs and driving our global growth strategies," Mikan wrote. "This work absolutely must continue, and it's where each of us needs to focus our efforts in the days, weeks and months ahead."
Mikan said he and the company's senior leadership team will create a blueprint for sustained, profitable growth.
"I'd like to ask all of you -- our employees in all of our brands and locations -- to stay focused on serving our customers, and delivering our plans for the year," he wrote. "When we deliver on those plans, we will prove to the marketplace that Best Buy is the best at what we do -- and that will be reflected in the customer experience, our employee engagement, and ultimately in the value our shareholders place in our company."
Mikan will remain on the Best Buy board, but will no longer serve on its audit and compensation committees while filling in as CEO.
Best Buy has had three CEOs in its history and all have come from within the company. Some analysts and consultants say the retailer needs to hire an outsider to shake things up.
"I think they have a bright future if they manage this transition very deftly," said Carol Spieckerman, president and CEO of newmarketbuilders, a retail consulting firm. "That would hopefully involve bringing in somebody from the outside, if for no other reason than that would send the message that they were looking outside of the box for somebody who is a visionary and has a new point of view. That precedent is being set all over the place in retail now. So there's a lot of permission to do that."
Best Buy does face increasingly intense competition from Walmart, Amazon.com, Target and other rivals. But the company still has about $50 billion in annual sales and about a 30 percent share of consumer electronics sales overall.
Gallery
1 of 1