Best Buy founder Schulze steps down in wake of CEO investigation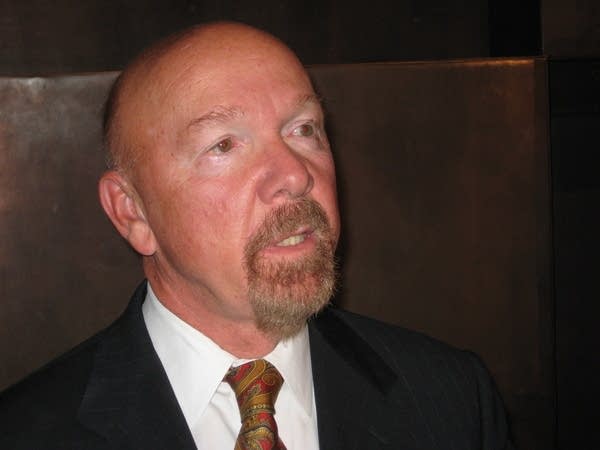 Best Buy founder Richard Schulze will resign as chairman of the company's board, following an internal investigation that found Schulze failed to disclose an inappropriate relationship between former CEO Brian Dunn and a female employee.
Dunn, 52, resigned suddenly last month amid the investigation into his personal conduct. The company's report on the investigation, released today chastised Dunn for his conduct. But it also criticized Schulze for actions that conflicted with company ethics policies.
The investigation determined Schulze acted inappropriately when he learned about the relationship and confronted Dunn, but then failed to tell the board about it. It also criticized Schulze for telling Dunn, who had complained about the review of his behavior.
The board's response was by the book, said Charles Elson, director of the University of Delaware John L. Weinberg Center for Corporate Governance. He said Best Buy's board did what it had to do by conducting an investigation not just of Dunn but of Schulze.
Grow the Future of Public Media
MPR News is supported by Members. Gifts from individuals power everything you find here. Make a gift of any amount today to become a Member!
"They reacted quickly," Elson said. "They evidently did a thorough investigation. And based on that investigation they determined the chair should leave that position. They lost confidence in their chair and they acted appropriately.
"Their actions in my view along the way have been appropriate. They learned about it they did an investigation and they took further vis-a-vis the chair of the board," Elson said. "And that's what you want a board to."
The company's investigation included interviews of 34 current or former employees and reviews of personnel, purchase, phone call and email records, including nearly 224 phone calls and text and video messages Dunn made to the woman over nine days last year.
Both Dunn and the 29-year-old woman — whom the company did not name in its release — said they had a close friendship that was not romantic or otherwise improper, the report said.
But the board committee investigating Dunn said the "extremely close" relationship "demonstrated extremely poor judgment and a lack of professionalism" by Dunn.
The report said Dunn's relationship damaged employee morale, undermined her supervisor's ability to manager her, and led some employees to feel that the company's rules applied to everyone except the CEO.
The resignation of Schulze — who established himself as a giant among American retailers — mars an otherwise bright career.
His actions — or inaction — cost him the chairmanship of the company he built into a $50 billion household name.
But retail consultant Howard Davidowitz sees the report as an opportunity for the company to put the scandal behind it and address much bigger issues. Chief among them is growing competition from Walmart, Amazon.com and other rivals that are gunning to take market share away from Best Buy.
"I think this in the end will be good for Best Buy," Davidowitz said.
Davidowtiz thought Dunn should have stepped down long ago because he was not providing strong enough leadership. With Schulze out as chairman, Davidowitz sees a better chance of the company to focus on getting a leader better suited to deal the challenges the company faces.
"The issue here was to bring this to a conclusion, clear the decks, get new CEO and let's get rolling," he said.
But other Wall Street observers aren't so sure things will change much at Best Buy. Schulze remains Best Buy's biggest shareholder, owning about a fifth of the company. He can still have great influence over the company. Schulze will leave the board next year and receive the title chairman emeritus, an honorary position.
"I don't know what is going to change with their strategy," said Michael Pachter, an analyst with Wedbush Securities.
Whether Best Buy has "Schulze as chairman versus Schulze as chairman emeritus with all of his handpicked board members," Pachter said, "What is different? Nothing."
Pachter also said he thought it was absurd that Dunn gets to leave with a severance package worth about $6.6 million. The company said that reflects Dunn's acceptance of a three-year non-compete agreement, triple the company's standard policy.
Schulze will be replaced as Chairman by director Hatim Tyabji at the end of Best Buy's annual meeting on June 21.
Tyabji is a relative unknown. But he has an extensive experience with technology firms. Some analysts hope that can help Best Buy improve its Internet retail efforts.
Tyabji, 66, has been on the Best Buy board since 1998. Since 2001, he has been executive chairman of Bytemobile, a wireless Internet infrastructure provider in California.
R.J. Hottovy, an analyst with Morningstar, likes the new board chairman's experience.
"His background really has been a lot in e-commerce, which I do like to see," Hottovy said. "His appointment as chairman today, I think gives the company, at least that leg of the leadership part."
Best Buy remains in the midst of what it expects to be a six- to nine-month search to replace Dunn, with board member G. Mike Mikan acting as interim CEO. Best Buy shares rose about 1.5 percent today to close at $19.56.
Gallery
1 of 1