Next step unclear after Schulze leaves Best Buy early
Richard Schulze, the founder and outgoing chairman of Best Buy, is resigning from the company's board sooner than expected. That decision has many analysts, shareholders and Best Buy employees wondering what happens next.
He announced in May that he would step down after an investigation found he failed to disclose allegations that the previous CEO was having an inappropriate relationship with a female staffer.
At the time, Schultz said he would remain as chairman until the company's annual meeting on June 21 and as a director through the 2013 annual meeting. Schultz now says he will walk away from both of those positions, effective immediately.
It's the latest news to rock the giant consumer electronics company, which is facing increasing competition from online retailers.
Of special interest is the fact that Schulze is by far Best Buy's largest shareholder, and he revealed he's exploring all available options for his 20 percent stake in the company.
Morning Edition host Cathy Wurzer talked with Howard Davidowitz, a national retail consultant in New York City whose specialties include ownership transactions, to get his perspective on Best Buy's future.
Gallery
1 of 1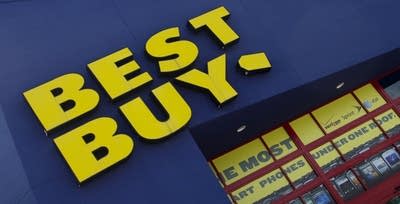 MPR News is Reader Funded
Before you keep reading, take a moment to donate to MPR News. Your financial support ensures that factual and trusted news and context remain accessible to all.