Best Buy committed to change, CEO says
Best Buy's leaders promised more aggressive cost-cutting and innovation at today's annual shareholder meeting.
Interim CEO Mike Mikan acknowledged that the company has been slow to recognize changes in the retail market. He said Best Buy will work to be more "intelligent, relevant, and nimble," but that will require shrinking the company's stores.
"Total square footage will go down as we make decisions about the best use of resources," Mikan said. "But as we assess opportunities, our total number of storefronts may stay the same or even grow somewhat, though with a more focused presence. We're already moving down that path but we'll need to do more."
Earlier this spring, Best Buy announced it was closing 50 stores, but many retail analysts have said bigger cuts will be necessary.
Grow the Future of Public Media
MPR's budget year comes to a close on June 30. Help us close the gap by becoming a Sustainer today. When you make a recurring monthly gift, your gift will be matched by the MPR Member Fund for a whole year!
Mikan said Best Buy can no longer focus exclusively on its big box store strategy, and must also improve customers' shopping experience in stores and online.
But Mikan and other executives offered few specifics on how those changes will be executed. Best Buy is trying to combat the "showrooming" of its stores, as consumers test out products at its stores but go home and buy them cheaper online or at discounters.
The company is also recovering from internal drama. Its former CEO, Brian Dunn, abruptly resigned in April during an investigation into his relationship with a female employee.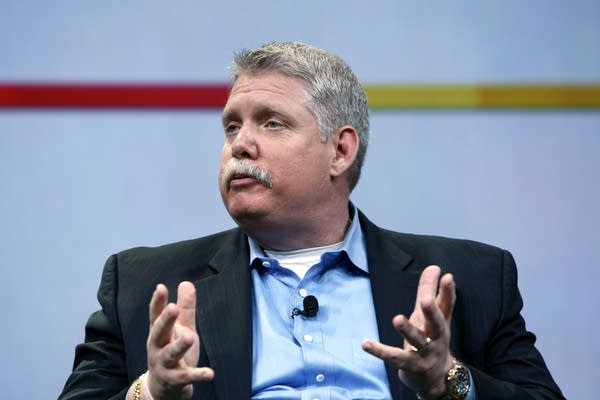 Founder and Chairman Richard Schulze also resigned after the investigation deemed he knew about the relationship but did not disclose it.
In the wake of that, the annual shareholder meeting was relatively sedate and over in about an hour. Roughly 170 shareholders and employees attended the meeting in the auditorium at Best Buy's headquarters in the Minneapolis suburb of Richfield, Minn.
Mikan told the group that an April deal between its Geek Squad customer service division and the Association of American Retired Persons for tech support was one example of a business-to-business deal that Best Buy is trying to capture more of.
A similar deal is in the works with an undisclosed technology company, he said.
Mikan, who is in the running to become permanent CEO, made a splash during the company's earnings call in May, after he had been in place for just two weeks, calling for change at the company and vowing there would be "no sacred cows" as they look at the business.
He repeated that line on Thursday, but also seemed to echo more of the company's long-held tenets, such as the value of customer service in combatting online competitors.
"We have to invest in employees by giving them more training and better tools to maximize what they can offer for our customers," he said.
To that end, Best Buy plans to train 50,000 staffers at a training center at its headquarters between August and the holidays.
Founder Schulze was not in attendance. He has said he is exploring options for his 20 percent stake, leading some to speculate he might bid to take the company private, or sell to a private equity company.
Shares of Best Buy fell 84 cents, or 4.1 percent, to $19.47 in midday trading. The stock is down about 13 percent since the beginning of the year.
___
Associated Press writer Mae Anderson contributed from New York, and writer Josh Freed contributed from Richfield, Minn.
Gallery
1 of 1