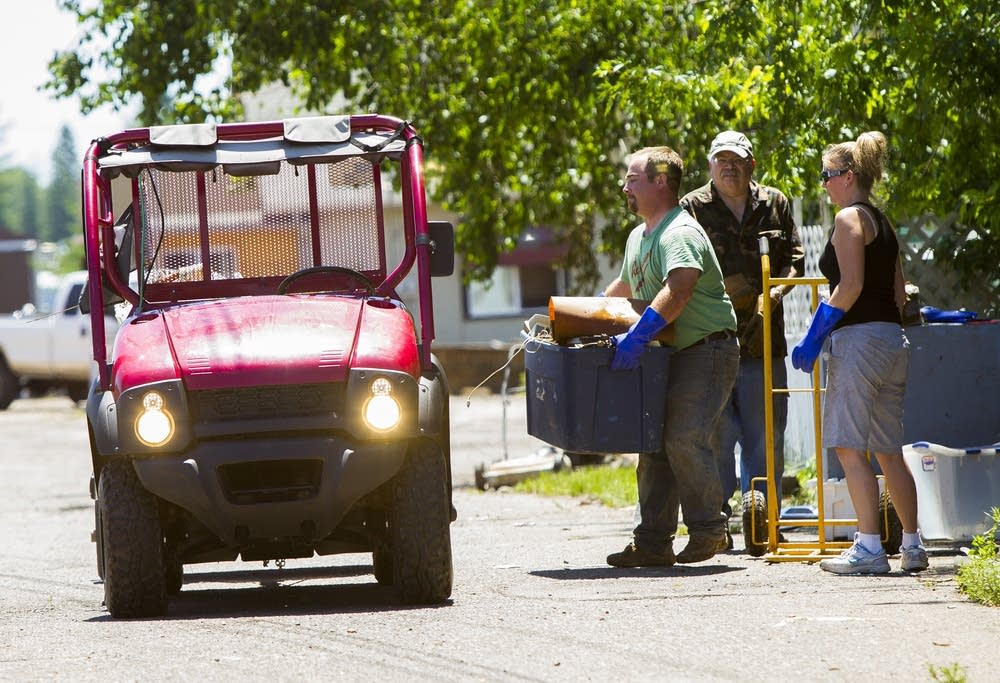 Towns all over Carlton County — like Carlton, Cloquet, Esko, and Moose Lake — are picking themselves up a week after a record flood caused millions of dollars in damage in Duluth and surrounding areas.
Barnum is similar in many ways. With hills on one side and low land on the other, the downtown — all of two blocks long — is a flat area with small businesses lining the main street perched along a river.
American flags hang from the street lights, and dumpsters parked here and there draw people in trucks and trailers, throwing away the contents of flooded basements.
The town seems to be in a quiet bustle, with county highway trucks rumbling through and a backhoe poised by the bridge over the Moose Horn River. The bridge has collapsed from the river's high water. Normally the Moose Horn River meanders around the countryside, flowing into Hanging Horn Lake on the east side of Interstate 35.
But a week ago it turned into a raging torrent. Upstream, a culvert blocked the flow and the river overflowed its banks.
SAVING PERSONAL ITEMS
Retiree David Burch lives just a couple blocks from the river. He noticed the water creeping toward his house Wednesday evening.
"I started going into the garage, moving tools to get them in an upper rafter area, and the water's creeping in," he remembered. "I said 'That's it. Time's up, I gotta get going.' Woke up my wife and said 'Get as much stuff as you can together, we're going to have to leave in a few minutes.' "
His daughter Sandi Svoboda and her husband Robert came up from Hastings to help with the clean up. It's taken forever to bring stuff up from the basement, which was full of water. Not just a few inches or a few feet, but nearly to the main floor.
They're concentrating on saving the things with special meaning, like a couple of small stuffed animals.
"The little cat was my mom's focal point when she was in labor with me, and the teddy was my little brother's, and I found them a bag floating in the water," Sandi Svoboda said. "I figured I'd save them at least."
Burch is sad and frustrated.
"I look more for helping other people, because in the military I was a medic, so I feel a little bad that I've got to take care of my work here and I really can't help anyone out right now," Burch said. "But I'm getting help and I said I appreciate it."
The Barnum municipal liquor store is now just a beer garden, with picnic tables and a big tent in the parking lot. Employee Krysta Konieska said the basement was flooded, ruining the tap lines and some inventory. But they've set up an outdoor bar.
"At least we're open so people have a place now to come and take a break from cleaning up their houses," Konieska said.
A STUDY IN SELF RELIANCE
Outside Lou's Cafe, colorful flowers in window boxes offer a cheerful welcome, and the sidewalk is swept clean. It's a shock to walk inside and see a bare room, with the sheetrock cut off the walls all the way around, about 3 feet from the floor.
David Budge recently moved back to Barnum after living elsewhere for most of his life. He's spent hours here, helping with the cleanup.
"It's a small town, everybody knows everybody, and it's kind of a community center for the town," Budge said. "Lou and Robin Paulson are the owners, and they've been very generous with their time and help a lot of people around town. So I think a lot of people feel obligated to come out and give them a hand, and so forth."
Lou Paulson declined to be interviewed, but he wants to let people know that he's setting up a web page where they can share photos of the flood — in case some people need help documenting the damage to their property.
Residents here — and all over rural Carlton County — are a study in self reliance. They are helping themselves, and getting help from surprising places. The flood disabled the pump station for Barnum's sewage system, but other cities in Minnesota, including Fridley, Zimmerman and Pine City, sent crews and temporary pumps.
Contractors working on I-35 brought a front-end loader to evacuate people from the senior citizen apartments. That image has come to represent the open-handed and improvisational response to the flood.
IN FOR THE LONG HAUL
Carlton County Sheriff Kelly Lake said every community in the county has been affected by the flooding, and the recovery process will be a long one. "Now I think some of the frustrations are going to start coming out, now that we're through the initial emergency and rescue part of it," Lake said. "There's going to be some frustration, but it's a very good community ... I'm confident they're going to pull together and get through this."
The floodwater spared the Barnum Community Church. Church members Lori Koski and Sue Jordan decided to make meals for flood victims and volunteers, and that project has mushroomed into a full-fledged disaster recovery center.
The walls are covered with neat lists; Koski said young volunteers keep them up to date.
"Every day we start with another list, and say 'What are their needs?' " Koski said, "Who's got a sump pump that can go over there? Who needs a freezer taken out of their basement?"
Koski said practically everyone is offering to help.
"One person says 'I have to go,' we turn around and someone else says 'You need me for five or six hours?' " Koski said.
And remember Lou Paulson — at the Cafe — who refused to be interviewed?
"Lou lost everything and he donated all of his food so he could continue to help us feed the local area," Koski said. "People here are just amazing. People that have been devastated are doing what they can do and then they're coming in and asking how they can help."
Koski said people are hoping for help from the county, state, and federal governments. But in the meantime, they're carrying on.