Town saves money on cops, wonders if it did right
The small northwestern Minnesota town of Fertile did away with its police department more than 10 years ago. Then, in 2010, in another effort to save local tax money, it dropped the contract it maintained with the Polk County sheriff's office to keep a deputy in town.
Now, in the wake of a mini-crime wave last year, some residents wonder whether doing away with local police was a good idea.
Fertile, population 840, represents the dilemma many Minnesota cities face as they struggle to save money on law enforcement.
The lack of local police presence has become the new normal in Polk County. Only two cities -- Crookston and East Grand Forks -- still have full-time police departments. Fosston, the county's third largest community, pays Polk County to provide two dedicated officers.
"You're seeing a lot of cities now cutting back on police protection, ambulance protection, stuff that 20 years ago we wouldn't even dare to think of."
In Fertile, city administrator John Frohrip said the No. 1 reason for the shift is money. Fertile gets fewer state aid dollars these days. The town has had to spend more on economic development to attract younger residents and increase its tax base.
It would cost Fertile more than $90,000 a year for its own officer, Frohrip said. That would mean a 25 percent increase in the city's general fund budget.
"You're seeing a lot of cities now cutting back on police protection, ambulance protection, stuff that 20 years ago we wouldn't even dare to think of," Frohrip said. "But it gets to be the hard, honest fact. Can you afford that level of service? And you have to measure, do you actually need it?"
Polk County crime statistics don't show any noticible increase in crime since those local officers disappeared. And if you walk into the LaLa Ice Cream, Coffee and Grill cafe in downtown Fertile to find retired school teacher Dan Skanson playing dice, he'll tell you crime isn't a big concern.
"I leave the car unlocked, I leave the keys in my car," he said. "I never lock my house, even when we go on a trip, because I've got good neighbors that watch, and I feel very, very safe."
But cafe owner Jennifer Lisburg has a different take. Since last year, "I think that sense of security has been broken once or twice," she said.
Lisburg was one of several people who had their cars broken into last year. There was also a rash of garage break-ins, a burglary at the local pharmacy and incidents of lewd graffiti. Just outside town, someone intentionally set fire to a barn belonging to a group of Amish farmers.
Lisburg said without local police it can take 20 or 30 minutes for county deputies to respond.
"If you need a police officer, it's going to be awhile, so it's not super convenient all the time."
Sheriff Barb Erdman said some towns complain about smaller things, like speeders driving through unchecked or young people getting into mischief. Erdman says that didn't happen so much when local cops were around.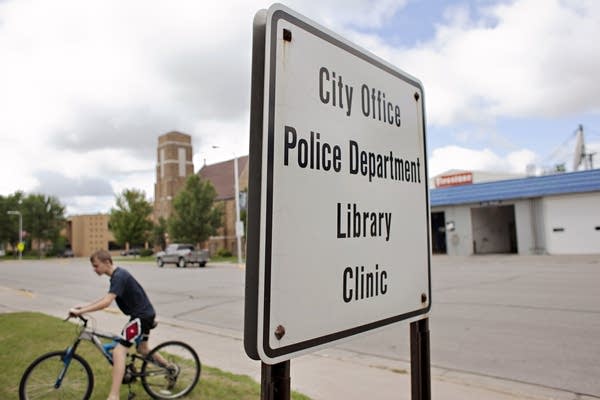 "You were able to deal more hands-on with traffic issues," Erdman said. "If there were kids screwing around at the park and they shouldn't have been, you had immediate police presence. That's, I think, where these communities are really feeling the pinch."
Polk County has faced its own financial struggles. The sheriff's department used to have 26 on staff. Now it's down to 22.
One of those people, chief deputy Karl Erickson, who has worked for Polk County for nearly 30 years, said without local police on the streets, county resources are stretched thin. Often only two deputies are patrolling 2,000 square miles.
Some communities try to fill the void even without police officers. In Erksine, for example, the city has posted a reward for information involving vandalism at a city park. In Fertile, administrative staff sometimes responds to neighborhood disturbance complaints like barking dogs or loud parties.
Those are things that used to be handled by police officers.
Erickson said Polk County has gotten by without major problems so far, but it's had to change the way it does business.
He says it's happening all across rural Minnesota. More than 60 towns have disbanded their police forces in the past dozen years.
"We have had to adjust and go where needed," Erickson said. "It isn't necessarily a crime explosion. For us, a lot of our problems are geographical...That's just the way it is. We're covering more ground with the same amount of people. That's just all there is to it."
People may have to get used to locking the doors to their cars and homes more than they did before, for example, he said, as their perceptions change regarding public safety and what law enforcement can do.
Gallery
5 of 5
1 of 5
2 of 5
Your support matters.
You make MPR News possible. Individual donations are behind the clarity in coverage from our reporters across the state, stories that connect us, and conversations that provide perspectives. Help ensure MPR remains a resource that brings Minnesotans together.